Over the last half-decade, food industry leaders have put significant focus and effort on strengthening the culture of food safety. Why? What should companies be doing? And what is the impact we can expect?
Organization including the Codex Alimentarius Commission, the U.S. Food and Drug Administration (FDA), the European Union, the Global Food Safety Initiative (GFSI), and many other leading organizations around the world have been pushing hard for companies to examine their food safety culture, develop a fit-for-purpose strategy, and focus on how it can be improved and strengthened. 
Food safety culture is about people. Food companies that do this well empower all employees across the entire business (not just frontline operators) to take appropriate action to ensure that the final product is safe, irrespective of whether it comes from a farm, is processed in a production facility, or is served in a restaurant. The ultimate goal is to ensure that, as a team, all employees do the right things all the time—even when no one is looking (Figure 1). 
Figure 1. Food Safety Culture Drives Action Every Day; Image courtesy of the Food and Agriculture Organization of the United Nations and SSAFE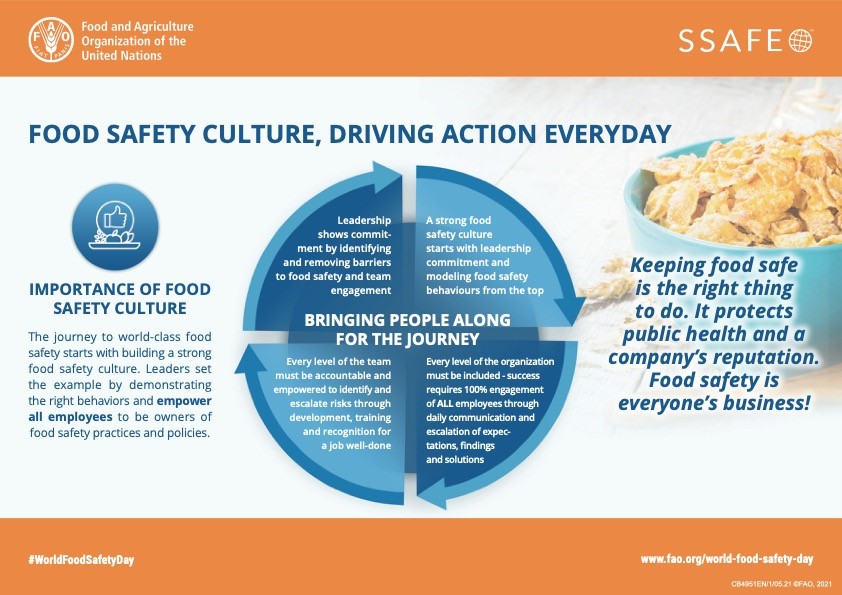 To develop a fit-for-purpose food safety culture within a food business, it is important to take a strategic approach to determine where the food safety culture fits into the wider organizational culture of the business. A great starting point is to ask, "What are our goals, and what are we trying to achieve?" Once these answers are clarified, a five-step journey must be taken (Figure 2): 
Develop the culture strategy
Get buy-in from the leadership of the business
Implement the strategy
Roll out specific initiatives to help strengthen food safety culture
Maintain the strategy through a process of continuous improvement. 
For larger, more complex, and/or multinational food businesses, it may be prudent to test and pilot the food safety culture program in a smaller part of the organization first, before rolling it out fully across the business. Finally, it is also important to take into account that this cannot be done solely within the direct sphere of control of the business. It is important to take into account the needs of external partners as well, such as suppliers, regulators, and customers. Working in isolation will not enable the food business to maximize the impact of its food safety culture initiatives.
Figure 2. The Journey to Establishing an Organizational Food Safety Culture Program; Image provided by the author
On a broader industry level, SSAFE has been involved in food safety culture for a number of years, providing free resources for all companies in the food sector across the world. Three excellent, free resources are available for those businesses starting on their food safety culture journey: the GFSI policy paper,1 PAS 320 from the British Standards Institution (BSI),2 and SSAFE's own free Food Safety Culture Measurement Tool.3
SSAFE co-sponsored BSI's PAS 320, a free, practical guide to help companies systematically implement a strong food safety culture. Once companies have developed and implemented their food safety culture, it is important to measure performance. To that end, SSAFE partnered with a culture-focused data platform provider to provide a free starter tool to measure the "People" element of a company's food safety culture. Through a series of 17 questions, available in over 50 languages, companies can survey their people and determine how they are performing. 
SSAFE will publish its two-year benchmarking report in September 2023 to demonstrate how users of the tool are performing overall. Key areas for improvement across the industry include the need to better recognize employees when they take interventions to support food safety, to better communication across the business, and to make food safety training more engaging. 
Food safety culture is not a new concept, but there is more focus on it than ever before from regulators and industry leaders. Its potential impact on improving food safety, reducing food safety incidents, reducing potential recalls, and ultimately protecting consumers from becoming ill from the food they consume is great. Therefore, SSAFE recommends that food businesses across the world, irrespective of their size or where they are along the supply chain, take some simple steps:
Prepare a strategic, multiyear plan to develop and/or strengthen the organizational food safety culture, implement a strategy, measure performance on a regular basis, and drive continuous improvement
Work closely with human resources to develop and roll out the strategy and ensure it is part of the wider organizational culture to help the business achieve its goals
Encourage suppliers and business partners to take the same steps.
Food safety is a joint responsibility. As a team, with everyone working together and doing the right thing all the time (even when no one is looking), we can significantly advance food safety and reduce foodborne illnesses. 
GFSI. "A Culture of Food Safety: A Position Paper from the Global Food Safety Initiative (GFSI)." November 2018. https://mygfsi.com/wp-content/uploads/2019/09/GFSI-Food-Safety-Culture-Full.pdf.
BSI. "PAS 320:2023: Developing and Sustaining a Mature Food Safety Culture—Guide." https://www.bsigroup.com/en-GB/standards/pas-320/.
SSAFE. "Food Safety Culture Tool." https://www.ssafe-food.org/tools/food-safety-culture-tool.