✕
Few moments in a food safety professional's career are as intense or as nerve-wracking as the moment you learn that your team has to initiate a recall. The real deal—not a mock recall.
If you have worked in the food industry, then you have thought about it, practiced for it, built your plans, and assembled your teams, all for the purpose of being ready for the time that the recall hits. You have asked: What happens if we are in a recall situation? What do I do? Who do I call? How do I protect my customers and my brand? Who is on my team?
Worst Food Recall in U.S. History
Unfortunately, even with the right prep work, operations with the best sanitation, pest control, preventive maintenance, manufacturing practices, and food defense can experience a recall. This article establishes the background on recalls in the U.S., and also explores an often-misunderstood resource that can minimize the negative impact and expense of a recall—your recall insurance policy.
In 2009, the U.S. experienced its worst food safety incident in history. Peanut butter contaminated with Salmonella Typhimurium caused 714 infections in 46 states (Figure 1).1 Nine deaths were attributed to this case.
Figure 1. Multistate Outbreak of Salmonella Typhimurium Infections Linked to Peanut Butter, 2008–2009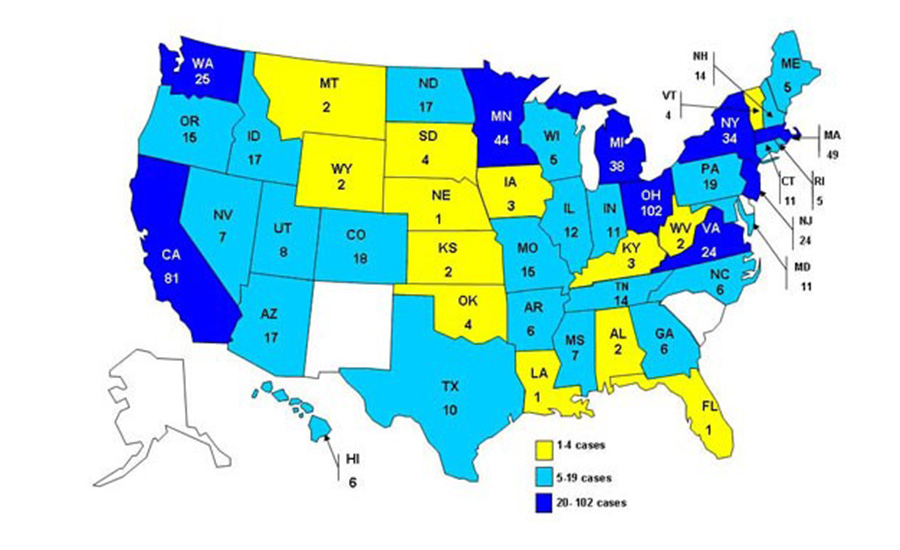 Investigations indicated that peanut butter and peanut butter-containing foods were the likely cause. Further investigation found that the peanut butter and peanut butter products originated from Peanut Corporation of America. Since this recall, Peanut Corporation of America has halted operation and closed its doors. Furthermore, the former owners of the facility, Stewart and Michael Parnell, were sentenced to prison for knowingly shipping the contaminated product.
The Peanut Corporation of America case is well-documented.1 Obvious mistakes were made by executives at the facility. How can you keep your facility safe from a recall? What happens if you do find yourself in a recall situation? We will examine some best practices for these situations.
What Causes Recalls?
To prevent a recall, it is important to know what causes a recall. Examination of historical data is a good start to help understand what situations will cause a food safety recall.
While multiple agencies play a role in food safety at the local and state levels in the U.S., at the federal level, two agencies are responsible for food safety: the Food and Drug Administration (FDA) and the Department of Agriculture (USDA). Both agencies operate public websites where they list food safety recalls, as well as the reason for the recall. Table 1 shows an example summary of 2022 recalls listed on the USDA website.2 
Table 1. Summary of 2021 Recalls on USDA Website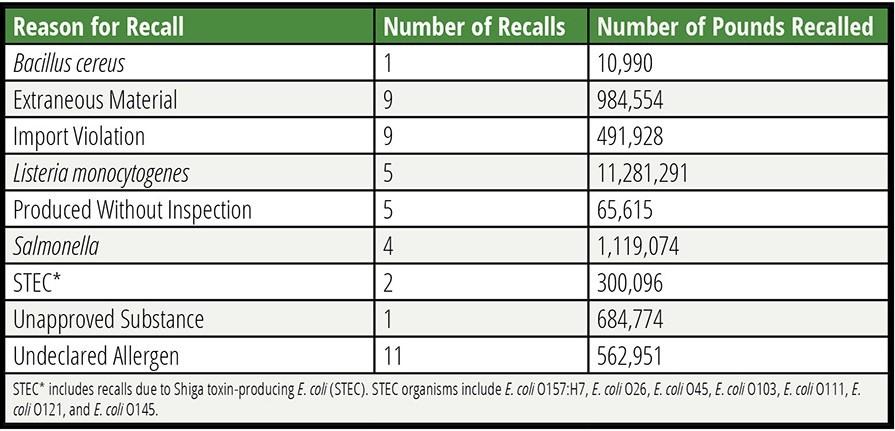 Undeclared allergens were reported by the USDA as causing the most food safety recalls. FDA, which regulates foods other than meat, poultry, and eggs, also reported that undeclared allergens were the leading cause of food safety recalls in 2021. Regardless of the cause of the recall, a well-prepared recall plan is critical; it provides the step-by-step process that must be followed in case of a recall.
How to Respond to a Recall
First, stop production and place any affected product on hold. You should have a control of non-conforming products procedure that provides step-by-step instructions on how to place product on hold. Physical hold tags and electronic holds in a warehouse management system are essential.  
In the case of a serious health risk, a physical inventory of the affected product must be completed daily. These inventories must be documented. Once the product is placed on hold, it should not be moved until a regulatory body authorizes its disposal.
Next, you must notify regulatory bodies. Who do you contact? That question may not be as easy to answer as you think, as FDA and USDA regulate different foods. USDA regulates meat, poultry, and eggs, while FDA regulates all other food products, including shell eggs.
You must also notify a state agency. In Wisconsin, for example, we notify the Department of Agriculture, Trade, and Consumer Protection (DATCP), although you will want to notify the appropriate agency in your state. You may also have local health authorities, such as county health departments, to notify. The notification process is made easier if your food safety plan is up-to-date and includes current contact information for personnel at the pertinent federal, state, and local agencies.
Notify these agencies as soon as possible. Representatives of the agency will contact you to assist with the recall. These agencies will need a number of points of information:
Product information such as name, description, and shelf life
Labels
Lot codes
Expiration dates
Contact information for your facility, as well as co-manufacturers
Reason for the recall
Specifications and all test results
The number of units affected by the recall
Detailed information on complaints associated with the recall
Volume of product affected
Names for brokers, distributors, and retail outlets that may have the affected product in stock
If you export the product, report the countries that may have received the affected product
A list of customers that shipped the affected product
Any information on how you will conduct the recall, such your communication plan.
Next, you must notify your insurance broker or agent. As noted in FDA's Food Safety Plan Builder, "In the event of a product recall or other situations where swift and immediate action is required, it would be helpful to have the contact information of all relevant persons organized and readily accessible."3 In our humble opinion, the word "helpful" should be replaced with "critical." The contact list should include members of the management team, quality team, procurement team, and key suppliers or contractors. It should definitely include the company's insurance agent/broker.
Most food safety personnel may not immediately identify the company's insurance broker as a critical contact. Why contact the insurance broker? In the case of a recall, the insurance broker is the expert who aligns and deploys resources that could include recall specialists from the food contamination insurance carrier, food safety consultants, and crisis communication experts.
In addition to being a valuable member of the response team, there is another reason to expedite the call to your company's insurance broker. While no two recall and contamination insurance policies are identical, with most policies, the food manufacturer (the insured) has only 72 hours to verbally report the claim to the insurer and no more than 30 days to report the claim in writing to the insurer. If the company fails to fulfill these obligations, then it risks not having coverage for the recall incident.
Assemble the Team(s)
Now that you have stopped production and notified the authorities and your insurance broker, it is time to assemble the recall response teams. Depending on how large your organization is, you might have one team or multiple teams. The following are examples of recall teams and the roles that each play.
The Management Team
The management team consists of the most senior employees, including the owners, CEO, CFO, vice presidents, and outside attorneys. This team is responsible for making the hard decisions:  
Should we initiate a recall?
What type (class) of recall is this?
When do we call our customers?
When do we start bringing back product?
Ultimately, the management team is responsible for the recall and integrity of the organization. Do not forget about your board of directors. The board should be notified immediately. They should take an active part in assisting with the recall, and their participation may also include acting as a spokesperson for the company, writing or approving press releases, or communicating with regulatory authorities. Remember: Everyone is responsible for food safety, including the board of directors.
Insurance Team/Broker
Ideally, the insurance broker works closely with the your leadership and food safety team to advise on adequate recall coverages well before any recall scenario becomes a reality. The broker can serve as a valuable advisor to both company leadership and food safety personnel, including advising on which policies would and would not cover the expenses associated with a product recall.
Many Product Contamination Insurance (i.e., product recall) policies (or PCI policies) also offer pre-incident food safety consultation with nationally known food safety firms. A combination of a broker that specializes in food processing risk management and the appropriate PCI policy become crucial parts of your overall risk management plan and food safety team. In the event of an actual recall, these firms handle a major portion of the event.
Communications Team
This team typically consists of the management team, a representative from the marketing department, and possibly a public relations firm, and is responsible for internal and external communications. A single person should be identified to direct communication with regulatory authorities, employees, customers, and the public. It is the responsibility of the communications team to identify who communicates with whom and when.
If the food processor has purchased a PCI policy, then the communications team may also have access to crisis communications experts. Many PCI policies include 24/7 crisis communication support that could include setting up a call center to respond to customer inquiries. Social media and press monitoring, as well as brand management support, can help minimize the negative impact on a company's brand that can result from a recall. These services would be deployed by the insurance broker on behalf of the insured.
Quality and Operations Team
This team consists of quality assurance managers, quality control technicians, plant managers, plant supervisors, and operators—employees who are typically on the plant floor directing the hold procedure and making sure that no more questionable product is produced.
At this stage of the recall, the quality and operations teams should be focused on making sure any product that is in-house is part of the non-conforming products program. This includes any samples that might be in an onsite retail store and in the hands of sales associates. All affected product must be located in a designated area and clearly labeled as "on hold."
Sales and Customer Service Team
This team consists of outside sales representatives, customer service managers, and customer service representatives. It must be made clear early in the recall that all customer communication comes from this central point. It also needs to be clear that customers are not notified until the management team decides that customers must be notified. This decision may be made in conjunction with regulatory authorities, the company's insurance broker, the crisis communications firm, and the company attorneys.
At this point in a food safety recall, the sales and customer service team are working to identify the location of all affected product. They may be working with warehouse personnel or technology personnel to track and trace the finished product.
Procurement
Ingredients and packaging materials can be implicated in a food safety recall. In this case, the procurement team must play an active role in the recall as the point of contact for ingredient and packaging suppliers. Procurement may need to track raw material and packaging lot numbers and help identify alternative suppliers. In conjunction with the quality team, procurement is responsible for identifying a suitable replacement vendor for the ingredient or packaging material in question.
Table 2 summarizes the responsibilities of different teams during a recall.
Table 2. Responsibilities of the Different Teams During a Recall

Small- and medium-sized facilities may not have people to fill all of these teams. In some cases, people may be on multiple teams, and in other cases one person may be the entire team. Whatever the size of your facility, make sure you have as many people involved as necessary.
Determine the Class of the Recall
FDA has identified different classes of recalls depending on the severity. Table 3 shows a summary of the classes, as well as examples.4 
Table 3. FDA Classes of Recalls and Examples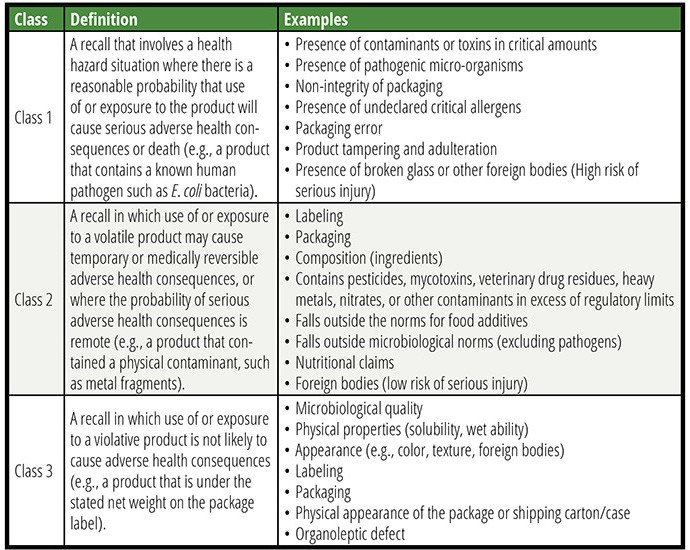 Trace the Product
The quality and operations team, along with the technology team, should trace all finished product to the customer. If distributors or brokers are used, then the team should be able to identify to which broker or distributor the product was sent, so they can trace the product to the customer.
Ingredients must be tracked. If an ingredient is identified as the issue, then the team must be able to identify which product(s) to recall. The procurement team must remain in contact with the vendor to ensure that all lots of the suspect ingredient or packaging material are identified.
In most cases, there is a time component to tracing product. You should be able to trace finished product to the customer, broker, or distributor within two hours. Ingredients and packaging materials should be traced within four hours.
Notify Stakeholders
At this point, vendors and regulatory bodies have already been notified. Other stakeholders will need to be notified as the recall progresses.
Employees
Employees must be notified and advised about the company communication plan. People answering phone calls should be given a script and advised where to send people for information. Employees also need to know the status of operations. Will the facility be completely shut down, or will other production lines be in operation?
Customers
Customers should be notified by customer service representatives when the management team gives the green light for communication. Brokers and distributors should be given notice that they will need to initiate their recall and withdrawal procedure. Some PCI policies will pay for and coordinate a 24/7, pre-selected product recall call center. The call center team acts as an extension of your customer support, responding to customers' recall inquiries.
Certification Body
If the facility is certified under the Global Food Safety Initiative (GFSI), then the certification body responsible for its certification must be notified. Facilities that are SQF, BRC, or FSSC 22000 certified fall under this requirement. The requirement is that the certification body must be notified within 24 hours of the food safety incident.
Termination and Disposal
During the recall, constant communication with regulatory bodies will be essential, as they will require status reports. These reports will tell them how much of the product has been traced and returned vs. how much of the product is still in circulation. The number of customers notified will be part of these reports. An accurate and reliable tracking system is essential.
Regulatory bodies will determine when the recall can be terminated (when all affected product is accounted for and returned to the facility or disposed of). The remaining affected product, along with the returned product, must be in the non-conforming products program at this point.
Disposal of the product is determined by the severity of the recall. In some cases, the product can be redirected or reworked, but in most cases the product must be destroyed. Third parties are typically employed to perform the destruction and provide proof of destruction to regulatory bodies. With the proper insurance coverage in place, the expenses to rework a product or dispose of the unusable product can be reimbursed.
Root Cause Investigation and Corrective Action
At this point, depending on the severity of the recall, the facility is likely to be shut down. A root cause investigation is necessary at this point. Several tools can be used to assist in root cause investigations. These tools include fishbone analysis, the "5 whys," and failure mode and effects analysis. It is likely that physical inspections of the facility, employee interviews, and reviews of maintenance and production records will be performed to determine the cause of the recall.
Once a root cause is established, it is important to correct it. Sanitation issues may be present, such as contamination by a contractor or maintenance staff; good manufacturing practices may be lacking; or infrastructure may be inadequate. Correcting the issue is critical to reopening the facility and producing safe food.
Preventing the issue from reoccurring is also critical. A complete review of your food safety management system by a cross-functional team must be completed. Any deficiencies must be addressed. Programs to review include:
Food Safety Risk Assessments
Operational Controls
Allergen Controls
Preventive Maintenance
Foreign Material Controls
Vendor Approval
Environmental Monitoring
Food Defense
Food Fraud
Internal Audits
Rework
Calibration
Pest Prevention.
Even the best-prepared food processing operations can experience a product recall. The goals of every processor are to minimize the impact and expense associated with the recall, manage the emergency, and resume normal operations as quickly as possible. To achieve these goals takes proper planning. With the right teams in place (both internal and external), every processor can be prepared for the worst while continuing to perform at their best.
References
Peg Dorn has over 20 years of experience in the food industry. She has worked for a variety of food processors in quality assurance, and also as a third-party GFSI auditor. She has extensive knowledge of regulatory and global food safety requirements. Ms. Dorn currently works for WMEP Manufacturing Solutions as a consultant and trainer.
Jen Pino-Gallagher is the Director of the Food and Agribusiness practice at M3 Insurance. She identifies the most effective and efficient way to help clients in the food and agribusiness industries identify growth opportunities and reduce risk within their operations. She is a Preventive Controls Qualified Individual (PCQI) and is Hazard Analysis and Critical Control Points (HACCP) certified. In her previous role with the Wisconsin Department of Agriculture, Trade, and Consumer Protection, Ms. Pino-Gallagher set the strategy and executed programs to grow the markets for Wisconsin's diverse agricultural products locally, regionally, and internationally. She executed trade-building missions on four continents. She is also a sought-after speaker and author on topics relating to the intersection of risk management and food production. Her passion for supporting food and agribusinesses stems from her upbringing on a farm in northeast Iowa.