During Fiscal Year 2020, the U.S. Department of Agriculture's Food Safety and Inspection Service (FSIS) investigated 12 different outbreaks. The outbreaks included about 400 illnesses and more than 150 hospitalizations. 
The most common pathogens involved were Salmonella (50 percent), followed by STEC (33 percent), with beef (41.7 percent) being the most common food product of interest. The six Salmonella outbreaks investigated included five serotypes: Dublin, Enteritidis, I 4,[5],12:i:-, Thompson, and Typhimurium. All four STEC outbreaks were caused by serogroup O157:H7 (see Figures 1 and 2).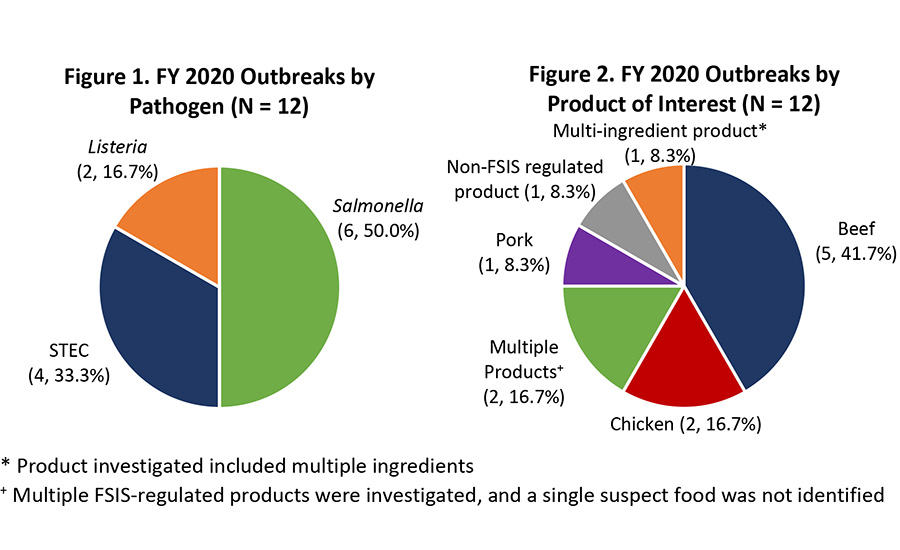 Figure 1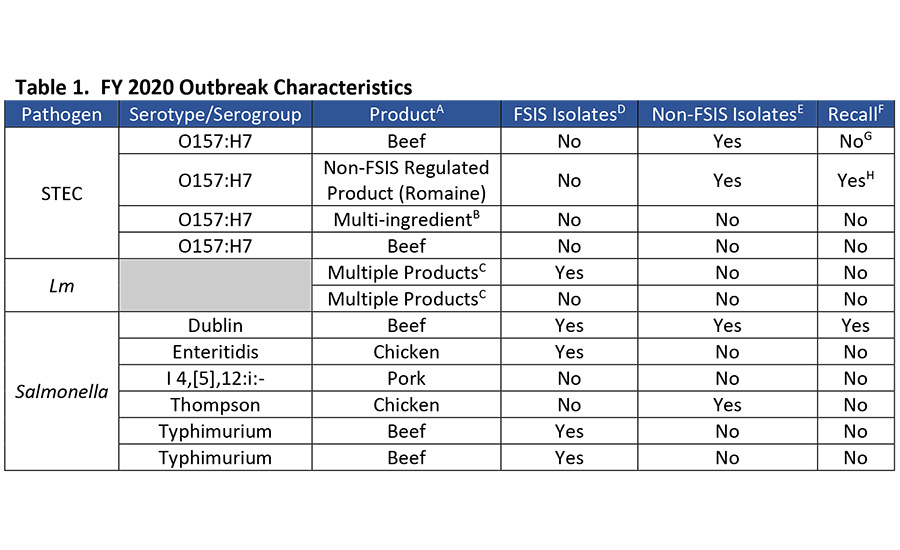 Figure 2
FSIS conducts assessments of outbreaks in order to prevent foodborne illness and to protect public health. Afteraction reviews (AAR) are also routinely conducted at the end of foodborne outbreak investigations to identify lessons learned that can help improve response and prevent future illnesses.
FSIS conducted an AAR in collaboration with public health partners for a S. Dublin outbreak associated with ground beef. Investigators used an Electronic Benefit Transfer (EBT) card to identify specific products that were purchased by the case. By using the EBT card records plus retail grinding records, the investigators were able to identify the FSIS-regulated supplier of the ground beef. 
Another AAR was conducted for an FY2020 outbreak of Escherichia coli O157:H7 associated with ground beef. It identified the "intended use" of beef as an important issue, as the investigators noticed that retailers had used whole cuts of beef that had been produced by the inspected establishment as intended for intact use, and not intended to be ground, to produce raw ground beef.
There are minimal safety concerns with intact cuts externally contaminated with E. coli O157:H7, as normal consumer cooking to a rare or medium internal state will eliminate pathogens on the exterior. However, ground beef and mechanically tenderized steaks are higher-risk products because pathogens may move throughout the product and consumer cooking to a rare or medium internal state will not eliminate all E. coli O157:H7.
Because of this difference, FSIS generally requires that establishments employ more rigorous controls to beef that is intended to be ground (or otherwise non-intact), when compared to intact beef.
To see additional FSIS AAR reports and examples of how FSIS has applied outbreak lessons learned toward illness prevention, visit Foodborne Outbreak Investigation Outcomes—Response and Prevention.