Supply chain has been on consumers' minds since the global pandemic started. For food safety professionals, it is a topic that has only been heightened and complicated since COVID-19 emerged. Given this increased attention, businesses have been focusing on their supply chain. Therefore, it is imperative to discuss what drives most businesses forward in the present climate: vendor certification.
Vendor certification is an area that, if missing, is a deal-breaker for the majority of companies in the food and beverage industry. It impacts both business growth and maintenance of federal regulations under the Food Safety Modernization Act (FSMA). If a company's suppliers do not undergo third-party audits, how can the company consistently verify that it is following proper food safety and regulatory practices? The truth is: they cannot. Just like any other type of regulatory audit (e.g., by the Occupational Safety and Health Administration or the Internal Revenue Service), professionals need to maintain a valid "checks and balances" system to ensure that the inputs and outputs match.
Also, regardless of what governmental jurisdiction food and beverage manufacturers fall under, vendor certification is not subject to consistent monitoring and verification if not under an annual audit. This is because other day-to-day manufacturing processes pose greater risks and hazards that need to be monitored and verified on an ongoing basis through facilities such as: process controls, sanitation controls, and allergen controls.
Supply chain is a unique food safety program. To be treated as a best practice, it needs to be engaged at the early onset of sourcing raw materials, and then at a determined frequency for analysis and ongoing review. These touchpoints help ensure that no new hazards are introduced that pose a new or elevated risk to manufacturers. It is an area that requires engagement during preprocessing and manufacturing.
Federal Regulations Overview
Before FSMA, which was signed into law by President Obama on January 4, 2011, many companies thought of supplier selection as a prerequisite program (PRP). FSMA now allows the U.S. Food and Drug Administration (FDA) and food and beverage companies to place more focus on preventing food safety problems instead of reacting to problems after they occur. Post-FSMA, supply chain has been elevated beyond just a PRP and now serves as a vital part of a company's food safety plan under 21 C.F.R. § 117 Subpart G—Supply Chain Program.1 
Supply chain also ties into other areas of a company's food safety program that will be highlighted later, but the most important overlap is around food safety culture. Supply chain is an interdisciplinary activity that involves deep understanding of food safety risk analysis and buy-in of food safety best practices across multiple departments to ensure that safe food is being sourced, evaluated, and processed throughout the entire life cycle of the material(s) from door to door, before it is handed down to the retailer or consumer. Since the supply chain cycle encompasses many touchpoints of engagement by various personnel and departments, supply chain management is a difficult and often challenging program to carry out properly on a consistent basis.
The U.S. Department of Agriculture's (USDA's) approach is structured differently from the abovementioned FDA regulations, given the focus on addressing manufacturer issues at receipt based on Hazard Analysis and Critical Control Points (HACCP) methodology. USDA's Food Safety and Inspection Service (FSIS) regulates the following products: meat derived from livestock and poultry, as well as egg products derived from shell eggs for sale in interstate commerce. This begins when livestock, poultry, or shell eggs arrive at the official establishment. Live animals on the farm and their transportation to the official establishment are regulated by FDA and USDA's Animal and Plant Health Inspection Service (APHIS).
FSIS requirements found in 9 C.F.R. § 417: Hazard Analysis and Critical Control Point (HACCP) Systems2 address the risk mitigation for the supply chain. Every establishment operating under an FSIS Grant of Inspection3 (both slaughter and further processing) is required to conduct a hazard analysis on anything received into the official establishment (live animals, ingredients, packaging materials, etc.) and used in the production of edible product, to determine whether any food safety hazards are reasonably likely to occur at that step in the production process. If food safety hazards are not deemed reasonably likely, then the establishment is required to support that decision (for example, letters of guarantee from the supplier). If food safety hazards are deemed reasonably likely, then the establishment is required to develop, implement, and monitor one or more critical control points that will eliminate the hazard or reduce it to an acceptable level. The result is that the regulated industry develops a HACCP plan.
FSIS verifies, on an ongoing basis, that:
The establishment executes the HACCP plan as designed
The HACCP plan is effective in controlling food safety hazards associated with the production process.
Each establishment's HACCP plan will vary depending upon its business model, the complexity of the production processes, and the intended use(s) of the finished products. It is critical to create a foundational understanding of supply chain regulations for FDA and USDA before a layer of complexity is added with vendor certifications.
Third-Party Annual Audits
With context provided on how the supply chain program fits into the federal regulations, it is time to share an overview of how vendor certification is embedded into third-party audit standards. The most reputable organization for third-party audits falls under the Global Food Safety Initiative (GFSI), which is a Coalition of Action from The Consumer Goods Forum (CGF). CGF brings together 37 retailers and manufacturers from across the membership and extended food safety community to oversee safe food for the public and to help raise food safety standards across the world.  
One of GFSI's core components is, "Everyone has the right to access safe, nutritious, and nourishing food." This message supports why the author of this article became a food safety professional. One should never have to question the safety of the food purchased for oneself or one's family and friends. Safe food is a basic right that transcends living location or financial status. A food's higher cost may yield higher quality, but food safety should never be questionable. FDA has been supporting this message over the past decade since the launch of FSMA, and it has come into even sharper focus during the pandemic. Table 1 lists several supply chain areas of focus for manufacturers that are GFSI-recognized Certification Program Owners (CPO) that meet GFSI benchmarking requirements. Additional, comprehensive requirements can be found in the codes referenced.
Table 1. Supply Chain Areas of Focus for GFSI-recognized Certification Program Owners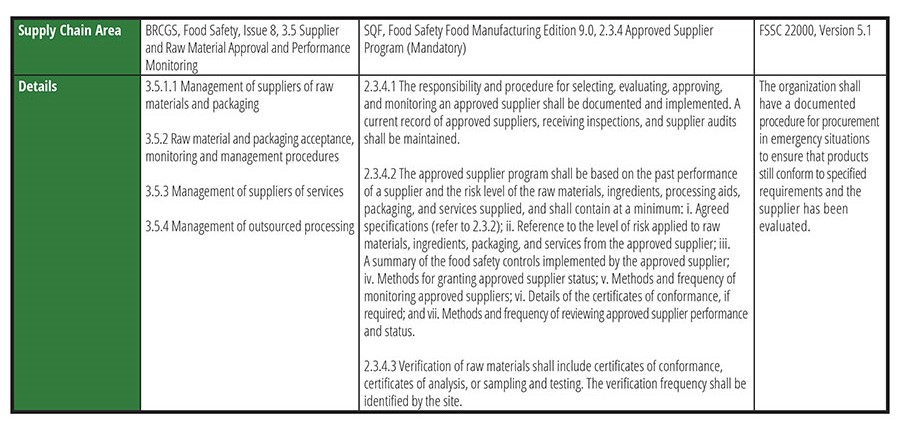 As shown in Table 1, while the wording and formatting is different between the three CPOs, the messaging and end goals are still similar: conduct a thorough food safety risk assessment of suppliers (including past performance) to determine approval criteria, effective monitoring, and verification to best mitigate ongoing risk and prior to approval. It is important to note that other third-party certifications exist, such as Kosher, Halal, Organic, etc., but this discussion focuses solely on GFSI food safety schemes.
Areas of Best Practice for Vendor Certification
Food safety culture is applicable to all areas of food safety programs, but the specificity of the supply chain is highlighted here. The GFSI Technical Working Group (TWG) defines food safety culture as "…shared values, beliefs, and norms that affect mindset and behavior toward food safety in, across, and throughout an organization." This definition is further cultivated around people and processes. People need to collaborate and have a strong foundational understanding of food safety; if knowledge or skill gaps exist in either of these two areas, then the food safety culture will suffer and the business will be at risk. How is this relevant to supply chain management? The following scenario will help illustrate how many areas of food safety culture are identified in supply chain management.
The Marketing Director wants to launch a new stock-keeping unit (SKU) of plant-based burgers for the business. Marketing has already worked with the Research and Development Department on three new potential formulas to pilot and begin sensory testing profiling; Marketing would like to launch these products within the next 8–12 weeks. At the stakeholder meeting, the Marketing Director asks if any other concerns or deliverables will need to be addressed before launching the selected new SKUs from the three potential options. The Food Safety Manager raises their hand and explains the following areas that will need to be addressed, and how these areas will help champion the support of people cross-functionally:
Specifications are needed for the three potential SKUs so that a risk assessment can be performed for all ingredients, packaging, allergens, and end-use for the finished product. Based on the outcome, this may call for third-party lab analysis of a variety of microbiological and chemical data.
Supplier food safety management documents are needed for all sourced ingredients in all three potential SKUs. These documents must be assessed and reviewed by the food safety team as part of the supplier hazard analysis and verification process, and could include the following: vendor certification, lab results of pathogen testing, certificate of analysis, etc.
An additional area of opportunity outside of this cross-functional meeting is a one-on-one coaching or group discussion with all relevant department stakeholders who may not have the most up-to-date knowledge on food safety and how it applies to their department when changes are introduced.  
Knowledge is power, and the only way to improve food safety culture is to continue to empower people with the right scientific information and to encourage cross-functional team discussion to identify continuous improvement opportunities. When discussing food safety culture, it is also important to create accountability metrics. As FDA Deputy Commissioner for Food Policy and Response Frank Yiannas stated in his foundational book on food safety culture, "Be specific, and ensure consequences if goals are not met."4 This simple statement is important to break down because it covers two key areas that drive food safety culture: standardization of expectations and accountability, and outcomes if those expectations are not met. To mark continuous improvement in the food safety culture of an organization, a company must incorporate both areas to support and encourage long-term success; one is not effective without the presence of the other.  
Food safety culture also supports the logic of having backup suppliers outside of primary suppliers. Approving and establishing secondary and tertiary suppliers may seem unnecessary, but it can be important even if these suppliers comprise only a small percentage of a company's SKU offerings. If a company is unable to purchase from its primary suppliers due to a food safety issue, a price increase, or other unforeseen event—such as a global pandemic—it can have crippling effects on production and the business as a whole.
Vendor Certification—Looking Ahead  
Vendor certification is paramount for ensuring that companies are instilling best practices for adhering to food safety and regulatory requirements. Despite the COVID-19 pandemic making this a challenge, businesses need to move forward and work on creative solutions to ensure that their supply chains are in line with the current state of food safety. If the pandemic has taught us anything, it is the importance of being flexible and agile while striving for best practices and continuous improvement opportunities.
References
"Current Good Manufacturing Practice, Hazard Analysis, and Risk-Based Preventive Controls for Human Food: Subpart G—Supply Chain Program." Code of Federal Regulations. 21 C.F.R. § 117.405–117.475. https://www.ecfr.gov/current/title-21/chapter-I/subchapter-B/part-117/subpart-G?toc=1.
"Current Good Manufacturing Practice, Hazard Analysis, and Risk-Based Preventive Controls for Human Food: Subpart G—Supply Chain Program: Hazard Analysis and Critical Control Point (HACCP) Systems." Code of Federal Regulations. 21 C.F.R. § 117.417. https://www.ecfr.gov/current/title-9/part-417.
USDA-FSIS. "Apply for Grant of Inspection." August 4, 2020. https://www.fsis.usda.gov/inspection/apply-grant-inspection.
Yiannis, Frank. Food Safety Culture: Creating a Behavior-based Food Safety Management System. New York, New York: Springer, October 20, 2008.
Juliana Canale is a Food Manufacturing and Regulatory Expert at the New Jersey Manufacturing Extension Program. She holds a B.S. degree in Food Science with a concentration in Biotechnology from Cornell University. She has received the certificate of Lead Instructor Training for Food Safety Preventive Controls Alliance (FSPCA) for Preventive Controls for Human Food (PCHF) and a certificate of Lead Instructor Training for FSPCA for Foreign Supplier Verification Programs (FSVP), and is IHA (International HACCP Alliance) HACCP and Seafood HACCP certified.