✕
We have gotten very good and very bad at audits. The science of food has come a long way in the past century, and so have audits, but with this comes the need for better, more comprehensive audits that truly work on prevention. Here, I share some of my thoughts on how to ace the next food safety audit, keeping in mind that the ultimate customer is the consumer, as well as answering the question, "What does prevention really look like?"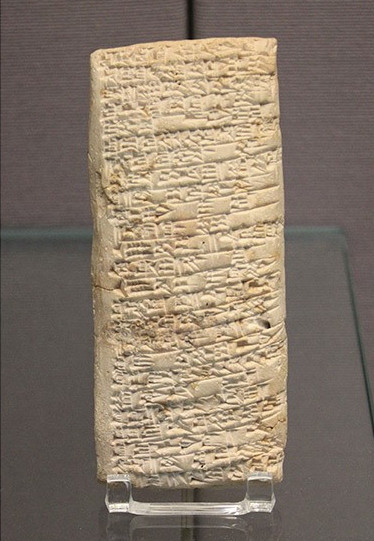 FIGURE 1. A 3800-Year-Old Cuneiform Tablet from Mesopotamia, with the Oldest Known Written Complaint
Food safety audits are relatively new to the world. Humans have been trading with each other for millennia, and over that time, we have learned that trade requires a certain verification that what is being purchased will meet the expectations of the buyer. Characteristics for what is being purchased then become important to convey to the supplier and at some point, an agreement must be met. One of the earliest examples of lot rejection can be seen on a tablet that was discovered in the Sumerian city of Ur and which is currently on display at the British Museum. The author, Nanni, writes to Ea-nasir of receiving substandard copper that was delivered in Mesopotamia and poor treatment of his servant, which were causes for complaint and rejection of the delivery, despite money having already exchanged hands. The incident dates back to around 1750 B.C., which makes it approximately 3800 years ago when traders had come to value quality and agreements going beyond the stereotypical "handshake."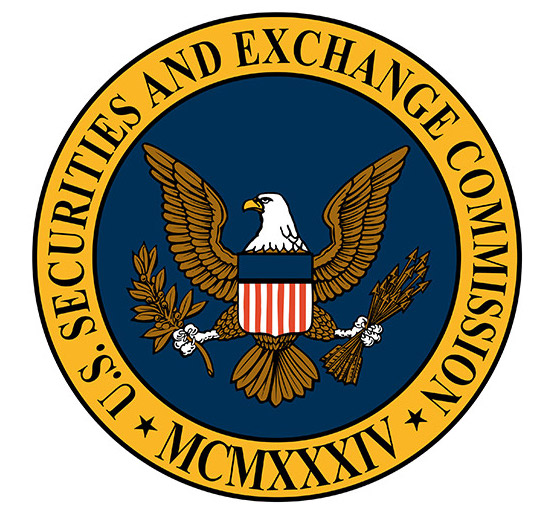 FIGURE 2. The Seal of the U.S. Securities and Exchange Commission
It was only in the 1930s that the modern form of auditing came about. The 1929 crash in the stock market gave the impetus for the 1934 Securities and Exchange Act, which in turn led to the creation of the Securities and Exchange Commission (SEC). At its formation, the SEC's job included working to protect investors and improve efficiency. Better practices were created through these efforts, including internal and external audits which, once standardized, grew and evolved to become the bedrock of our modern financial systems, and were subsequently adopted by financial systems around the world.
Essentially, audits for food businesses have grown out of the need for greater confidence in the supplier-customer relationship and the trust upon which business growth and successful trading relationships are built. Today, we have a wider range of external parties who have good reason to want audits: Good Agricultural Practices (GAP), Good Manufacturing Practice (GMP), Global Food Safety Initiative (GFSI), the U.S. Food and Drug Administration (FDA), the U.S. Department of Agriculture (USDA), the Canadian Food Inspection Agency (CFIA), and many more, spanning regulatory audits, customer audits, and third-party audits. Whichever type of audit is involved, the general principles of a food safety audit invariably call for the requirement for compliance with GMPs. These GMPs are codified in U.S. law and frequently reflected in the laws of U.S. global trading partners.
The Food Safety Plan
Starting at hazard analysis, a food safety plan requires that we identify relevant hazards, design and implement appropriate measures to control the hazards, and ensure that those measures work. To make this possible, it is important that the ingredients, equipment, facility, personnel, and practices are aligned with the knowledge, practical capability, and plans for executing the appropriate procedures effectively and consistently. Furthermore, it is important that one must be able to measure, monitor, and continually improve all of these procedures and make sure everything works as intended so that the product is safe. That, in a nutshell, includes the "must-haves" in any food safety system and, by extension, what needs to be present for a food safety audit.
In our ever-evolving food system, audits are so ubiquitous that they are all but a requirement in any trading relationship. Over the last few years, they have become more frequent and have been conducted for a range of certifications, such that it has become difficult for facilities to manage scheduling customer audits, third-party audits, certification audits, and regulatory compliance visits. As we step into this new food economy, it is no longer a matter of which auditing body or organization will be performing a review of your facility that you should be concerned with; instead, being effective in managing the most important facets of value for the end customer is what matters the most. This is where the sanitation function of the food safety organization can be a valuable asset for audit success.
Those producing higher-risk products will undoubtedly be challenged by the additional potential risks imposed by frequent inquiries and visitors for program review that need to be balanced against the focus on operational excellence. Similar to monitoring and verification data associated with managing a Critical Control Point (CCP), all the documentation necessary to demonstrate control in GMPs, like pest management, preventive maintenance, cleaning and sanitization, allergen cleaning verification and inspections, periodic equipment cleaning, cleaning of cleaning equipment, pre-op inspections, solid waste management, water and air testing data, and hygienic equipment and facility inspections, must all be up-to-date and accurate. Unannounced visits from a certification body or a regulatory agency are a normal part of operations when being ever ready is the goal.
Audit Readiness
When the goal is 24/7 audit readiness, several aspects of the sanitation function become crucial for success. This is where verification of programs can come in handy. Take, for example, the buildings and adjacent areas around the facility. The sanitation function includes various aspects of barrier protection to prevent access of pests, pathogens, and anything else that should not come into contact with the food. Verifying that programs, service providers, maintenance staff, and janitorial staff are able to do their jobs properly can help create the layers of protection necessary to achieve this. Having the knowledge and strategies to do so, with an adequate amount of data to make decisions promptly, can lead to better documentation that includes the necessary data to justify actions that might otherwise lead to audit findings.  
Pest Management Program
In recent years, an integrated pest management (IPM) approach has welcomed innovations that allow for remote sensing for rodent monitoring, aerial monitoring for insects and other field pests, the use of light attraction, and wave technologies to deter or control pests, and many other advances. While these technologies can assist in providing a different level of data insight, they must still be verified for effectiveness. The greatest benefit technology can offer in these scenarios is either a deeper and broader set of data to work with or more time to conduct in-depth root cause assessments and work on converting corrective actions into well-designed preventive measures. With this approach, observed increases in pest activity, changes in labor hours for cleaning or re-cleaning, or increases in the use of products to mitigate pest activity can be utilized by sanitation to verify the IPM program.
Preventing Contamination
The appearance of contaminated ingredients, or equipment that tests positive for indicator organisms, can be the impetus for additional re-cleaning, re-analysis, and (at times) a deeper clean. This is an example of a time when the sanitation function directly addresses the issue. Additionally, sanitation will also directly verify that the conditions are ready and that the process is under control before the equipment is released for production. Documentation of these verification activities is required to demonstrate knowledge and control of the process to satisfy many of the questions that could come up in an audit.
Proper Sanitary Design
Making sure equipment does not support the presence and growth of biofilms or serve to harbor pathogens should be conducted on a rhythmic schedule so that defective items can be remedied or replaced proactively. Verifying the cleanliness of units and that both the potential hazards and the mechanism for detecting potential hazards must be in proper working order. Operators who are knowledgeable and capable of conducting planned, full-scale hygienic design inspections of equipment are also empowered to take action to remedy the equipment condition and re-cleaning, and to conduct proper root cause analyses. They are vital to fixing problems when they occur and to preventing issues from escalating.
A Culture of Quality
In assessing the capacity of employees to deliver consistent, high-quality, and safe food, auditors look into the culture of the organization with respect to food safety. Auditors may seek out signs of responsibility, ownership, and ability to carry out assigned duties according to plan. This entails not only written standard operating procedures (SOPs) that should be followed as designed, but also the ability to understand and impact change when a problem arises, and to truly understand the "why" behind the "what." Empowered employees are not the easiest to come by, although they are key to making swift corrections when issues come up and to implementing the corrective actions that prevent the recurrence of issues.
A culture of food safety is one of the measures being specifically evaluated in GFSI audits, as well as in several external and customer audits. In applying food safety culture throughout the operation, there are numerous points where the best intentions can be outweighed by processes, budgets, and individuals that are ill-equipped to nurture and defend a healthy food safety culture. Since GFSI schemes added the details for assessing food safety culture, the frameworks for the psychological aspects of employee motivation—such as reward and punishment, the use of a leadership approach, and tools for empowerment—auditors have gained descriptive language for finding compliance faults with food safety culture. A top-down-driven food safety culture contains a dwindling culture of knowledge, where success requires a different strategy, using both actions that truly support the food safety plan and positive reinforcement that can be seen and heard at all levels and with all employees. Verifying that employees are trained and capable of being fully knowledgeable of their role in food safety is a worthwhile effort that supports building a positive culture and the likelihood of audit success.
Management Commitment
One of the less tangible aspects of audit success is the gauge of leadership's commitment to food safety. Management sets the stage for the entire business and shapes the culture of the organization. Leadership communication and behavior that are in sync can foster ethical behavior and decision-making throughout the company. Conversely, policies, practices, and behaviors that are misaligned could hinder ethical behavior and discourage employees from taking the right actions. Three areas in which the hygiene workforce could be put into an awkward ethical situation include:
Resource allocation
Scheduling
Focus.
Personnel, materials, and time are important to get things done in a set time. The key constraints that are at play and relevant to any operation that delivers a product include the scope of the work, the allocated time to complete the work, and the suitable products, equipment, or service (Figure 3).
FIGURE 3. Sanitation, Like Any Manufacturing Operation, is Constrained by Key Project Constraints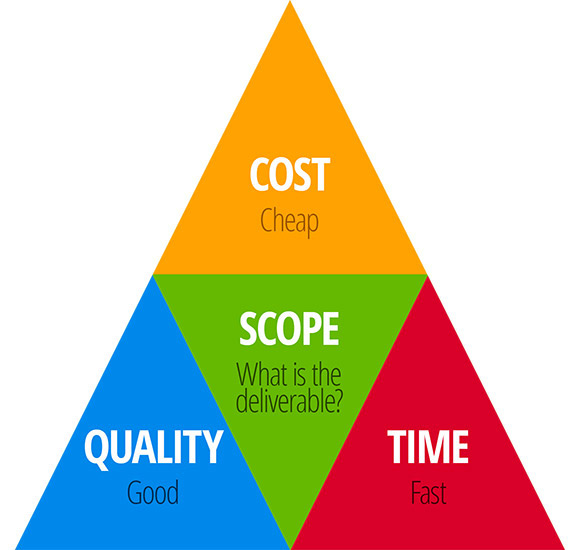 Once the scope of the work is determined, each and every operation that impacts that work impacts the quality of the outcome. The most important outcome is the value to the customer, which, in the case of food, is quality food that is safe to consume. Management focus on active run time can subtract focus from thorough cleaning between runs. Similarly, an approach that favors employee attendance or positive reviews over a culture that promotes employee and product safety can reduce focus on the right behaviors in lieu of more risky behaviors. Maintaining a healthy balance between productivity, planning, and preparation time can facilitate employees learning a good perspective of their responsibilities.
You may find yourself welcoming the new set of (auditor) eyes during an audit, or you may find this activity a nightmare. A good question to ask yourself is: Why wait for an audit to have a fresh set of eyes on the facility's quality system when you can enlist help? Engaging a technically savvy and pragmatic sanitation professional to assist with operations is an often underutilized strategy. Having knowledgeable allies can be the key to delivering value to customers, engaging the science for continuous improvement, and acing your next audit with confidence.
Resources
Angela Anandappa, Ph.D., is the Founding Executive Director of the nonprofit Alliance for Advanced Sanitation, an organization focused on improving food safety.