According to the National Automatic Merchandising Association,[1] the convenience services industry generates $31 billion dollars for the U.S. economy annually, mostly from food and beverage vending machines. However, as anyone who has ever had to forage from a vending machine can attest, the offerings usually are not all that fresh nor nutritious: candy, gum, chips, soda. 
But things are changing. Meet Sally, the Fresh Food Robot: she is six feet tall, a svelte 750 pounds, can be wheeled into a 3 ft by 3 ft space, and is capable of whipping up made-to-order salads with fresh ingredients. Sally is the brainchild of Chowbiotics,[2] a California-based company that uses sophisticated robotics technology and algorithms to offer customized, fresh meals at all hours, without food safety concerns. According to company literature, in 2020 Chowbiotics sold more than 350 robots serving over 250,000 meals worldwide. 
Each robot contains 22 separate ingredient canisters chilled to 38°F and sealed to prevent exposure to outside contamination. The ingredients in these canisters can create over 1,000 different combinations, from salads to yogurt bowls to poke bowls. Individual bowls, costing anywhere from $5 to $11 apiece, take the robot 90 seconds to mix and dispense. Advanced analytics allow the machine to dispense and track precise amounts of ingredients, allowing for the use of higher-end items such as salmon, which would otherwise be too expensive to maintain in a traditional self-serve salad bar environment. Forty to 65 bowls can be created by the machine before the canisters need refilling. The ordering process is engaging: A consumer uses a touch-screen menu to select the ingredients for their meal. The screen displays real-time nutritional information for each ingredient selected, helpful both for those with food allergies and for those tracking their caloric intake. The consumer places a compostable, self-serve bowl in a slot and watches through a transparent window as the machine selects and dispenses ingredients from the see-through canisters (Figure 1).[3]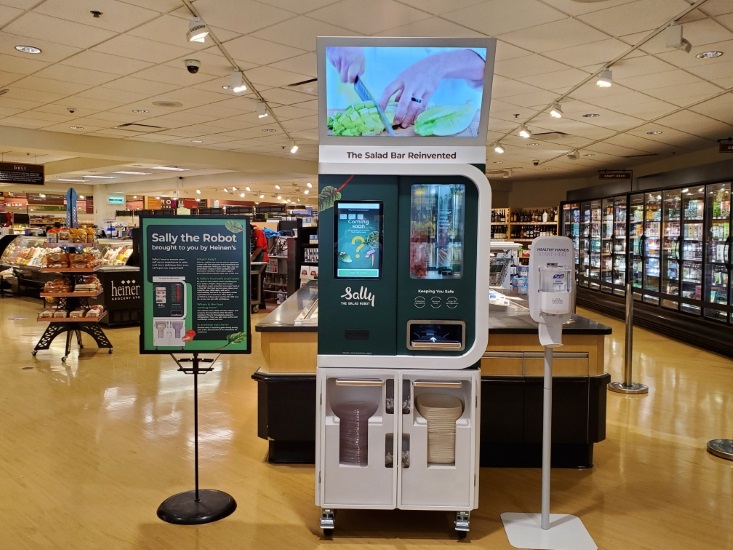 Figure 1. Sally in Heinen's Grocery Store. Photo courtesy of Chowbiotics
Prior to the COVID-19 pandemic, Chowbiotics had sold most of its robots to hospitals and colleges—places where meeting the demand for fresh, customizable food options 24/7 while keeping labor costs low was challenging.[4] However, once the pandemic began the demand for Sally soared, particularly in grocery stores.[5] The grocery store salad bar, once a means of enticing customers, had started losing its luster even before the pandemic hit, and many stores were forced to close their salad bars due to safety concerns.[6] Seventy-two percent of consumers believe that salad bars and buffets are unsafe, worried that coronavirus can linger on surfaces, and 52% have stated that they will continue to avoid self-serve food venues even after the pandemic ends.[7] Grocers have tried various strategies to revive lost sales, such as repurposing their empty salad bars to hold pre-packaged meals or alcohol, or turning them into full-service operations.[8] However, stationing an employee at the salad bar to take orders is costly, labor intensive, and slow.[9]
By contrast, a robotic salad-maker reduces the number of people in contact with the food and still allows for the personalization of the offerings. However, the robotic machines cannot handle the same volume of food as a self-service salad bar: a representative for Heinen, an Ohio-based grocery store chain, estimates that Sally can make only 25 percent of the 150 salads that stores used to sell during a typical lunch hour. 
Sally also carries a hefty price tag (machines sell for $35,000) and a learning curve for store employees. Furthermore, there is still a need for human workers, as Sally cannot chop ingredients or fill the bins. However, since the machine precisely doles out ingredients, it limits the waste that might occur if the ingredients sat out on ice. Also, Sally's analytics let retailers know, at a glance, which ingredients are selling better than others. It can also text message a store employee when a canister of ingredients is running low. The robot keeps track of ingredient sell-by dates, deactivating any canisters containing ingredients that exceed their sell-by date.[10] Chowbiotics has also unveiled a mobile ordering app that allows users to place contactless orders on their smartphones. After a consumer places an order, they receive a QR code, which they then scan into the machine so that Sally can start assembling their order. Limiting contact with the machine provides consumers an additional level of safety and also allows for more salads to be sold. New menu items that will soon be rolled out by Chowbiotics include Thai noodle salad and smoked brisket.[11]
Although the pandemic will eventually end, the innovations brought about by necessity, such as the contactless food service provided by machines such as Sally, are likely to continue well into the future.
References:
---
[10] Personal communication with Leith Steel, Account Strategist, Chowbiotics. February 1, 2021.