✕
Fish farming, or aquaculture, is the production of marine and freshwater organisms under controlled conditions. At present, aquaculture supplies over 50% of all the seafood consumed worldwide. Although the U.S. aquaculture industry is small, it is growing to meet the needs of consumers who want healthy, wholesome, sustainable, and safe seafood that is produced locally.
As the global population increases, there is a pressing need to find sustainable, environmentally friendly means of food production. This is especially true in terms of animal protein. Fish are extremely efficient converters of feed into protein. Aquatic animal production systems have a lower carbon footprint, as well as lower nitrogen and phosphorus losses, which are critical to maintaining a healthy ecosystem. Fish are "cold-blooded." This means they expend little to no energy to maintain a constant body temperature. In addition, water provides physical support. Food can be used for growth rather than maintaining stability and supporting bone growth.
U.S. aquaculture is strictly regulated by a number of federal agencies, including the U.S. Department of Agriculture (USDA), the Environmental Protection Agency (EPA), the Department of the Interior, the Fish and Wildlife Service (FWS), the National Oceanic and Atmospheric Administration (NOAA), and the Food and Drug Administration (FDA). Federal programs are supplemented by extensive state and local programs. Each of these agencies has a food safety component, making U.S. farmed seafood products one of the most regulated foods in the American marketplace.
Food safety is strictly controlled through every phase of the farming process, from initial breeding to harvest. In addition to protections for the environment and the product, protections for workers are guaranteed by the Occupational Safety and Health Administration (OSHA) and the Fair Labor Standards Act (FLSA). This may not be the case in other countries.
The FDA HACCP Management System
The Food and Drug Administration (FDA) operates a mandatory Hazard Analysis Critical Control Point (HACCP) program for seafood products. Fish and shellfish packers, warehouses, and processors must comply with the mandatory requirements of the seafood HACCP regulation.
FDA includes retail operations with central warehousing under the definition of seafood processor if they handle, store, package, label, or hold fish and seafood. That definition includes most supermarkets.
The principles of HACCP were pioneered by the Pillsbury Company, in cooperation with the National Aeronautics and Space Administration (NASA), to help ensure that food for the U.S. space program approached a 100% safety level. In 1997, FDA initiated a mandatory HACCP program for seafood to increase the margin of safety and reduce seafood-related illnesses to the lowest level possible.
The HACCP system is a proactive program based on identifying and preventing hazards that could cause foodborne illnesses, rather than a conventional reactive system that responds when issues arise. HACCP plans are specific for each facility, species, and product produced. The HACCP system has proven to be an effective preventive food safety system and has been adopted by other food processors.
Seven essential components go into developing an effective HACCP plan, which includes:
Hazard Analysis: Production methods are analyzed to identify all potential food safety hazards that could occur in a facility, species, and the products produced
Critical Control Points: Producers must identify specific critical control points where the potential hazards can and will be controlled
Establishment of Critical Limits: Critical limits or minimum/maximum thresholds to control hazards must be established
Monitoring Procedures: Monitoring procedures must be established to continually ensure that the critical limits in place are met
Corrective Actions: Corrective actions are identified to address deviations from critical limits
Record-Keeping Systems: Producers must keep records of all monitoring, verification, and corrective actions taken
Verification Procedures: Producers must also implement verification procedures to validate that the selected controls are effective (e.g., calibrating thermometers).
HACCP has several additional benefits over conventional inspection systems. It recognizes the producer as the final party responsible for food safety and allows the regulatory agency to more precisely determine the producer's level of compliance over time (Figure 1). HACCP records kept by the food establishment may be reviewed at any time, without prior notice, while traditional inspection systems can only determine conditions at the time of inspection and produce a "snapshot" of compliance.
Figure 1. HACCP Recognizes the Producer as the Final Party Responsible for Food Safety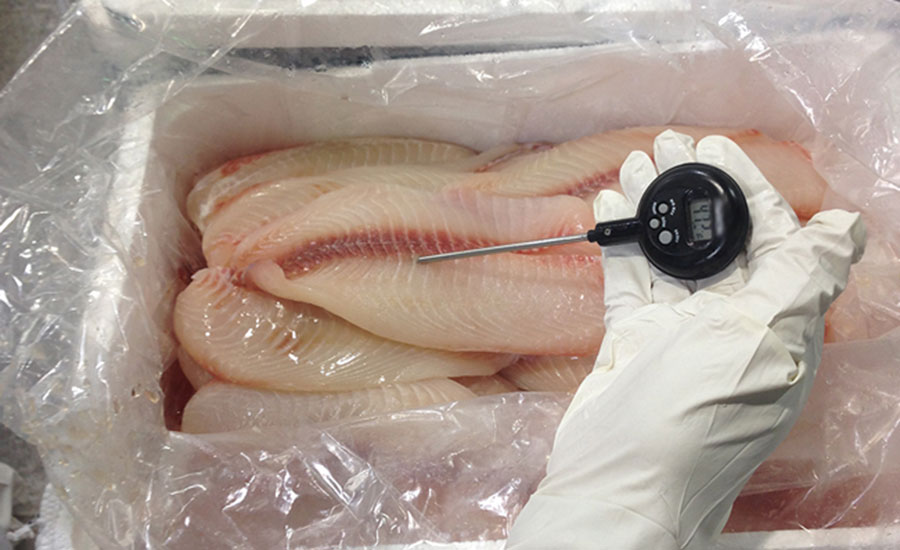 Most of the food safety hazards encountered with commonly consumed seafood products and their causative agents have been clearly identified and are outlined in FDA's Fish and Fishery Products Hazards and Controls guidance.1 
Sanitation monitoring is another major component of the HACCP system. Sanitation procedures, which are typically written as Sanitation Standard Operating Procedures (SSOPs), are integral to ensuring that any facility working with seafood is maintained in a safe and sanitary manner to limit the risks of food safety hazards. While the Seafood HACCP regulation does not require written SSOPs, it does require that producers routinely monitor and keep records of sanitation practices for the eight key areas of sanitation. These eight key areas include: 1) water safety, 2) cleanliness of food contact surfaces, 3) prevention of cross-contamination, 4) employee hygiene and maintenance of hygienic facilities, 5) protection of food surfaces and packaging from contaminants, 6) proper use of toxic compounds, 7) control of employee health conditions that could cause contamination, and 8) pest control.2,3 
While retail establishments are exempt from the HACCP regulation, voluntary implementation of HACCP-based food safety management systems in retail and foodservice establishments, combined with an effective sanitation program and good employee training, can help ensure food safety and avoid potential legal problems. FDA has developed an extensive manual to help retailers and foodservice operators implement HACCP systems.4
Good Manufacturing Practices (GMPs)
All food producers are subject to the Current Good Manufacturing Practices regulation CFR Title 21 Part 117, Subpart B. This rule outlines general practices within a facility to ensure that foods are produced safely. The rule covers personnel, plants and grounds, sanitary operations, facilities and controls, equipment and utensils, general process controls, warehousing and distribution, byproducts and animal feed, and action defect levels.
Food Safety Modernization Act
The 2011 Food Safety Modernization Act (FSMA) added regulations for the processing, handling, and transportation of animal feed and human food. While seafood processors in compliance with the Seafood HACCP regulation are exempt from most aspects of the FSMA Preventive Controls for Human Foods rule, seafood processors must still adhere to some new requirements, including training and transportation.
Food industry training is an important component of successful implementation. All employees who manufacture, process, pack, or hold food must receive adequate training. Training must cover principles of food hygiene and food safety, including the importance of employee health and hygiene as appropriate to the food, the facility, and the individual's assigned duties.
In the area of transportation, FSMA establishes requirements for vehicles and transportation equipment, transportation operations, records, and training. This includes every link in the supply chain from farm to processor, warehouse to distributor, and wholesaler to retailer or restaurant. Food safety challenges include failure to properly refrigerate food, inadequate cleaning of vehicles, and failure to protect food from contaminants and pests.5,6
USDA Inspection of Siluriformes (Catfish)
The USDA Food Safety and Inspection Service (FSIS) has the responsibility for inspecting all farm-raised fish in the order Siluriformes. That group includes a wide variety of catfish and catfish-like species that are sometimes imported from countries that do not have rigorous inspection systems. Any establishment preparing Siluriformes fish or fish products for the wholesale market is required to operate under FSIS inspection, which encompasses a continuous inspection system. The USDA seal ensures that the fish is wholesome, free from disease, and properly labeled.
This program was requested by the U.S. catfish industry because of the high volume of catfish and catfish-like species being imported. FSIS inspects food products derived from those species, verifies that the products are prepared for commerce under sanitary conditions, and inspects products that are exported from or imported into the U.S. The inspection may include testing for pathogens or drugs or other chemical residues. FSIS has the authority to take action with respect to catfish products in commerce that may be adulterated or misbranded.
The catfish program is similar to FSIS meat and poultry programs and goes beyond the end product. It starts at the farm. Standards including site selection for ponds, water quality standards, and specific harvesting and transportation practices have been developed. Siluriformes that are harvested for use as human food must be raised under conditions that will not render the fish or their products unsound, unwholesome, or otherwise unfit for human consumption. Retail businesses that prepare fish and fish products for sale to the end consumer are exempt from the requirements for inspection.7
National Marine Fisheries Service Voluntary Inspection Program
Figure 2.USDC Lot Inspected Official Seal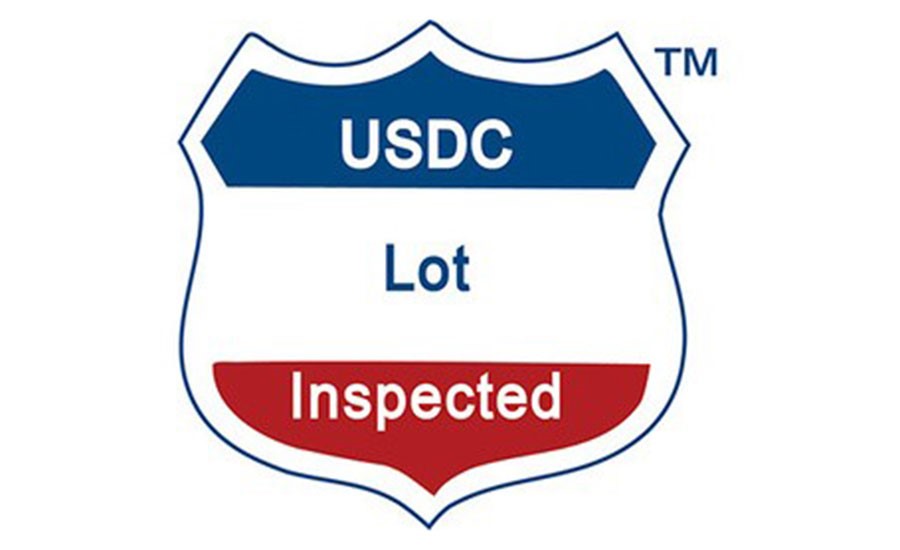 In addition to the mandatory programs, the National Oceanic and Atmospheric Administration (NOAA) operates a voluntary fee-for-service program through the National Marine Fisheries Service (NMFS). This program provides vessel and plant sanitary inspection, product inspection, grading, export certification, label review, laboratory analysis, testing, and training. Certain products may be eligible for stamping with official marks such as U.S. Grade A, Lot Inspection (Figure 2) or processed under Federal Inspection (PUFI). 
Vessels, processing plants, and retail facilities can voluntarily apply for inspection. This program is available for a variety of product forms including whole fish, processed products, and fishmeal used for animal food. Export certification is an important component of this program.8
Country of Origin Labeling
USDA's Agricultural Marketing Service (AMS) requires country of origin labeling for fish, seafood, and shellfish products at all retail establishments that are licensed under the Perishable Agricultural Commodity Act (PACA). These establishments are primarily supermarkets that handle a large volume of produce. All fresh and frozen seafood products must bear labeling. Products must be labeled by country of origin and method of production—either "wild caught" or "farm raised."
Fish markets that do not sell large volumes of fruits and vegetables are excluded from this definition and do not need to comply with the labeling requirements. Restaurants are also exempt.9
FDA's Seafood List
Seafood can be an extremely confusing commodity. Almost 1,000 different species of finfish and shellfish are sold in the U.S., and those products are often sold under a variety of names. A simple search for the common name "catfish" will return over 25 different species, some with very different characteristics.
To minimize confusion and misbranding, FDA publishes its Guide to Acceptable Market Names for Seafood10 sold in interstate commerce. This guide is a searchable database that displays the scientific name (genus and species), the acceptable market name, the common name, and sometimes a vernacular name for all types of seafood. The vernacular name is not accepted in interstate commerce. The acceptable market name (and some common names that are not prohibited by regulation) may be used.
State and Local Licensing Programs
The federal HACCP program is supplemented by state and local licensing programs. The specifics of the controls and requirements vary by state and agency but, in general, the responsible agency in each state either adopts and enforces existing federal regulations for in-state producers or creates its own, typically more prescriptive and controlled regulations. This often includes regulators performing routine inspections to ensure that facilities are maintained in a safe and sanitary manner, in compliance with good manufacturing practices, and have effective food safety plans (like HACCP) in place (Figure 3). Regular inspection and review of producer records is a crucial part of ensuring that the stringent federal and state food safety requirements are effectively protecting U.S. consumers.  
Figure 3.Federal Regulators Often Perform Inspections as Part of State Licensing Programs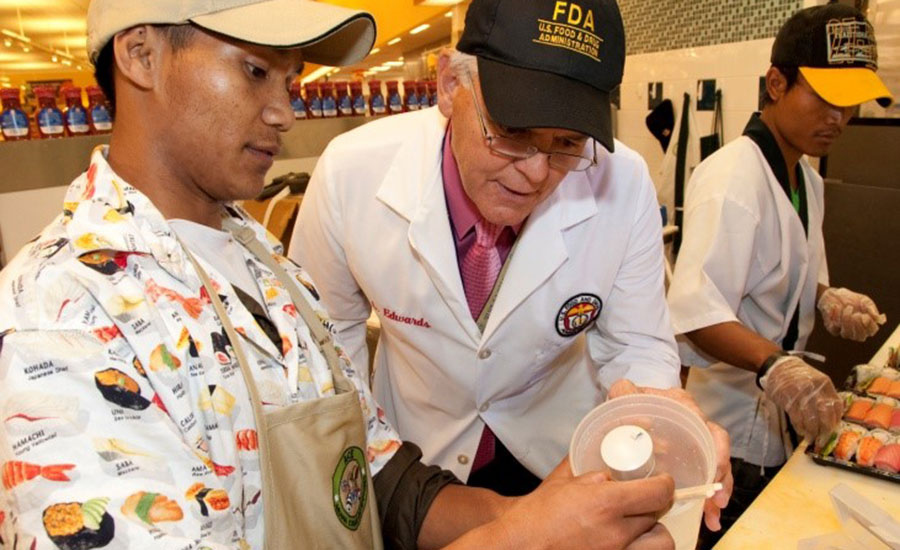 FDA's Food Code,11 although not federal law, does provide extensive advice about food safety in retail and restaurant settings. The provisions within the Food Code can be, and regularly are, adopted and enforced by state and local regulatory agencies.
FDA Total Diet Study (TDS)
In addition, all domestic foods are subject to random sampling under the FDA Total Diet Study (TDS), also known as the Market Basket Survey. This program is a surveillance program designed to test for and detect any potential contaminants and chemical residues in the domestic food supply.  
Food samples are purchased throughout the U.S., prepared, and analyzed for selected contaminants and nutrients. Dietary intake is calculated by multiplying the levels of contaminants and nutrients by the average consumption of each food.
Farming Practices
Aquaculture Feeds
Aquaculture feeds are regulated by FDA, as well as State Departments of Agriculture and the American Association of Feed Control Officials (AAFCO). FDA routinely collects and analyzes samples of feeds and fish to help ensure that unsafe levels of any compounds used in animal production do not appear in the marketplace.
Scientists and the U.S. fish farming community are actively working to develop sustainable feed to improve feed conversion rates (ratio of feed consumed to fish produced), to replace fishmeal with alternative sources of protein, and to minimize waste production.
Aquaculture Drugs
In the U.S., very few drugs have been approved for use in aquaculture. Drugs and hormones are not used to promote growth. FDA's Center for Veterinary Medicine (CVM) regulates the use of drugs in U.S. aquaculture. For animal drugs to gain approval for use, the drug company must collect data about the safety and effectiveness of the drug. Public agencies at the federal and state level may also conduct their own research to assess the efficacy and safety of a particular drug. Sufficient scientific evidence must be available before a drug is approved in the U.S. That evidence must demonstrate that the drug will not pose any potential risks to the environment or public health.12
Antibiotics
The approval and use of any drug or medication is regulated by the federal government. In the U.S., the use of antibiotics for non-therapeutic purposes in fish is prohibited by law. Antibiotics do not improve growth rates in fish, and they are expensive.
Animal welfare laws allow antibiotics to be used if a disease is identified, but they can be used only under the direction of a licensed veterinarian. Only three antibiotics can be used in the U.S. These drugs have been proven to be safe and effective. Strict withdrawal times help ensure that these antibiotics are undetectable at the time of harvest.
As in humans, vaccines have been developed for the major diseases that affect farmed fish and are typically administered during early life stages, well before fish reach market size. There is no evidence of food safety hazards associated with the use of vaccines in fish.13 
Growth Hormones
Growth hormones are not used in U.S. aquaculture. Although growth hormones may be given to other farm animals, such as cattle and sheep, their use in food fish is prohibited by FDA. Certain additives such as pigments, antioxidants, and other nutritional supplements have been proven safe, and their use in fish feeds is permitted by FDA regulation.
Ensuring the Supply of Seafood for Future Generations
As the demand for seafood continues to grow, aquaculture must bridge the widening gap between wild supply and consumer demand. At present, over 50% of the seafood that is consumed in the U.S. is produced on fish farms; however, most of that product is imported from foreign suppliers who may or may not be subject to the same environmental, labor, and food safety regulations that are required in the U.S. It is estimated that over 85% of the seafood consumed in the U.S. is imported.
Commercial harvesters and the aquaculture industry must work together to recapture our domestic markets and help ensure that Americans have access to high-quality, sustainable, and safe seafood now and in the future.
References
Linda J. ODierno is Outreach Specialist with the National Aquaculture Association.
Michael Ciaramella is Seafood Technology Specialist with the New York Sea Grant, part of the Cornell Cooperative Extension.