Campden BRI has updated guidance on the design, implementation, and control of cleaning and disinfection of food factories. The revised version will help food and drink manufacturers ensure their factories are cleaned and disinfected effectively so that they maintain a high hygienic standard and continue to produce safe products.
It comes as a result of close collaboration with industry experts to align it with changes in the management of hygiene in food production ensuring it reflects the most up-to-date thinking, research, and developments.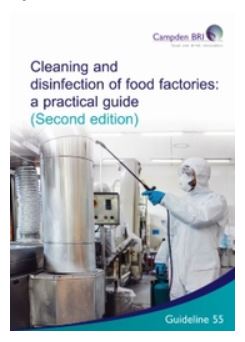 Food manufacturers, retailers, and regulatory bodies prepared the new guidance in conjunction with Campden BRI scientists, to provide a single source of information on cleaning and disinfecting a food factory. It will help the industry understand when to clean, how to clean, and what chemicals to use to remove physical, chemical, and microbiological contaminants. To achieve this, the comprehensive guideline covers a number of specific areas, including:
How to select the appropriate chemicals, based on differences in equipment, facilities, and ingredients/foods being handled
How to eliminate the virus that causes COVID-19 from a factory environment
The various methods of cleaning and disinfection
The equipment needed to carry out effective cleaning
How to build cleaning schedules
The timing and frequency of cleaning, and
How to monitor factory cleanliness and verify that cleaning has been carried out successfully.
Campden BRI collaborated with a working party made up of the food industry to ensure the guideline document—Cleaning and disinfection of food factories: a practical guide (Second edition) 2020—is relevant to manufacturers and covers many of the cleaning-related challenges that they will come across. The new guidance is now available from Campden BRI.