The U.S. has one of the safest domestic produce industries in the world due to the unique partnership between state and federal regulatory agencies. At present, 45 state agriculture departments are partnering with the U.S. Food and Drug Administration (FDA) to implement produce safety.
The National Association of State Departments of Agriculture (NASDA) Foundation and FDA also maintain a partnership to ensure and champion the safety of produce and animal feed food systems in the U.S. As part of that partnership, the NASDA Foundation has a cooperative agreement,1 in which it works with FDA and state agencies to produce and distribute tools that assist in implementing produce safety rules within the Food Safety Modernization Act (FSMA).
NASDA hosted a conversation among NASDA Past President, New York Commissioner of Agriculture Richard A. Ball, NASDA Foundation Senior Director of Food Safety Joe Reardon, and FDA Assistant Commissioner for Partnerships and Policy Erik Mettler to share how the FDA and NASDA Foundation partnership serves as the foundation for effective regulatory policy, how those principles led to the On-Farm Readiness Review (OFRR) program, and how that program has taken off to help farmers ensure that food safety contributes to solving our challenge of feeding the increasing world population.
FDA and NASDA Foundation Partnership: A History
Commissioner Ball opened the dialogue by sharing the history of cooperation and partnership between state agriculture departments and the federal government.
"State and local health and agriculture departments have been ensuring the quality and safety of food for a long time, by conducting millions of inspections annually. Over the years, FDA has been a source of guidance for the states on large-scale challenges and technical programs, for training on food safety initiatives, for investigatory assistance during multi-state outbreaks, and more," Ball said. "We are partners and co-regulators who have strong relationships that were built over time and with mutual respect; we lean on them, and they lean on us."
The NASDA Foundation and FDA cooperative agreement to implement FSMA formed out of this long-term partnership with states. NASDA Foundation's Senior Director of Food Safety, Joe Reardon, previously directed federal-state relations for FDA, and prior to his role at FDA, he served as the Assistant Commissioner for consumer protection for the North Carolina Department of Agriculture and Consumer Services for 40 years. Reardon now leads the cooperative agreement and food safety efforts under his role at the NASDA Foundation.
"Our cooperative agreement has allowed the NASDA Foundation to work in partnership with the states and FDA to identify the roadmap for implementation of the FSMA Produce Safety Rule and what steps should be taken so that states can carry out programs successfully and uniformly," Reardon said. "Our partnership is built on some very core tenets: trust, respect, and transparency."
Reardon shared that having openness early in the process of envisioning how the NASDA Foundation and FDA would work with state partners to implement the FSMA regulatory process enabled the creation of foundational FSMA documents and an operational framework that truly meet the vision and public health goals of FSMA.
"FDA, NASDA Foundation, and 26 participating states developed The Model Produce Safety Implementation Framework, along with inspection and compliance templates to ensure uniformity and consistency—not only within an individual program, but across all programs implementing produce safety regulatory programs," Reardon said. "In addition, we are continually looking for ways to innovate and finding opportunities to grow, evolve, and enhance our processes."
On-Farm Readiness
Personally, holding the responsibility for keeping produce safe on his own farm2 and farms across his state, Ball shared how meaningful local perspectives in the development of the FSMA regulatory framework has been.
"NASDA Foundation's cooperative agreement has allowed all commissioners, secretaries, and directors of agriculture to provide guidance and input to FDA on the implementation of FSMA, particularly the Produce Safety Rule, and act as a voice for our state regulators and growers as they navigated this new regulatory landscape," Ball said. "As co-regulators, the state, local, and FDA inspectors are the boots on the ground, conducting millions of inspections annually between retail and food manufacturing, and shaping how we regulate food.
"The great success of NASDA Foundation's cooperative agreement has been what we call the 'On-Farm Readiness Review' (OFRR) tool," Ball continued. "The OFRR tool provides a real-life educational experience for both state regulators and growers to discuss aspects of the Produce Safety Rule and allows growers to engage in discussions to truly understand the rule and how it applies to their farm operations" (Figure 1).
FIGURE 1. OFRR trainers and participants examine a lettuce washer as an outstanding example for keeping water and food contact surfaces clean.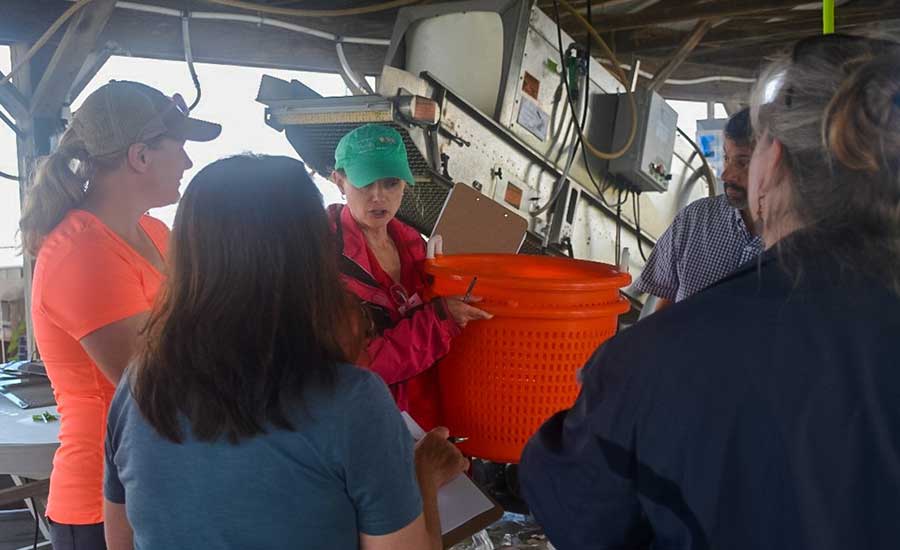 Mettler shared more about the OFRR program, and how it addresses the current farmers' awareness and brings them along with regulatory agencies in the mission to protect public health. "NASDA Foundation and FDA's approach to implementing the FSMA rules has been to 'educate before and while we regulate,'" Mettler said. "NASDA Foundation has been a key partner in emphasizing education and helping bring industry into compliance by developing the OFRR educational materials, facilitating training, and conducting OFRRs."
The reviews are conducted with the goal to help growers by offering a guided review of their farm by state professionals and educators to identify the aspects that will be considered in a regulatory inspection.These reviews can help farmers address any areas in need of improvement before a regulatory inspection takes place in the future.
More importantly, the trainings inspire farmers to see the farm as a holistic system with food safety as something to proactively seek at each step, building a food safety culture among farmers and across the industry.
"Working together, the aim is to improve the safety of the food supply while still maintaining a vibrant agriculture sector," Mettler said. "It's reassuring to see how useful OFRR visits can be in helping farmers understand what to expect in working with us to ensure the safety of the fruits and vegetables we serve to our families. We encourage farmers to take advantage of these reviews" (Figure 2).
FIGURE 2. OFRR trainers and participants examine produce crates and how to keep them clean in the field, as crates are often one of the first surfaces food touches.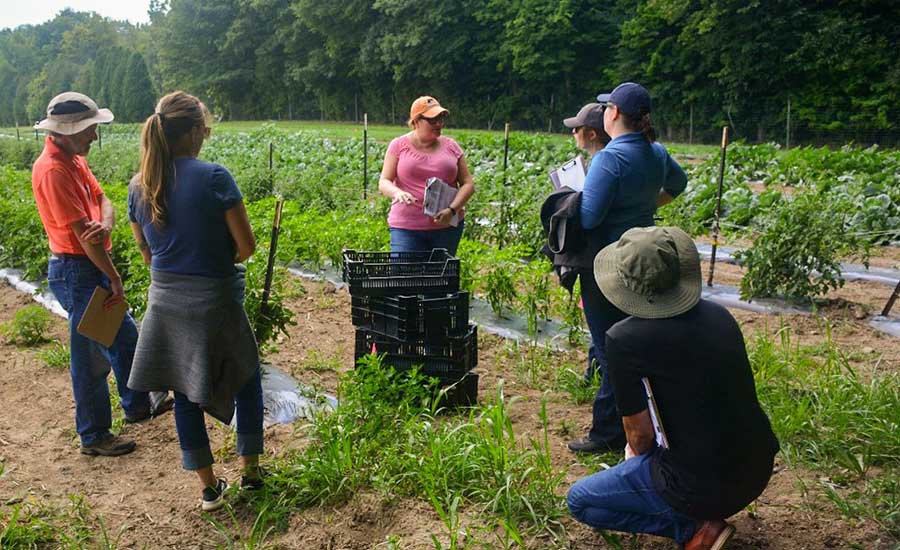 Reardon is one of the foundational members of the team that developed the OFRR process and conducts ongoing trainings. He shared several anecdotes from farmers detailing the benefit of the OFRR process.
"We've heard from many farmers that the OFRR process of identifying potential food safety vulnerabilities on the farm has helped them in informing changes to their processes and practices to mitigate food safety risks," Reardon said.
Viruses and bacteria that cause foodborne illnesses can harbor in unexpected places in a farm's production system, if not caught. For example, we've helped farmers identify potential areas of risk such as overhead drip in coolers, ineffective produce washing facilities, cross-contamination with animal debris in field, and others. Those farmers have since been able to make changes to their operations by directing resources on the farm to prioritize food safety."
Reardon again reflected on the importance of relationships to effective regulation. "Getting to these success stories with farmers has taken establishing respect, trust, and always upholding transparency. Much of the time spent working on the cooperative agreement today goes toward helping establish early engagement between farmers and the inspection community to create the trust and respect that must coexist if we're going to be successful."
He continued, "We know that if you're able to communicate the food safety risk behind the Produce Safety Rule requirement and help the farmer understand why a specific practice or process can elevate or lower food safety risk, they can make the best decisions for their farm and determine how to best invest their resources."
Produce farms that grow, pack, or hold fruits and vegetables that are "generally consumed raw" are regulated by the Produce Safety Rule as of January 26, 2016. NASDA saw the importance of "educating before and while we regulate" and introduced the OFRR in 2018. Since that time, approximately 2,500 individual farms have benefited from the educational reviews (Figure 3).
FIGURE 3. OFRR participants learn about different types of irrigation wells on produce farms outside the pump house on a Michigan State University research station.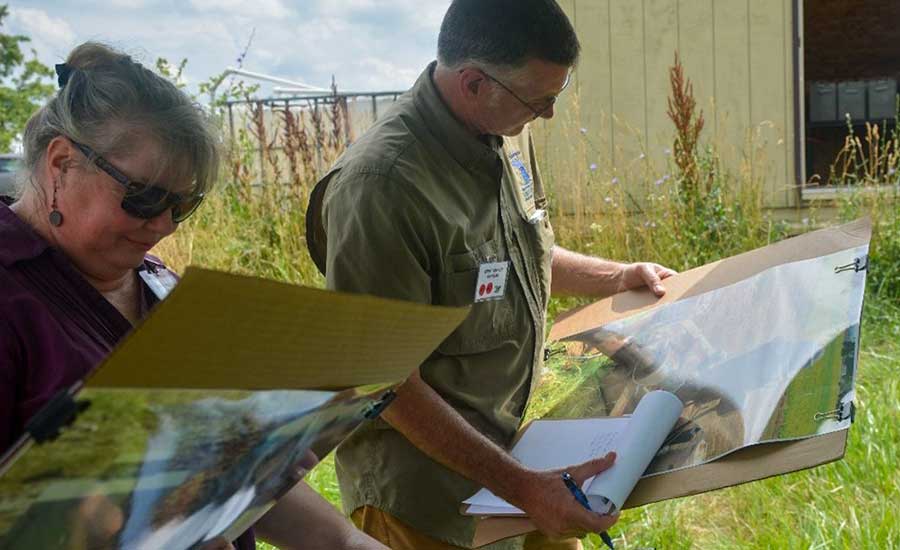 Food Safety Goals
Mettler also reminded us of the goals of OFRR—it all goes back to public safety. "FDA and NASDA members are co-regulators with the same mission to ensure that the U.S. consumer has access to safe and nutritious food. Together, we are one workforce that will bend the curve of foodborne illnesses in this decade so that consumers in this country, and around the world, can lead better lives," Mettler said.
Reardon continued by sharing that consumers are largely unaware of the work that FDA, NASDA Foundation, and the states are doing together to keep their food safe, but that this a good sign.
"When you go into the grocery store, your first thought is what you want to eat that night or that day," Reardon said. "The typical U.S. consumer purchase is not based on food safety, but that isn't always true in other countries where the food safety infrastructure is not as strong. The safety of our food supply is built on the commitment of the food production and farming community to produce safe food, and the regulatory structure that we have at the local, state, and federal level to ensure the safety of our food supply."
Reardon shared that not only is safety important, but it also ensures the continuity and availability of our food supply. "From the Virginia Tech Global Agricultural Productivity Report,3 we know and understand that we've got to significantly increase our food supply by 2050. We're going to do so with many challenges; we'll be using less water, we'll be doing it on less land, and we've got to feed twice the number of people. That means we must understand what the challenges of tomorrow are, and address them in a way that can produce safe food but also increases production, quality, and competition across the global marketplace."
For example, Reardon stated, as the farming community grows closer to housing communities, it is reasonable to expect that greenhouse production or controlled environment agriculture may become more commonplace. Greenhouse operations can produce a great deal of product in a very limited amount of space, which is appealing for areas where the availability of land is becoming limited. Different food safety challenges exist in these types of growing environments including pests, water usage, employee practices, or other elements specific to these operations. These issues must be considered as new types of production environments proliferate.
Commissioner Ball doubled down on Reardon's points, remarking that the food safety structure must be ready to apply to changing agricultural techniques. "As we look down the road at food availability, we need to think differently about how we grow food, utilizing technology and precision agriculture techniques to our benefit; we need to reduce food waste and upcycle food that is wasted into value-added-products; and we need to have systems in place that reduce our reliance on food coming from somewhere other than our own states," Ball said.
"This way of thinking brings new food safety challenges and an opportunity for innovative thinking. We are fortunate to have one of the top food science departments in the country in [New York]; those professionals are prepared to mitigate potential risk, but our state department staff has to be trained to serve an important role in this risk mitigation, as well," Ball continued.
"To be successful in driving down foodborne illnesses, we need a more holistic approach to food safety across every aspect of the food supply system. Whether it's training for our engagement with the industry of advancing technologies, devising analytical techniques to detect and identify contamination earlier, or having a way to easily track and trace our food, all of these are challenges but also opportunities at the same time. In our role, we're looking into the future before production trends are commonplace to educate and protect everyone. It's important that we build on what we've learned through FSMA implementation and OFRRs to facilitate a community where farmers and regulators are all working in the same direction," Ball said.
Mettler agreed, and concluded by saying, "Food production and food safety are inseparable when it comes to meeting the food supply demands of today and tomorrow. We're grateful for the dynamic partnership the FDA has with NASDA Foundation and state agriculture departments. Together, we have the tools to act proactively, and this helps ensure that FDA, through the Food Safety Modernization Act, continues to protect and support the U.S. food system."
References
1 NASDA Foundation. "FDA Cooperative Agreement: Produce Safety." https://www.nasda.org/nasda-foundation/food-safety/.
Fox, Deanna N. "Have a farming question? Richard Ball could answer it." Times Union. October 26, 2021. https://www.timesunion.com/food/article/Have-a-farming-question-Richard-Ball-could-16542464.php.
Virginia Tech, College of Agriculture and Life Sciences. "2022 GAP Report." https://globalagriculturalproductivity.org/2022-gap-report/.
Joe Reardon is the Senior Director of Food Safety at the NASDA Foundation.
Erik P. Mettler, M.P.A., M.P.H. is the Assistant Commissioner for Partnerships and Policy at FDA's Office of Partnerships and Operational Policy.
Richard A. Ball is the New York Commissioner of Agriculture and Past President of NASDA.