✕
Food recalls are a public health challenge shared by the U.S. Food and Drug Administration (FDA), regulatory partners, and industry. Federal and state partners work together with industry to ensure prompt, effective responses to recalls. When regulatory stakeholders understand one another's roles, resources, and authorities, they can collaborate effectively at the local, state, territorial, tribal, and federal levels, and recalls can be processed faster and more efficiently—helping keep potentially dangerous products away from consumers.
With that in mind, a collaborative recall project took shape in Georgia amid the pandemic in 2020. Utilizing virtual meeting platforms, the FDA Office of Regulatory Affairs (ORA), along with state recall coordinators and their leadership teams, took a closer look at the existing regulatory recall response efforts in the state of Georgia and where collaboration was present among state and federal agencies. They confirmed that, while certain regulatory roles may overlap, more effective coordination and collaboration can prevent duplicative efforts. Better coordination and collaboration helps save time, improves information sharing, and decreases the burden on the recalling firm(s) to provide the same records to multiple agencies.
After creating a pilot template project in 2021, the recall collaboration expanded to a larger network in 2022. The feedback from the original participants, as well as the seven additional partner pairings in 2022, strengthened the project to enhance future partner integration efforts with the goal to better protect consumers during a recall (Figure 1).
Katie Blackshear, Consumer Safety Officer with ORA's Office of Partnerships, is also the Co-Chair of the Partnership for Food Protection (PFP) Surveillance, Response, and Post Response Workgroup (PFP/SRPR) and headed up the project. Formally named the Recall Integration Partnership Project (RIPP), Blackshear led the project team throughout the pilot project in 2022. Project participants included five FDA human and animal food operating divisions and seven state food protection programs (12 entities in total). The participating agencies facilitated multi-faceted discussions around recalls and provided feedback to measure the impact of the project.
FIGURE 1. Successes Achieved by the Recall Integration Partnership Project (RIPP)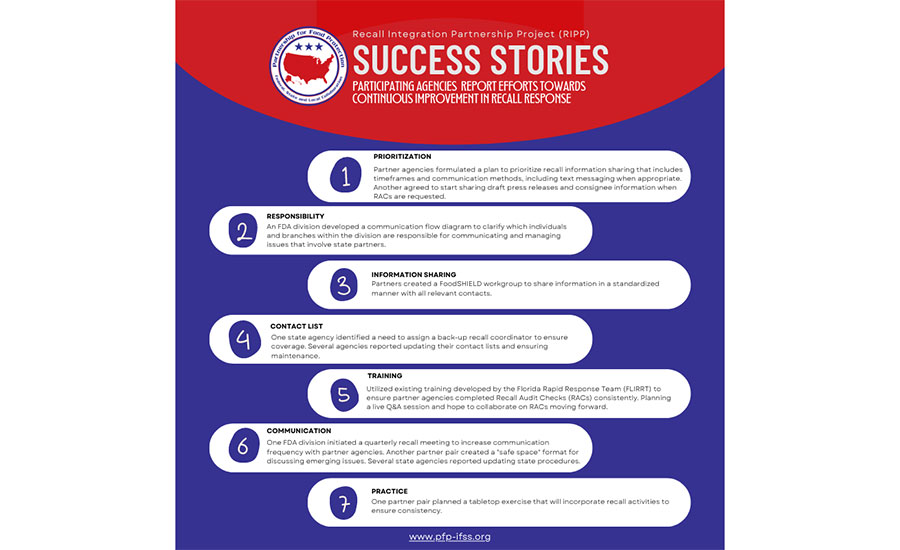 Background: Tracing it Back
The Georgia Department of Agriculture (GDA) and FDA/ORA already had a strong and well-established relationship prior to this shadowing project. However, increasing communication between the two agencies' recall coordinators in Georgia from 2020 into 2021 immediately enhanced the way recalls are handled.
Together, areas for improvement were identified while highlighting enhanced domestic mutual reliance (DMR) and integrated food safety efforts between the two regulatory agencies, including:
More rapid sharing of information
Unified state/federal calls with industry during a product recall
Clearer expectations of roles and responsibilities
Collaborative regulatory activities through more frequent discussions
Identifying opportunities to shorten the timeframe between notifying regulatory entities or consumers of a potential recall, investigating the root cause, and taking regulatory action by having all partners at the table from the beginning.
The project expands upon important relationships that preexist among state and federal recall coordinators nationwide. This ensures awareness of how different state/federal partner agencies operate, their individual resources, unique authorities, and expertise, and how they can maximize information sharing while protecting commercial and confidential information.
Expanding Recall Enhancements: Tracing it Forward
In 2021, the concept of integrating recall coordination among federal and state regulators became a strategic goal of the Partnership for Food Protection (PFP), an organization comprising dedicated professionals with roles in food protection and public health working toward the goal of an integrated food safety system. As the PFP's 2021–2026 strategic plan was finalized, the organization's leadership added recall shadowing as an objective to develop a model for broader implementation and to continue sharing lessons learned. This was the genesis of the Recall Integration Partnership Project (RIPP).
"The Recall Integration Partnership Project resulted in improved understanding and increased collaboration among FDA and our partner agencies. Building upon the success of this pilot project, our plan is to proceed with several strategic initiatives to socialize the project's model and framework and encourage duplication by other agencies," said Michael Dutcher, D.V.M., Deputy Director of the Office of Human and Animal Food Operations at FDA's ORA. "Doing so will strengthen and enhance the cohesiveness and effectiveness of the integrated food safety system during food recalls. This enhanced partnership benefits industry by supporting a more agile and coordinated joint recall response by leveraging each other's respective regulatory enforcement capabilities to further protect the health of the public, which is our top priority."
In the first half of 2022, the PFP/SRPR coordinated with several FDA ORA recall staff, along with seven state food regulatory programs to develop a framework for implementation to enhance recall communication and collaboration in other regions.
"The lessons we've learned from the recall regulatory partner activities have helped us to better communicate, integrate, and leverage our authorities and resources with our state, local, tribal, and territorial partners in a complex and integrated food safety system, which is consistent with our domestic mutual reliance efforts," said Tim Mueller, Director of the Division of Integration at FDA's ORA. "Leveraging best practices in our domestic partnership agreements enables us to strengthen our programs to support industry's compliance with recall requirements, while also strengthening recall effectiveness. We'll continue to use our authorities and these strategies to rapidly remove adulterated and misbranded food from the marketplace to best protect consumers."
The division/state pairs were provided best practices, tools, and templates designed by the PFP to utilize throughout the pilot. The project aimed to increase collaboration, share lessons learned, and glean feedback to drive improvements for the idea of a model template. Pre-assessments completed by individual participants were designed to capture existing relationships and knowledge of the partner agency's capabilities and opportunities to collaborate. The RIPP team administered and evaluated a post-project assessment to summarize key outcomes.
"We felt we already had a great relationship with our partners at FDA, but this project only served to improve it even more," participant Kimberly Stryker with the Alaska Food Safety and Sanitation Program Manager said. "The time we dedicated with our colleagues at FDA on the recall shadowing project helped deepen our relationship to be more efficient and effective in our shared mission to protect the public's health. Within the program, the project also served to broaden and share knowledge among our staff."
Recall Integration Partnerships: A Call to Action
The RIPP framework provided the 12 participants the opportunity to enhance partnerships and gain a better understanding of how the agencies operate during recalls. Participants who completed the program strengthened the concepts of an integrated food safety system by gaining a greater understanding of partner responsibilities and preferred methods of communication and collaboration during recall events.
"Many of the participating agencies reported implementing activities and initiatives due to their involvement in the project," Blackshear noted. "A large majority [82 percent] indicated they gained a greater awareness of their partner agency's responsibilities during recalls. The successful implementation of these activities will have an immediate effect on the collaboration and coordination among agencies during recall events."
The RIPP is intended to strengthen critical partnerships to protect public health and improve response capabilities during recall events. This collaboration is particularly beneficial considering resource constraints and competing priorities. With step-by-step instructions, tools, and templates to help guide the process, the project is designed to be a long-term, continuous improvement initiative that can easily be incorporated into existing partnerships. The best part is that it can be revised to meet different agencies' needs, address different areas of improvement, and encourage ongoing collaboration.
Call to Action
Any agency interested in participating in the Recall Integration Partnership Project can do so now! A downloadable toolkit, developed by the project team, offers agencies all the resources needed to get started with the project on their own. From setting initial goals to generating discussion topics with partner agency recall staff, the toolkit provides an easy implementation structure to fit individual state and FDA division needs. Learn more and download resources today: www.pfp-ifss.org/RIPP
Special thanks to the five FDA divisions and seven state agencies who participated in the RIPP pilot and for providing their invaluable feedback to the project team:
HAFE1 and the Connecticut Department of Consumer Protection and the New York State Department of Agriculture and Markets
HAFE6 and the Michigan Department of Agriculture and Rural Development
HAFW1 and the Minnesota Department of Agriculture, as well as the Wisconsin Department of Agriculture, Trade, and Consumer Protection
HAFW4 and the Colorado Department of Public Health and Environment
HAFW6 and the Alaska Department of Environmental Conservation.
Jessica Holthaus Badour has built a successful and diversified career developing compelling means of sharing information while engaging the public on essential issues. She joined the Association of Food and Drug Officials (AFDO) in a new role in 2021 as the Workforce and Communications Coordinator. Ms. Badour spent the last decade with the Georgia Department of Agriculture's (GDA's) Food Safety Division, primarily as the state's recall coordinator, working with the Georgia Food and Feed Rapid Response Team (RRT) Program. Ms. Badour is a key player in many local, regional, and national associations, including Co-chair for the Partnership for Food Protection's Outreach Workgroup. She holds a B.A. degree from Hood College and originally hails from Hampton Bays, Long Island, New York.