✕
With COVID-19 hopefully slowly disappearing in the rearview mirror, we want to know what food companies are focusing on for the rest of this year and into 2023. We heard from more than 450 food processors and food safety professionals in every category in the U.S., Canada, and around the world, who shared with us a wide-ranging wish list of projects and priorities to complete.
From the processors' comments, it is clear that a great deal of pent-up demand exists for projects that were delayed over the past few years. At the top of the list is maintaining or adding to food safety certifications. The messages we heard indicated that while companies were able to attend to the requirements mandated by their certifications, they were challenged to keep up with the many other details needed, especially internal audits, to keep their certifications current. Also, they lacked the time to add new certifications.
This priority was closely followed by processors' desire to improve their food safety culture, resume continuous improvement of their basic food safety programs, enhance employee training, and further develop their sanitation and environmental monitoring programs.
Perspectives on Pandemic Recovery
The premise of our survey was that the disruptions caused by COVID-19 are easing. To find out if this was indeed the case, one of the first questions we asked was, "Do you consider your plant to be recovered from the pandemic?" As shown in Figure 1, a majority of our survey respondents do consider themselves to be recovered, but not by a very wide margin.
Figure 1.  Processors Speak Out on Pandemic Recovery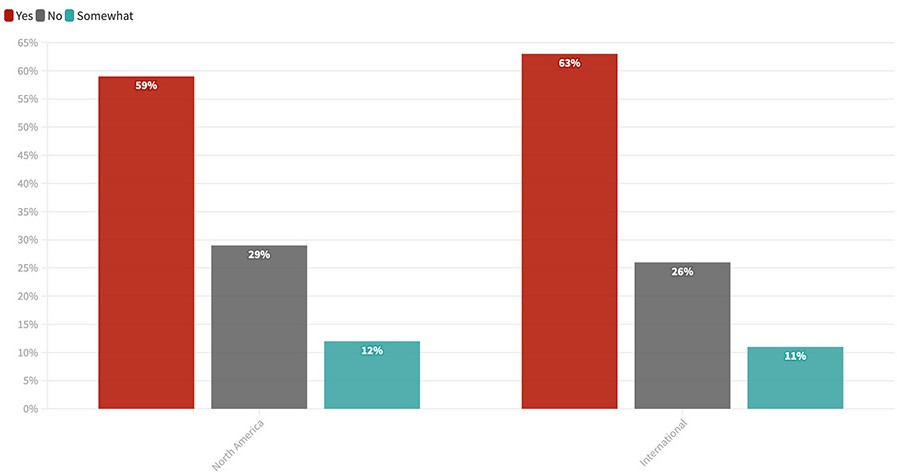 When we asked this question, however, we did not offer a "yes/no" response option; rather, we left the question open-ended, which allowed us to field more detailed responses and better understand the reasoning behind the answers. For example, for many of the "yes" answers, processors considered themselves recovered because their operational metrics are now back to pre-pandemic levels. Others gave a more qualified "yes," as they indicated that their metrics were back to pre-pandemic levels, but since they had not been able to add growth or launch new products they still considered themselves "behind" in their planned progress. Others answered "yes" because they no longer have any COVID-19 cases or incidences of positive tests in their facilities. These companies measured recovery in terms of disease rates rather than business metrics. Clearly, there are many shades to the spectrum of "yes" answers.
On the other hand, of those companies that answered "no," more of these responses indicated that they are still struggling with difficult business, economic, and market environmental factors. Many offered answers such as, "We are operating again, but our costs are too high and we are having difficulties getting the supplies that we need," or "We feel that we have done what we can to get back to normal, but the pandemic has left my country in a terrible economic recession, so nothing will be normal until that is better." These were typical responses, as more of the "no" answers cited conditions that are largely out of processors' control and are preventing them from getting back to normal.
That brings us to those that gave us a qualified response that we characterized as "somewhat recovered." In many of these cases, processors indicated that they were recovered in some aspects of their business; for example, their operations had returned to parity or near-parity with 2019, but the pandemic had changed their requirements for things like health and safety protocols, new suppliers, new shipping protocols, etc. One U.S. bakery company said, "We need to make changes to our approved supplier program due to substitutions we made to manage supply chain issues, and we need to improve our employee training program to address our higher level of employee turnover."
Another snack food company indicated, "We have been working to digitize our supplier tracking system to address our expanded supply chain, but that has added concerns about our cybersecurity that we now need to address." It appears that these companies have reset their level of "normal" to a higher level of performance and, while they may be matching what they were doing in 2019, they have not yet "recovered" to their new level of expectations.
Priorities for the Rest of 2023
With this characterization of the various views of the extent of recovery, what do processors who are moving forward say their priorities are for the rest of this year?
The priority most frequently cited was attention to programs to maintain certification and audit compliance (Figure 2). Many processors mentioned that they need to address issues in their HACCP program or their certification programs, such as ISO, GFSI, SQF, FSSC2000, and others. Only a few of the respondents mentioned major gaps or non-compliances, but a large number mentioned that they had not maintained an appropriate level of focus on these programs. Internal audits and reviews of validations were often mentioned. As one fresh fruit food safety specialist mentioned, they need to catch up with their "…verification of critical control points and calibrations that need to be completed, along with the internal related audits" that had otherwise been delayed. Several mentioned that they had been planning on upgrading their certifications or adding new certifications, but they had not found the time to make preparations or allow audits to be completed.
Figure 2.  Processors' Top Priorities for Food Safety Programs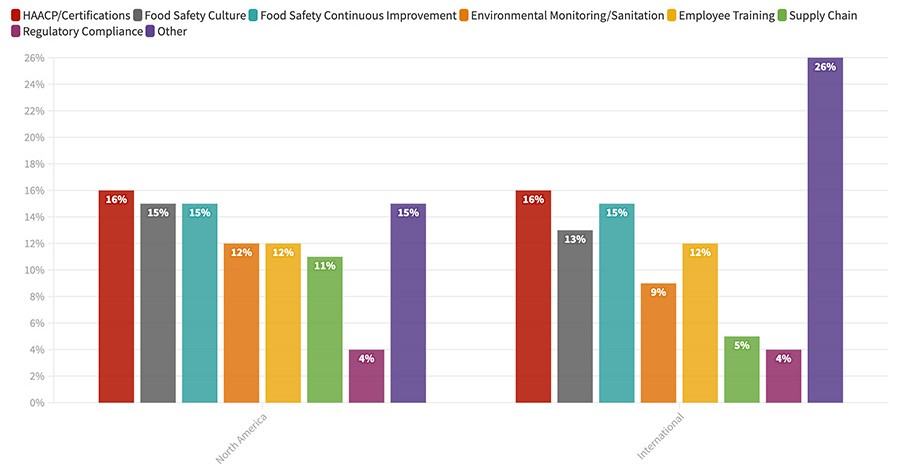 The issues mentioned were not substantially different across processor types or geographies. Maintaining certification and audit compliance was a clear priority for most companies, whether it meant shoring up their existing certifications and making sure that they were in compliance, finally moving forward with new certifications or upgrades they had put on hold, or making sure they were "audit-ready" now that the auditors were resuming regular inspections.
The second most-cited priority was "improving food safety culture." The culture issues cited ranged from improving communication, to achieving better cross-functional cooperation, to getting better buy-in from management. One beverage company's food safety specialist mentioned, "We need to be better in closing out recurring non-conformances from our internal audits and getting top management trained on food safety… which would go a long way to improving our processes. This would be a good start to the improvements in overall food safety culture that we are working toward."
Many other processors mentioned the importance of getting top-down and bottom-up involvement in food safety culture, as this is the foundation of everything else that they are trying to achieve. Many processors mentioned that their focus on culture improvement was severely delayed due to the urgent issues presented by the COVID-19 pandemic, but now that they had some breathing room again, improving culture would take a top priority.
The third most-cited priority was somewhat of a catch-all category, in that processors said they wanted to get back to making basic improvements to their food safety programs and focus on continual improvement. Many mentioned that facility and program upgrades—which included installing new X-ray systems to screen for foreign material, upgrading temperature measuring systems, upgrading drainage, purchasing new laboratory equipment, upgrading validations for control measures, buying new software to digitize record-keeping, and similar program and process improvement efforts—were long overdue.
Overall, the tone of the processors' answers was one of wanting to get back to the normal process of continuous improvement of their food safety programs with a focus that was not possible during the pandemic. For the past few years, food safety professionals were able (with a lot of effort) to continue to do what was necessary to produce safe food. Now, however, it is again time to get back to upgrades, improvements, and progress.
Food Safety is an Essential Profession
I would like to add one more aspect to this issue of "recovery" and give a nod to food safety professionals and their efforts throughout the pandemic. Quite a few of the processors who indicated that they were "recovered" from the pandemic said that this was the case for them because they never stopped working in the first place. As one dairy food safety professional said about their own department operations, "COVID-19 didn't impact our quality and food safety department too much… we couldn't work remotely for very long, as we needed to be onsite and available when food safety issues arise." Food safety professionals are—and have always been—essential workers.
In this same survey, we also asked questions about processors' relationships with their regulatory agencies and auditors, including what they wished these agencies understood better about food safety and processor operations, and whether they were back to regular inspection/audit cycles. We also revisited a question we have asked twice in the past: "Do you agree that FDA educates before they regulate?"
The answers to that question and others will be discussed in the October/November edition of Food Safety Insights.
Bob Ferguson is President of Strategic Consulting Inc. and can be reached at bobferguson9806@gmail.com or on Twitter at @SCI_Ferguson.