✕
As the issues related to the COVID-19 pandemic continue to subside and more restrictions are lifted, will we see food companies return to business travel, including in-person meetings and food safety conferences? To find out, we asked more than 250 companies about their travel plans for 2022 and how much travel they may or may not be anticipating this year.
The survey showed that nearly 40% of North American companies and more than 50% of international companies reported still having significant travel restrictions in place (Figure 1). Within these numbers, however, we found that there are a wide variety of policies depending on the company, the location of the travel, and the purpose of the trip.
Figure 1. Survey of Companies on Travel Restrictions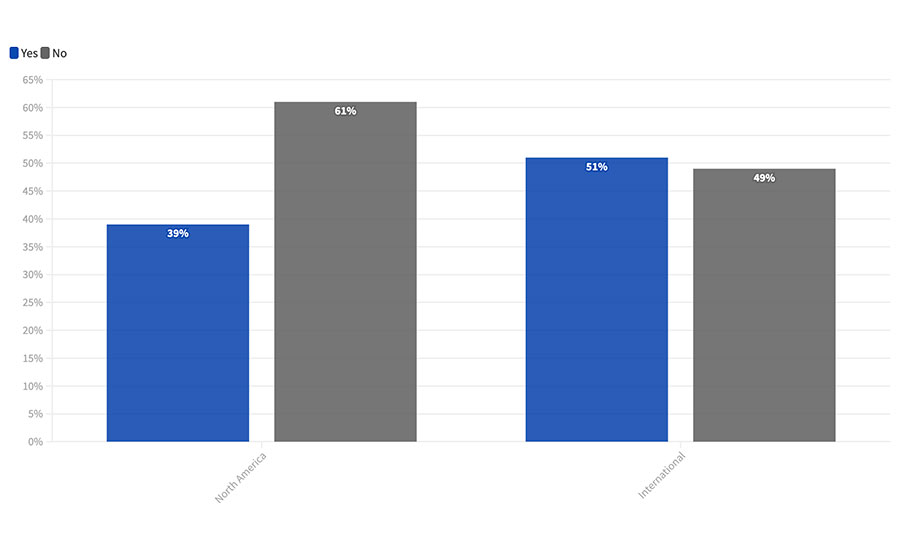 For example, the magnitude of the travel restrictions reported varied widely. While many survey respondents mentioned that their company was allowing only "essential travel," there were many definitions from company to company as to the meaning of "essential." For instance, one company that was restricted to essential travel said this meant that they rarely left their own offices, had not been able to visit most of their supplies and partners, and had not attended (and would not be attending) any conferences or trade shows.  
Another ready-to-eat food processor described their policy as "No travel for work anywhere, including any to plants other than the one in which you work, and this includes visits to co-manufacturer or supplier plants. This also goes for visitors. All of our locations are also closed to any outsiders except with executive approval."  
Another company that said it was restricted to only "essential travel" told us it would this year be back to attending trade shows and conferences—just fewer than in years past.  
The level of travel restriction also seems to depend on the type of organization and the purpose of the travel. Earlier this year, the U.S. Food and Drug Administration (FDA) reported that it will be resuming in-person, in-plant inspections. As of the time of our survey and follow-up interviews, however, the individuals we spoke with at federal agencies, including FDA, told us that they did not have plans for business-related travel this year as they were still developing their plans to return to the office. (Immediately before publication, however, we learned that FDA will indeed be traveling again and that agency officials will be attending trade shows this year, including IAFP in Pittsburgh).  
It is clear that there are many degrees of restrictions. Other companies seem to be staying flexible and telling us that they are "monitoring the situation daily" and making decisions accordingly.  
Much of this also depends on the destination of the intended travel. One European company that we spoke with said that it will be back to travel, both for internal work reasons (e.g., plant visits, internal meetings) as long as the travel is within Europe, and then only to certain areas. Any "international travel," which the company defines as outside of Europe, is off the table for 2022 with a hope to resume those trips in 2023. Similarly, a UK dairy company told us, "Travel within the UK is not restricted, but any international trips [must] be business-critical."
Another common answer we heard was that companies had few internal restrictions on travel, but whether they could go depended on the situation at the destination. One food processor in the Middle East told us that most of their travel restrictions had been lifted, but certain countries were still off-limits based on current local conditions. Several mentioned, "It depends on the vaccination situation in the country we are going to," and "Some countries still require very strict travel policies, thereby affecting our travel-related activities."
This is the same for one of the food companies we spoke with in Asia that said it was time to travel again, provided it could be accomplished safely. The company told us that its travel for the past few years has been restricted to in-country travel, and everything else has been accomplished through virtual meetings. In the conversation we had, however, the executive told me, "This year, our travel policy is now changing." As restrictions are easing in the company's home country, as well as in many of the geographies in which it does business, it has decided to once again begin visiting its distributors and business partners throughout the world. As one of the key officers of the company told his team, "It is time to go out again." The company will retain some restrictions on travel, with limits on less essential travel such as trade shows, trainings, and less crucial meetings, but it will recommence some in-person meetings with its customers and business partners.
From these examples, and from the other questions we asked, it was also clear that companies are treating conferences differently than other travel. When we asked about conference travel, only 27% of North American companies and 20% of international companies (Figure 2) said they would be back to attending in-person conferences. Virtual conference attendance remains an option for as many as 35% of North American companies, and an overwhelming 63% of international companies said they will be attending conferences, but only virtually.  
Figure 2. Survey of Companies on Conference Attendance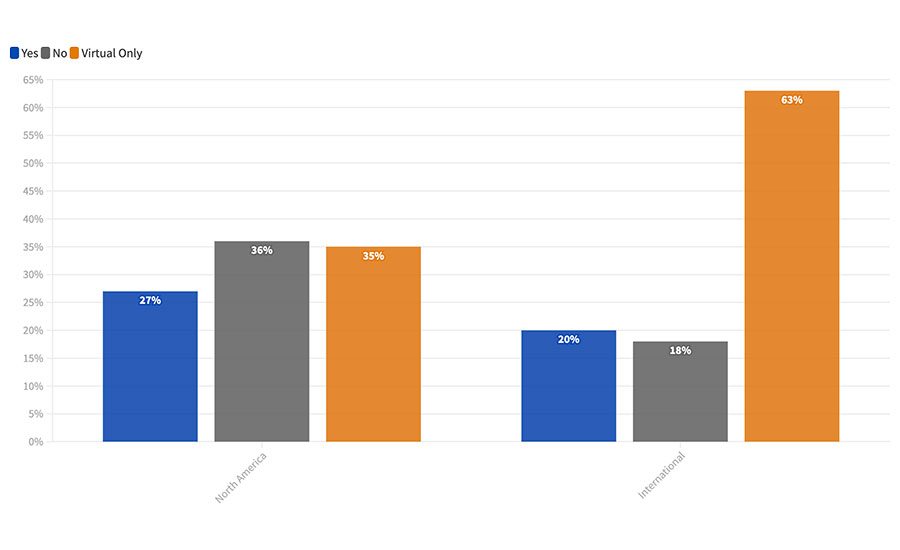 For U.S. companies, this seems to be an easier decision as they have the ability to travel greater distances without having to cross an international border. Even though only a somewhat greater percentage of U.S. companies said they had no travel restrictions and had planned to attend conferences, most of the travel they reported was nonetheless only domestic travel. For example, one distributor that we spoke with has resumed its trade show and exhibition schedule, but its travel was taking it to Las Vegas, Atlanta, Boston, and similar domestic locations. Another produce company said that it will be resuming its participation at only domestic U.S. conferences.
One training company that we spoke with is hoping to benefit from this trend, and it believes that domestic travel restrictions will be lifted by many companies, allowing attendance at their training programs. As such, it is planning to resume its in-person training starting this summer and fall. It expects to have full classrooms and be able to stick to this schedule, but it is continuing to monitor health guidelines and understands the importance of remaining flexible.
For service companies, where sales often depend on business travel, travel restrictions have greatly constrained business. These companies are looking forward to getting back to normal and making up for lost time. When asked, "Will you be attending any conferences in 2022?" one company that sells process instrumentation to food processors replied, "There are too many to list! We are going to attend all that we can!"
A final comment: At Food Safety Magazine, we have also begun our return to a normal travel schedule. At the time of this writing, our Editorial Director, Adrienne Blume, has just returned from the GFSI Conference in Barcelona, Spain. By the time you read this, all of us will have just returned from our own Food Safety Summit in Rosemont, Illinois. So, we are also looking forward to getting "back out there again" and seeing all of you in person!
Bob Ferguson is President of Strategic Consulting Inc. and can be reached at bobferguson9806@gmail.com or on Twitter at @SCI_Ferguson.