Panelists Rachel Downey (Head of Food Safety and Quality, Bulla Dairy Foods), Lone Jespersen, Ph.D. (Founder and Principal, Cultivate), and Diana Pregonero, B.Sc. (ANZ Application Development Scientist, 3M Food Safety), delineated several unique features in Australia around food safety and quality: intimate collaborations across sectors and functions, "walk the talk," and skills and capacity building.
Collaboration for Cross-Functional Ownership
Rather than coming across as "dictators," regulators approach food safety as collaborators, rooting leadership in cooperation and aiming to support the local industry with international inputs, visions, and tools that work best in Australia. This global vision is the source and foundation of Australia's food safety governance. A series of organizations serves this goal, Food Standards Australia New Zealand (FSANZ) that ensures alignment with international standards, FSANZ that develops food standards, The Allergen Bureau that informs industry regarding allergen management, and others.
This collaboration with and support from regulators inspired Bulla Dairy Foods with their food safety culture journey. The initiative started with local dairy regulators that introduced businesses—some of which included Bulla's competitors—into a pilot program on food safety culture, using the food safety culture maturity model. Despite its initial reservations toward the initiative, Bulla Dairy eventually decided to enroll in the pilot program. To the company's amazement, it gained much knowledge on persistent issues and troubleshooting by discussing these problems with its competitors. It was encouraging for small businesses to learn that bigger enterprises struggled with the same problems.  
This network building and information sharing enhanced the industry capacity by personalizing food safety for different businesses and every function, so that food safety is not only about passing audits, but also a personal connection that each individual bears. In addition to this regulatory endeavor, government agencies are working with academia to identify best practices and improvement opportunities. As a result, industry has significant support from multiple sectors that help it stay up-to-date with food safety trends and innovations. These collaborations are fundamental for industry adaptability.  
As discussed in the Bulla Dairy Foods case above, cross-functional food safety ownership—as introduced by local regulators—serves asa basis for food safety governance intra-business. In fact, it is quite prevalent in Australia. Compared to other parts of the world, Australia tends to have a greater degree of cross-functional sharing of best practices and teamwork. Food safety ownership often goes beyond food safety and quality teams and relies on organizational learning, collaboration, and feedback. These collaborations help identify best practices, which provides a medium for people to see through each other's perspective.  
Walk the Talk  
Considerable cultural difference is present between cities and other regions, with various regional cultures being scattered across a vast and scantly populated area. Australia's regional cultures tend to be more communal and reserved. These features can be advantageous for a business in a regional culture, as the company value is based on the community value, connecting people in their thinking and perspectives. It also presents an opportunity to create alignment in a company regarding food safety culture. Family business is prevalent in regional culture, and one often works only with people that share similar views to their own. The ensuing drawback is that some regional cultures can be reluctant about "speaking out," and it is reported that Australian companies have the largest gap between what people say and what they do—specifically, in over-reporting positive behaviors and underreporting negatives ones (Figure 1).
FIGURE 1. Number of Incidents where People Overreported Positive Behaviors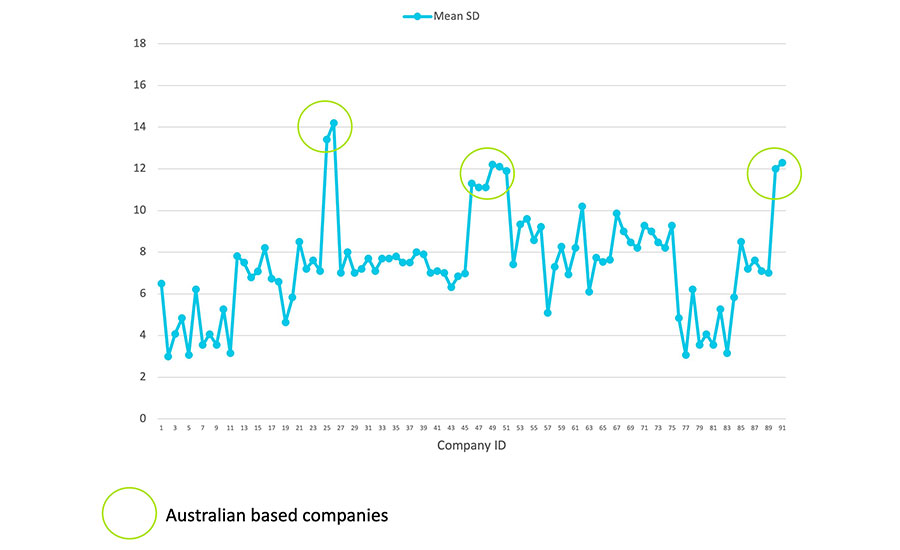 Bulla Dairy Foods, for example, is a regional town and family business. It has a loyal workforce of extensive engagement among team members and within the community; people live together under one roof in the same household, and they also work together. Managing interpersonal relationships in this setting can be tricky: the person working alongside you can also be your boss. Additionally, in a small town where everyone knows everyone, speaking out means bringing attention to oneself, which is not always desirable. Yet, considering that businesses in regional areas are often smaller, they tend to be easier to change, manage, and improve.
 The recent migratory influx from city to regional areas due to the COVID-19 pandemic provides a ground for introducing city values to regional culture, reflecting upon and building culture. Bulla Dairy Foods, seizing the chance, tackled the reluctance to speak up about food safety issues and challenge food safety decisions by mapping out strengths and challenges (Figure 2), and leveraging the strengths to enhance its food safety culture.
FIGURE 2. Bulla Dairy's Strengths and Challenges in Fitting Food Safety into Company Culture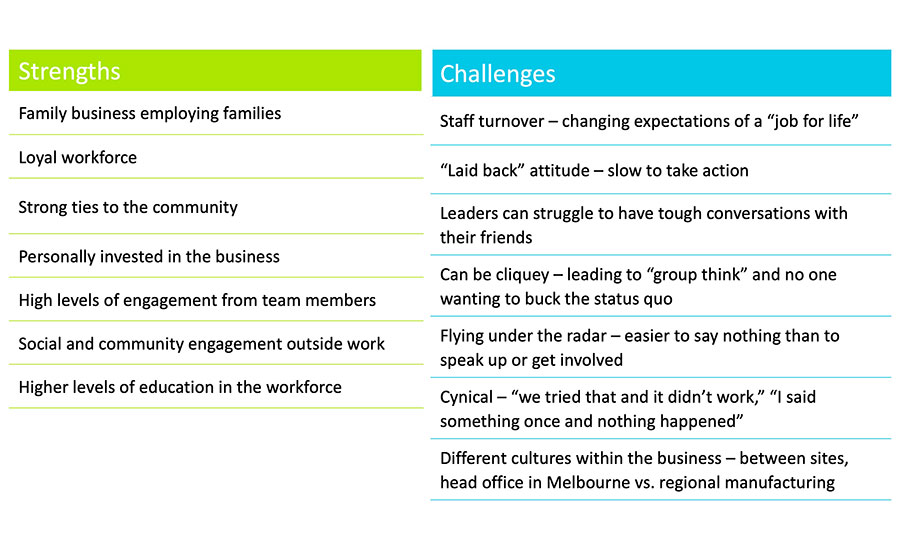 In leveraging the strengths at Bulla—the strong connection among families and to the community—company leadership not only acknowledged employee reluctance to speak out, but also utilized their native egalitarian leadership in getting organization-wide feedback and engagement. A physical suggestion box and a confidential email inbox were installed, which allowed everyone in the business (rather than the HACCP team solely) to be engaged in problem solving. Since people in some regional cultures do not like being publicly recognized, the company decided to send out private emails to the employees for monthly recognition. Most importantly, it is essential to close the feedback loop by informing the person who raised the issue what happened afterward, and if the issue had been resolved. The baseline is to align the food safety message with the existing company values (Figure 3) so that it becomes relatable and comprehensible.
FIGURE 3. Bulla Dairy's Approach to Connecting Food Safety Values to Existing Company Values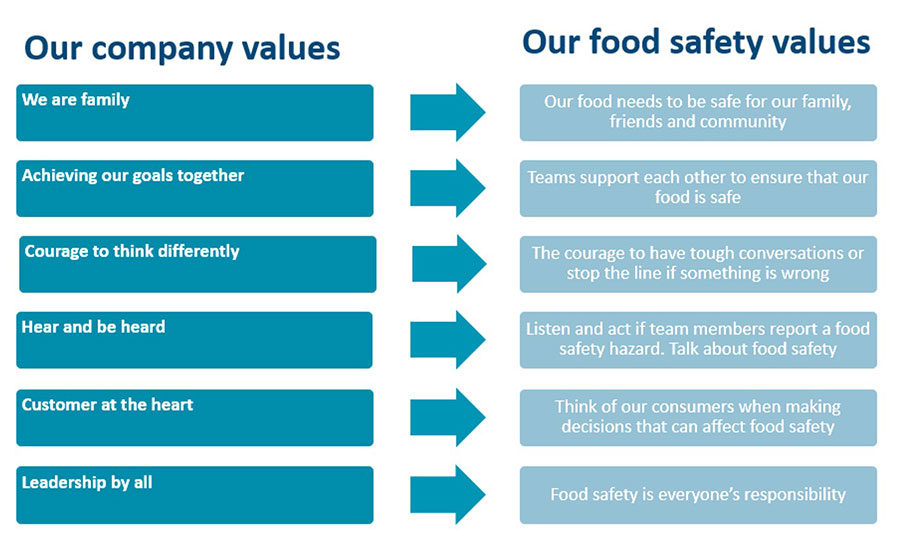 Develop Skills and Capacity
Training is the way to evolve. COVID-19 has been a catalyst for organization-wide learning in different regional areas, and industry, regulators, and academia continue to work together to probe new technologies. Within an organization, skills and capacity building should occur in each function, with the goal of building food safety ownership across all functions. For example:
Senior leaders manage expectations
Production managers build upon those expectations in the processes
Human resources department structures learning and recognition programs accordingly
Finance managers work with food safety and quality teams to integrate food safety performance into site reporting
Environment, health, and safety managers tackle behaviors and learning systems
Maintenance managers endeavor in hazard and preventive maintenance systems
Food safety and quality managers integrate food safety into workplace safety assessments and behavior-based safety systems.
It is no longer the old days when people do because they are "told to do." Today, businesses must lead problem solving, rather than merely solving problems. Educating employees, building cross-functional relationships, and examining how food safety fits into the existing business framework play important roles in this process.
Lone Jespersen, Ph.D., is a principal at Cultivate, an organization dedicated to helping food manufacturers globally make safe, great-tasting food through cultural effectiveness. She has significant experience with food manufacturing, having previously spent 11 years with Maple Leaf Foods. Dr. Jespersen is also a member of the Food Safety Magazine Editorial Advisory Board.
John David is Global Scientific Marketing Manager at 3M. He holds a master's degree in molecular biology and genetics and a bachelor's degree in biological sciences, both from the University of Delaware.
Sophie Tongyu Wu, Ph.D., is a Senior Research Assistant at University of Central Lancashire and a member of Cultivate SA. She leads a food safety culture improvement project at ten UK food manufacturing companies to collect organization-wide feedback for targeted action. Dr. Wu holds a Ph.D. in food science and technology from Purdue University and a bachelor's degree in biology from the University of Wisconsin–Madison.