Alternative milk options have exploded in popularity in recent years through a continuously expanding selection of plant-based varieties. Synthetic milk is also working its way from the lab to the mainstream consumer. Choosing the best and healthiest milk to consume is not only about its type, protein, or fat content; it is also about safety, encompassing all ingredients and any adulterations included, such as added sugar, chemicals, or additives. The level of processing involved also must be considered, along with trust in the new industries that are disrupting the established dairy markets. 
The majority of consumers accept bovine milk to be a rich source of quality proteins, essential amino acids, and calcium. However, other consumers are lactose intolerant, have milk allergies or sensitivities, follow diets that do not include animal products, or abstain from animal milk consumption for other reasons, such as environmental concerns. Dairy milk has a higher environmental footprint than plant-based alternatives; almost nine times more land is required to produce 1 liter of dairy milk compared with 1 liter of rice, soy, oat, or almond milk.1 Dairy's contribution to greenhouse gas emissions and eutrophication of water bodies is also disproportionately higher than those of alternatives milks (Figure 1). Dairy is responsible for the higher use of freshwater, but some plant-based milks exert more pressure than others on this resource. For example, it takes about 371.4 liters of water to produce 1 liter of almond milk due to the trees' high requirements for water usage and irrigation.2 Despite rice milk requiring around half of the water needed to produce the same amount of dairy milk, 1 liter of rice milk still requires 269.8 liters of water for production.2
Figure 1. Environmental Footprint of Dairy and Plant-Based Milks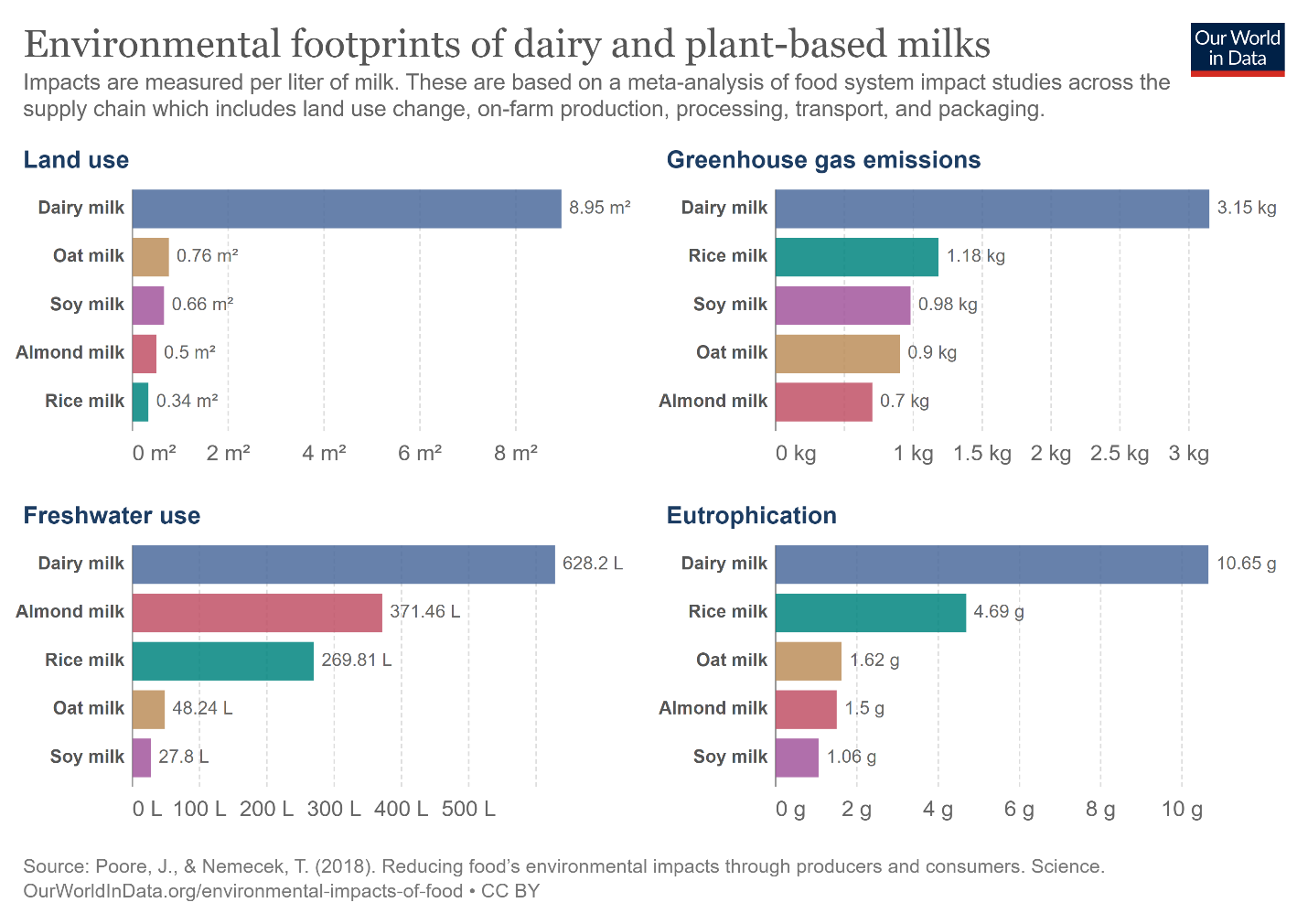 There is a fine line between the intertwined concepts of food safety and food security. While food safety refers to protection from immediate harm or danger to the consumer, food security describes the actions taken to guarantee access, availability, and utilization of food over the short and long term. Climate change and environmental health lie at the intersection of these two concepts, as they simultaneously affect both.3As far as food security is concerned, plant-based milks perform better—but are they as safe to consume as animal milk? 
Milk alternatives contain more ingredients than just water and nuts or seeds—from different fortifications with vitamins and nutrients to some types of additives. As these alternatives exhibit different sensory characteristics, stability, and nutritional composition compared to animal milk, this article reviews popular types of alternative milk and provides an overview of their related safety concerns. 
Plant-Based Milk Alternatives
Plant-based milks are water-soluble extracts of legumes, oilseeds, cereals, or pseudocereals and are subsequently homogenized and subjected to thermal treatment, creating extracts from plants that resemble bovine milk in appearance. Many varieties are available on the market, such as oat, soy, coconut, rice, almond, hazelnut, and hemp milks, and new options are continuously appearing. Low in saturated fat,4 these milk alternatives contain antinutrients, such as phytic acid, trypsin inhibitors, and inositol phosphates5 that inhibit the action of some digestive enzymes but may have anti-cancer properties (e.g., phytic acid).  
Oat Milk  
Having admirable nutritional value, oats are an excellent food source due to their good amino acids, fatty acids, vitamins, minerals and dietary fibres composition as well as varieties of antioxidants.6 Naturally sweet and higher in carbohydrates compared to most other plant milks, oat milk is nutritious and among the few milks that can boast extra soluble fiber. Despite these benefits and others, oat milk can lead to potential risk of allergy, sensitivities, and upset stomach resulting from high carbohydrates and sugar contents, as well as fiber not breaking down easily. Some commercially manufactured brands of oat milk are high in added sugar. Oat milk is not recommended for people with celiac disease or gluten intolerance.  
Another crucial ingredient added in most oat milk to increase nutritional fats and improve the texture of the milk is oil—usually canola/rapeseed or sunflower. Rapeseed oil, which canola oil derives from, is typically high in erucic acid, which in large quantities can impair health, and particularly heart function. 
Soy Milk  
Considered nutritionally closer to bovine milk7 and higher in protein content, soy milk is viewed as an option that can assist with cholesterol,8,9 blood pressure, and heart disease,10 as well as breast cancer risk reduction.11 Despite its essential amino acids boost, soy is a common allergen to which consumers experience intolerance or sensitivity. Another controversy linked to soy is the use of genetically modified or bioengineered varieties, which have unknown consequences. For example, in the U.S., soybeans are bioengineered to tolerate the herbicide glyphosate, which is classified as likely carcinogenic to humans.  
Coconut Milk  
Coconut milk is safe for most people with nut allergies. It has a light, distinctive flavor and less protein. To achieve a similar consistency to bovine milk, coconut cream is blended with water and fortified with other nutrients, such as vitamins B12, D, and A; calcium; and minerals. Squeezed from the white coconut flesh, the coconut milk has many versatile health benefits, such as raising HDL (good) cholesterol levels.7
However, similar to other plant-based milk alternatives (such as rice, soy, and almond milk), coconut milk often contains added thickeners and other ingredients such as carrageenan, which is considered a potential carcinogen. Extracted from red seaweed and used in plant milks as a common additive with thickening and stabilizing properties, carrageenan is linked to cancers and digestive problems, including intestinal inflammation.12,13
Cashew Milk  
Made primarily from a blend of cashews and water, cashew milk is low in calories compared to almond milk and abundant with monounsaturated fatty acids and polyunsaturated fatty acids, which are associated with reduced cardiovascular disease risk,14 although cashew milk is not a good source of protein. In addition, other ingredients such as calcium carbonate; vitamins E, A, and D2; salt; natural flavoring; gums; lecithin (an emulsifier); and sugar are respectively added to thicken, emulsify, and enhance flavor.15 It is also associated with allergies (could cause anaphylaxis), acidic pH levels, and could trigger blood sugar spikes for diabetics if too much sugar is added.  
Almond Milk  
Made by soaking almonds in water and then blending and straining away the solids, almond milk is naturally lactose-free and is an excellent source of vitamin E. Despite these benefits, almond milk is lacking good protein and requires fortification with calcium and vitamins A and D. 
Almond milk is not safe for people with nut allergies. Also, like coconut milk, almond milk brands available on the market contain additives like the potentially carcinogenic carrageenan to thicken and prevent separation.12,13
Rice Milk  
Made from milled rice and water, rice milk is less likely to cause allergies and is a good option for people with lactose intolerance and/or allergies. Despite these benefits, rice milk is an undesirable choice for people with diabetes due to being naturally sweeter than other milk alternatives. Rice milk is also not a good source of protein. 
Similar to other alternative milks, rice milk requires fortification with calcium and vitamin D, and it frequently contains additives to improve its consistency and shelf stability. It is supplemented with flavor enhancers, such as whole grain rice syrup and vanilla.16 Rice has also been shown to have elevated levels of highly toxic inorganic arsenic due to its natural ability to accumulate more arsenic.17,18,19 It is present in rice milk and other rice-based food items, such as rice cereals and crackers.20,21,22
Hemp Milk
Made from ground, soaked hemp seeds, which do not include the psychoactive component of the Cannabis sativa plant, hemp milk is high in protein. This milk is one of the few plant-based complete proteins, containing essential healthy omega-3 and omega-6 unsaturated fats. It is carbohydrate-free, which presents a good nutritional option among plant-based milks.  
Despite the nutritional perks, commercial brands of hemp milk often add sweeteners—usually brown rice syrup, evaporated cane juice, or cane sugar, which adds or increases the carbohydrate content. Rarely, hemp milk can trigger allergic reactions or gastrointestinal discomfort due to the tannins and saponins found in the hemp seeds. 
Synthetic Milk
Taking advantage of technological advancements, scientists and manufacturers began to use genetically engineered yeast based on bovine DNA to form a protein known as a casein micelle, to produce a synthetic milk without the need for animals, feedlots, farmland, or excess greenhouse gas emissions. These proteins are then brewed, filtered, and dried, and are ready to be rehydrated and turned into animal-free dairy products.  
Concocted in the lab, synthetic milk is claimed to have the same taste and nutrition as traditional milk and to still contain bovine DNA. As its flora-made proteins can be identical to those in bovine milk, people allergic to cow's milk will also be allergic to synthetic milk. On the other hand, researchers can make the synthetic milk lactose-free and cholesterol-friendly. At present, little data is available on the safety and risks related to synthetic, lab-grown milk. Many consumers are unwilling to consume it out of fear that it may contain chemicals.23
Takeaway 
The world of milk alternatives is thriving with the large variety of options available. These options offer certain health advantages, such as reducing cholesterol or boosting antioxidant intake; however, allergies and intolerance to the new products and their ingredients should also be considered. Most food safety issues associated with alternative milks are surmountable, as long as transparency of ingredients and production processes is assured.  
Poore, J. and T. Nemecek. "Reducing food's environmental impacts through producers and consumers." Science 360, no. 6392 (2018): 987–992. https://www.science.org/doi/10.1126/science.aaq0216.
Ritchie, Hannah. "Dairy vs. plant-based milk: what are the environmental impacts?" January 19, 2022. https://ourworldindata.org/environmental-impact-milks. 
Hanning, I. B., C. A. O'Bryan, P. G. Crandall, and S. C. Ricke. "Food safety and food security." Nature Education Knowledge 3, no. 12 (2012): 9. 
Röös, E., T. Garnett, V. Watz, and C. Sjörs. "The role of dairy and plant based dairy alternatives in sustainable diets" Future Food Reports 3. Swedish University of Agricultural Sciences. 2018. https://pub.epsilon.slu.se/16016/1/roos_e_et_al_190304.pdf. 
Mäkinen, O. E., V. Wanhalinna, E. Zannini, and E. K. Arendt. "Foods for special dietary needs: Non-dairy plant-based milk substitutes and fermented dairy-type products." Food Science and Nutrition 56, no. 3 (2016): 339–349. https://pubmed.ncbi.nlm.nih.gov/25575046/.
Silva, Aline A. R., Marselle M.N. Silva, and Bernardo D. Ribeiro. "Health issues and technological aspects of plant-based alternative milk." Food Research International 131 (May 2020). https://doi.org/10.1016/j.foodres.2019.108972. 
Vanga, S. K. and V. Raghavan V. "How well do plant based alternatives fare nutritionally compared to cow's milk?" Journal of Food Science and Technology 55, no. 1 (January 2018): 10–20. https://pubmed.ncbi.nlm.nih.gov/29358791/. 
Mitchell, J. H. and A. R. Collins. "Effects of a soy milk supplement on plasma cholesterol levels and oxidative DNA damage in men—A pilot study." European Journal of Nutrition 38, no. 3 (June 1999): 143–148. https://pubmed.ncbi.nlm.nih.gov/10443336/. 
Jenkins, D. J. A., S. Blanco Mejia, L. Chiavaroli, et al. "Cumulative Meta-Analysis of the Soy Effect Over Time." Journal of the American Heart Association (June 27, 2019): e012458. https://www.ahajournals.org/doi/10.1161/JAHA.119.012458. 
Petersen, K. "The Dilemma with the Soy Protein Health Claim." Journal of the American Heart Association. (June 27, 2019): 8:e013202. https://www.ahajournals.org/doi/10.1161/JAHA.119.013202. 
Messina, M. "Impact of Soy Foods on the Development of Breast Cancer and the Prognosis of Breast Cancer Patients." Forsch Komplementmed 23, no. 2 (2016): 75–80. https://pubmed.ncbi.nlm.nih.gov/27161216/.
Fahoum, L., A. Moscovici, S. David, R. Shaoul, G. Rozen, E. G. Meyron-Holtz, and U. Lesmes. "Digestive fate of dietary carrageenan: Evidence of interference with digestive proteolysis and disruption of gut epithelial function." Molecular Nutrition and Food Research 61, no. 3 (March 2017). https://onlinelibrary.wiley.com/doi/10.1002/mnfr.201600545. 
Weiner, M.L. "Food additive carrageenan: Part II: A critical review of carrageenan in vivo safety studies." Critical Reviews in Toxicology 44, no. 3 (March 2014): 244–269. https://pubmed.ncbi.nlm.nih.gov/24467586/. 
Mah, E., J. A. Schulz, V. N. Kaden, A. L. Lawless, J. Rotor, L. B. Mantilla, and A. J. Liska De. "Cashew Consumption Reduces Total and LDL Cholesterol: A Randomized, Crossover, Controlled-Feeding Trial." The American Journal of Clinical Nutrition 105, no. 5 (2017): 1070–1078.  
White, D. A. "Food Fight: Almond Milk vs. Cashew milk." Food Network. 2016. https://www.foodnetwork.com/healthyeats/2016/03/food-fight-almond-milk-vs-cashew-milk. 
Tzifi, F., V. Grammeniatis, and M. Papadopoulos. "Soy-and rice-based formula and infant allergic to cow's milk." Endocrine, Metabolic, and Immune Disorders—Drug Targets 14, no. 1 (2014): 38–46. 
Matschullat, J. "Arsenic in the geosphere—A review." Science of the Total Environment 249, no. 1–3 (April 17, 2000): 297–312. https://pubmed.ncbi.nlm.nih.gov/10813460/. 
Zhu, Y. G., P. N. Williams, and A. A. Meharg. "Exposure to inorganic arsenic from rice: A global health issue?" Environmental Pollution 154, no. 2 (July 2008): 169–171. https://pubmed.ncbi.nlm.nih.gov/18448219/. 
Wei, Y., J. Zhu, and A. Nguyen A. "Rice consumption and urinary concentrations of arsenic in US adults." International Journal of Environmental Health Research 24, no. 5 (2014): 459–470. https://pubmed.ncbi.nlm.nih.gov/24236891/. 
Meharg, A. A., C. Deacon, R. C. Campbell, A. M. Carey, P. N. Williams, J. Feldmann, and A. Raab. "Inorganic arsenic levels in rice milk exceed EU and US drinking water standards." Journal of Environmental Monitoring 10, no. 4 (April 2008): 428–431. https://pubs.rsc.org/en/content/articlelanding/2008/em/b800981c. 
Sun, G. X., P. N. Williams, Y. G. Zhu, C. Deacon, A. M. Carey, A. Raab, J. Feldmann, and A. A. Meharg. "Survey of arsenic and its speciation in rice products such as breakfast cereals, rice crackers and Japanese rice condiments." Environment International 35, no. 3 (April 2009): 473–475. https://pubmed.ncbi.nlm.nih.gov/18775567/. 
Rintala, E. M., P. Ekholm, P. Koivisto, K. Peltonen, E. R. Venäläinen. "The intake of inorganic arsenic from long grain rice and rice-based baby food in Finland—Low safety margin warrants follow up." Food Chemistry 150, no. 1 (May 2014) 199–205. https://www.sciencedirect.com/science/article/pii/S030881461301604X. 
Juliano, Lucia. "The Grocer: Synthetic Milk." 2018. https://harris-interactive.co.uk/wp-content/uploads/sites/7/2018/10/Synthetic-Milk-Grocer-Report-FINAL.pdf.