Cybersecurity threats to the food and beverage industry continue to increase. However, there are many steps that food and beverage processors can take to improve their cyber defense and establish capabilities to lower their cyber risk.

Join our expert panelists as they discuss approaches for protecting critical assets, including:

The current threat landscape in the food and beverage industry: What threats are targeting food and beverage companies? What are the potential impacts? How can a food and beverage organization assess the "crown jewels" of its operation?
Protecting against ransomware: In 2021, ransomware was the number-one cause of compromise in the industrial sector, with manufacturing and food and beverage experiencing the highest volume of ransomware incidents. Several high-profile ransomware incidents victimized Global 2000 food and beverage companies, resulting in extended operational disruption and remediation costs.
Managing external connections: 100% of the food and beverage architectures that Dragos evaluated in 2021 had an external connection to Operational Technology (OT) from vendors, Information Technology (IT) networks, or the internet. 
Learning Objectives:

Understand the threats targeting food and beverage companies and the potential impacts of those threats
Steps that food and beverage processors can take to improve their cyber defense and lower their cyber risk
How to manage external connections to OT/IT networks and the internet
Speakers:
Kyle O'Meara, Principal Adversary Hunter, Dragos, Inc.
Kyle O'Meara is a Principal Adversary Hunter at Dragos. Prior to coming to Dragos, Kyle was a senior member of the Technical Staff at the Software Engineering Institute CERT Coordination Center (CERT/CC) where he led threat analysis engagements for government partners. His other past jobs include technical roles at FireEye, Stroz Friedberg, and the National Security Agency. He has taught and developed graduate and undergraduate level courses at Carnegie Mellon University and Duquesne University. He has his Masters of Science in Information Security Policy and Management from Carnegie Mellon University. Kyle is a blue belt in Jiu Jitsu, loves skiing, has a collection of sneakers and beer glassware, and hosts his own InfoSec podcast.
Jason Bredimus, VP, IT Operations & CISO, Shamrock Foods Company
Experienced, dynamic, collaborative Information Security executive with 25+ years of success in leading global organizations and people, managing large-scale programs, aligning business strategy to technology initiatives and driving high-performing, secure, cost-conscious operations. His prior experience includes careers at Accenture and Fender Musical Instruments. As VP, IT Ops and CISO, he has responsibility for the secure and stable technology operations of Shamrock Foods Company, a multibillion dollar Food Service and Dairy business based in Phoenix, Arizona. He and his team works closely with senior business leaders to appropriately align business and operational risk with cyber security investments and initiatives.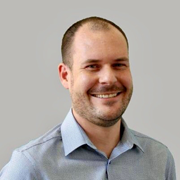 Larry Woods, Senior Director of Enterprise Information Security, Post Holdings, Inc. 
Larry Woods is the Senior Director, Enterprise Information Security at Post Holdings. In his role, he is responsible for Post Holdings Cyber Security and Privacy. He orchestrates Enterprise Security Governance, Strategy, and Shared Security Operations over six business units that operate semi-autonomously. Larry is as a steward of risk and drives towards striking the delicate balance between security and business outcomes. He is the Chair of IT Security Council and the Enterprise Security Risk Group composed of cross-functional business participants, Business Unit CIOs, Security Teams, and Infrastructure Teams. He is passionate about Zero Trust and its transformative abilities to create cyber resilience. He has successfully transitioned two business units to a zero-trust model and has driven continual advancement in the remaining units. He uses assessment programs including Cyber Maturity Assessments, ICS Assessments, Penetration Tests, and the Third-Party Risk Management Program (TPRM) to identify risks and prioritize efforts to secure the Post Holdings Enterprise.
Moderator: Adrienne Blume, Editorial Director, Food Safety Magazine
Sponsored By: