Food supply chains have become more constrained and stressed. It is difficult to find safe product and, sometimes, any product. Assurance of supply is not a given. Key to success in solving these issues is communication about food safety hazards explained in terms of supply chain risk management (SCRM) and as a supply chain disruption. With clearer communication, more enterprise-wide resources and systems can be applied. This webinar will expand upon Dr. John Spink's presentation at the 2022 Food Safety Summit and the follow-up article in Food Safety Magazine.

During this webinar, you will learn:
What ongoing supply chain challenges are causing issues for food firms, and how is industry dealing with them?
What can we expect from the supply chain in the future, based on risk management scenarios?
How can industry plan for and respond to future supply chain disruptions?
What specific actions should companies take to manage enterprise-wide risks to their supply chains?

Speaker: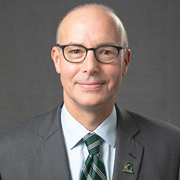 John W. Spink, Ph.D., Director and Lead Instructor, Food Fraud Prevention Academy and Assistant Professor, Michigan State University. Dr. John W. Spink is the Director and Lead Instructor for the Food Fraud Prevention Academy. He is also an Assistant Professor in the Department of Supply Chain Management in the Eli Broad College of Business at Michigan State University (MSU). His food fraud prevention research focus is on policy and strategy to understand and prevent these supply chain disruptions and to implement procurement best practices. He is widely published in leading academic journals and has helped lead national and global regulatory and standards activity. More recently, his teaching and research has expanded to supply chain disruption management and procurement best practices.
---
Moderator: Stacy Atchison, Publisher, Food Safety Magazine
Sponsored By: