A simple review of organizational structures shows that food safety teams report to difference functions across food companies. The question is: What structure provides the best opportunity for success of the food safety team? Additionally, what are the measures of success? From a simplistic point of view, food safety success should be ensuring that food meets regulatory requirements and that every package, every day, is safe for consumption. This statement contains many complexities, including the food safety design of new and existing products, establishing distribution/shelf life parameters, and validated cooking instructions (if required), to name a few.
These food safety parameters are critical in establishing the guidelines for food safety; however, food is made in food plants, and engagement at the plant level is necessary to provide safe food every day. Food safety teams should have an active role and accountability in the day-to-day production of food (Figure 1). If they take a passive role, then they typically get involved in resolving issues instead of preventing them. Another reason for engagement at this level is having the influence to drive program capital improvements. Identifying the structure that sets up the food safety team to drive daily compliance and upgrade existing programs is key. This approach is unique for some companies, but one that should be considered in future organizational designs. This article examines current organizational structures and evaluates the pros and cons of each.
FIGURE 1. Food Safety Teams Should Have an Active Role and Accountability in the Day-to-Day Production of Food (Image: Nuttawan Jayawan/iStock/Getty Images Plus via Getty Images)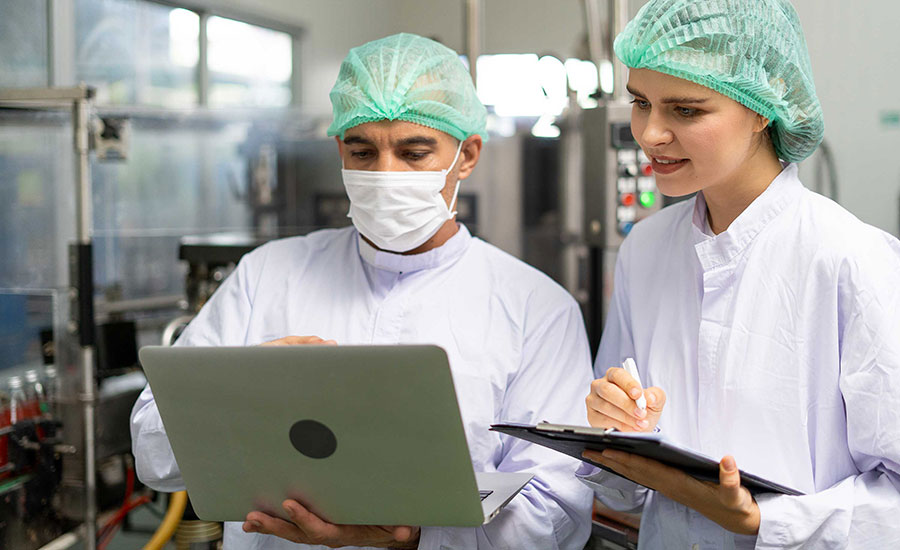 Considerations for Various Reporting Structures
Before delving into the organizational alignment of food safety teams, it is important to stress that a sound food safety culture must be established for any structure to work. Weak food safety cultures can lead to lack of integrity and trust of the food safety team and other functions overriding key food safety requirements. Companies that have strong food safety cultures have goals that are understood and maintained throughout the organization. One important requirement of the food safety team is that it must establish credible and consistent decision-making. Most food safety decisions are not an easy "yes or no" answer; they are complicated by taking into consideration numerous factors such as the scope of the issue and the established food safety controls in place, for example. To build and maintain credibility, the team must be consistent in its decision-making and establish clear lines that must not be crossed. Loss of credibility will destroy the overall food safety culture of a company and the entire food safety team.
Chief food safety officers have reported to the chairman of the board, the chief executive officer (CEO), the head of research and development (R&D), the chief quality officer, and the head of supply chain. Other reporting structures exist that are not listed in this article; however, the general concepts discussed herein should apply. All of these reporting structures have advantages, disadvantages, and biases that contribute to or detract from their functionality and success. The ultimate question is: Does the specific reporting structure meet the goal of ensuring that all foods are safe for the intended customer?
Reporting to the Board Chairperson
One reason to report the board chairperson or the CEO is to give the perception that the food safety team is independent from all other departments. The assumption is that top executives would support their decisions. This may be the case; however, these leaders add limited value and cannot ask reasonable questions to challenge the food safety leaders and ensure that their decisions are sound. Senior leaders typically agree with the team and do not provide the checks and balances needed to ensure robust outcomes. Food companies with a solid top-to-bottom food safety culture do not need this type of structure because food safety is respected across the organization.
Reporting to R&D
Reporting to R&D is the most common reporting structure. Usually, this structure has leaders who are technically sound and can understand and debate food safety strategies and decisions. This structure is also beneficial in the food safety design of new product development. Food safety teams that report to R&D are usually engaged from ideation through startup at factories. Other structures tend to bring in the food safety team later in the process. This structure is important for the success of new products or product improvements.
One challenge with reporting to R&D is that it is not uncommon for innovation time lines to be shortened for various reasons. In these scenarios, the food safety team is asked to make decisions without complete information, such as shelf life data and validation of food safety devices. These and other challenges can be overcome; however, it does increase the overall risk of the project, even for a short time, by adding stress to the overall food safety program and staff. One solution to the challenge of a shortened time to launch is to shorten the shelf life of initial runs by adding personnel for increased manual checks. An additional challenge is the lack of ownership at the plant level. The food safety team is mainly involved in training and "train the trainer" programs, annual audits, and any food safety problems that arise. Some individuals might resist accountability at the plant (and distribution) level. The ultimate goal is to have the best food safety talent engaged at the most critical step in food production. More details on this will be discussed later.
Reporting to Quality Assurance
Reporting to corporate quality is a logical choice for various reasons. In fact, it might be more logical for the quality team to report to the food safety team since food safety is the highest priority of the combined groups. Regardless, it does not really matter who reports to whom; these two functions are aligned mainly because of synergies in quality systems, technical competence, and labor. Quality teams have established quality systems where food safety requirements and monitoring programs can be incorporated. Trying to maintain separate systems adds complexity and confusion for the plant teams.
The ultimate goal when supporting plant teams is to simplify their workloads while not compromising on verified food safety. One system that administers both quality and food safety programs can eliminate redundant work based on the similarities of the two functions. From a labor point of view, quality teams typically are better staffed to support manufacturing and contract manufacturing sites. Food safety teams are leaner and have more resources focused on innovation and program development than on compliance. Utilizing quality assets provides the necessary resources to ensure day-to-day food safety.
Reporting to Supply Chain
When food safety and quality (FSQ) teams report to supply chain leadership, it is common for people to use the analogy of "the fox watching the hen house." It is never as simple as this statement. It also undermines both the supply chain and food safety leadership. Regardless of the structure, if the food safety leader, managers, and supervisors do not have the necessary integrity and trust of the entire company, then the overall program will fail. It can also be perceived that plant managers and operational supervisors are only interested in cost and throughput. These are unarguably important attributes; however, is it fair to assume that companies with a strong food safety culture have no support of food safety? Most responsible companies have goals for both FSQ and supply chain that first ensure that employees are safe and meet health, safety, and environmental (HSE) goals.
Additionally, there should be goals to drive food safety and regulatory requirements. Goals will include that products match R&D design (quality) while minimizing waste and unnecessary cost. There should be a two-tier approach of priorities with HSE, food safety, and regulatory requirements as the top priority. These goals will always override any other goal, and no one should assume that cost is more important than these three. This is not to say that quality, waste, cost, and other goals are not important, but if the top three are not met then the company will fail.
Continuing the assumption that both FSQ and supply chain staff can support food safety and productivity, then what are the pros and cons of this reporting structure? From a pro point of view, food safety is fully engaged in the overall supply chain strategy (Figure 2). This truly provides oversight from a farm-to-fork point of view instead of program design across the supply chain. If the ultimate goal is to ensure safe food every day, then the actual making of the food is the most important requirement after food safety design is developed and fully implemented. One way to accomplish this goal is to hold the food safety team accountable for the design, implementation, and execution of the overall food safety program. If the food safety team does not own the final portion of the program, then they become involved only when issues arise, and they must clean up the mess. Being engaged to ensure that the program runs flawlessly helps avoid large holds, product destructions, and recalls.
FIGURE 2. When Reporting to the Head of Supply Chain, Food Safety is Fully Engaged in the Overall Supply Chain Strategy (Image: andresr/E+ via Getty Images)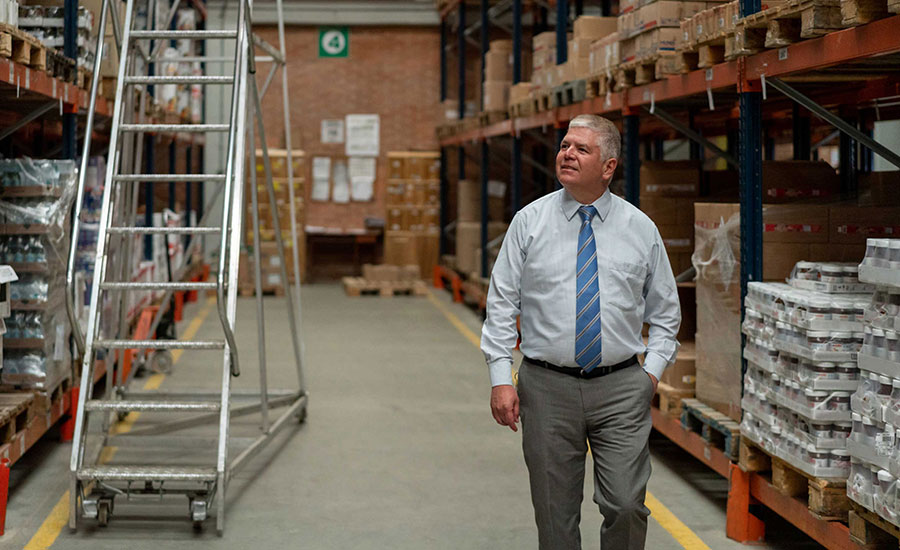 Corporate Support for Plants
In all structures, the plant quality team reports to corporate FSQ or to local plant management. The benefit of reporting to corporate FSQ is that it continues to drive the ownership across all functions. Regardless of reporting structure, a number of key decisions are made locally in the plants. If the local quality manager or quality supervisor is not able to support the program and push back on misguided operational personnel, then the whole program will fail. Direct, routine engagement by corporate FSQ drives the right practices and assists the local team in tough decisions.
One item that is sometimes missed is that FSQ needs a separate capital budget. This includes production plants, pilot plant, and laboratories. In many companies, FSQ and HSE capital has less scrutiny in return on investment than does operational capital. Operational capital often has an impact on FSQ. One example is the replacement of a leaky roof. If a roof leaks, it can result in FSQ issues. This is true, but it does not drive the overall program ahead. Roofs should be fixed, but they should not be included in the overall FSQ capital plan. These plans should include things like barcode scanners for lines with mixed allergens, foreign material detection systems (metal detectors, magnets, X-ray, etc.), temperature monitoring equipment, software, and so on. Establishing and protecting the FSQ capital plan is the best way to improve the overall program and simplify requirements for plants. It is easier to carve out capital items to support food safety if funds, influence, and accountability have been allocated across the supply chain.
In conclusion, food companies choose to place FSQ under numerous functions. Each structure has benefits and disadvantages, from the board chairperson down to supply chain. Companies should take a step back and consider the best organizational structure to ensure safe food every day. The structure should provide opportunities for the FSQ team to be fully engaged across the supply chain and influence positive change and simplicity through capital budgeting and staffing.
Kurt E. Deibel, Ph.D., retired in April 2022 as Vice President of Food Safety and Quality for North America at The Kraft Heinz Company. He is also a member of the Food Safety Magazine Editorial Advisory Board.