Traveling for the Food Safety Summit
Venue
Donald E. Stephens Convention Center
5555 North River Road
Rosemont, IL 60018
Website
 
Parking
The Donald E. Stephens Convention Center is located just south of the Kennedy Expressway and east of Chicago O'Hare International Airport and the Tri-State Tollway. Parking is across from the Center, directly behind the Embassy Suites Hotel. Garage parking is $13.00. Handicapped spaces are located at the main parking lot, behind the Embassy Suites Hotel, which is accessible to the Donald E. Stephens Convention Center through the elevated Skybridge walkway.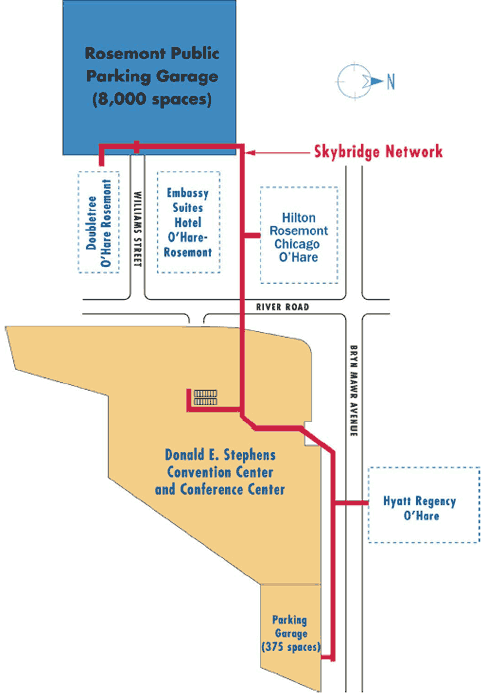 Traveling To Rosemont
Rosemont, IL is conveniently located just 5 minutes from Chicago O'Hare International Airport, where 2,400 flights arrive daily, making it an exceptionally convenient location for travelers. Within the Village of Rosemont's 2.5 square miles, lie a variety of first-class hotel, dining and entertainment options. Because Rosemont enjoys a tight footprint, your transportation costs can be reduced by as much as 90%.
Hotel Information
The Food Safety has a block of discounted hotel rooms available at several hotels conveniently located around the Convention Center to make your trip to Rosemont, IL affordable. 
Beware of Unauthorized Hotel Solicitations
Note that PASSKEY™ managed by Executivevents is the ONLY official housing company affiliated with the Food Safety Summit. Avoid companies falsely posing as a partner of the Summit. For your protection, only book via our official room block with the link above
Shuttles
All Food Safety Summit Hotels offer 24 hour, complimentary shuttles from O'Hare International Airport.
Pickup location for domestic travelers in O'Hare is at the Bus/Shuttle Center located on the main level of the parking garage. Just follow the red Bus/Shuttle Center signs.
Map and Directions