---
---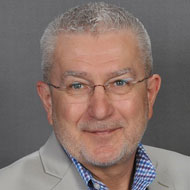 Mick Miklos, CP-FS
Partner and Advisor
Active Food Safety, LLC
Mick is a Partner and Advisor in the firm Active Food Safety, LLC which specializes in modern and effective food safety solutions. Mick chairs the "Partners with A Common Purpose" steering committee for the Association of Food & Drug Officials, a post he has held since PwCP was formed in 2017.

Prior to joining Active Food Safety in June of this year Mick spent seven years at the National Restaurant Association. Mick's work touched many aspects of the Association's mission including regulatory compliance, member engagement, and development of the ServSafe® product line. As a Director he was ultimately responsible for all the Association's food safety & QA programming. Before joining the Association in 2013 Mick finished an eighteen-year career with Waffle House Inc as VP for Food Safety & Training where he was responsible for food safety solutions and implementation at over 1,600 locations in 26 states.

Mick has served on numerous boards and committees throughout his career including the Ecolab Food Safety Advisory Board, the Board of the GA Restaurant Association, the FDA Restaurant Food Safety Partnership, the Food Safety Task Force for the National Council of Chain Restaurants, numerous committees with AFDO, NEHA & NACCHO and the Food Safety Summit's own Educational Advisory Board. Mick has had an active role at the Conference for Food Protection where he successfully brought an Issue that later became an amendment the FDA Food Code, served four years on the Demonstration of Knowledge Committee and was both Alternate and Delegate to Council I.

Mick is a frequent speaker at conferences on topics ranging from the grading & scoring of health inspections in retail food establishments, emergency preparedness and response, food safety management systems and food safety culture among other topics. Mick has written for Food Safety Magazine and for The Georgia Environmentalist. He recently wrote the Foreword to Dr. Hal King's newest book, "Food Safety Management Systems" published by Springer.

Mick has received the NRA's "Operator Innovation Award for Food Safety," NCCR's "Ambassador Award" and AFDO's Industry-Associate Member of the Year award.

Mick holds Bachelor's and Master's Degrees from the University of South Carolina and is a Certified Professional in Food Safety through the National Environmental Health Association.
---