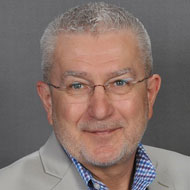 Mick Miklos, CP-FS
Advisory Partner
Active Food Safety, LLC
Mick is a Partner in the firm Active Food Safety, LLC. where we synthesize the best solutions from scientific, regulatory, and industry best practice to develop effective food safety management programs and tactical tools to help grow your food business while improving public health and food safety.
Prior to joining Active Food Safety in June 2020 Mick spent seven years at the National Restaurant Association where, as Director, he was responsible for the Association's food safety & QA programming. Before joining the Association Mick finished an eighteen-year career with Waffle House Inc. where, as Vice President for Food Safety & Training, he was responsible for food safety solutions and implementation at over 1,600 locations in 26 states.

Mick has served on numerous boards throughout his career including the Food Safety Summit's own Educational Advisory Board, the Ecolab Food Safety Advisory Board, the Sani-Professional Food Safety Advisory Board, the Board of the Georgia Restaurant Association, and as co-chair of the Food Safety Task Force for the National Retail Federation. In addition, Mick has been active with the Conference for Food Protection, has served on several NEHA, NACCHO, and AFDO committees, and was a charter member of the FDA Restaurant Food Safety Partnership workgroup.
Mick received the National Restaurant Association's "Operator Innovation Award for Food Safety" for his work on disaster preparedness and response and was the AFDO Industry Member of the Year in 2018.

Mick holds Bachelor's and Master's Degrees from the University of South Carolina and is a Certified Professional in Food Safety through the National Environmental Health Association.
---
Go to SPEAKERS