---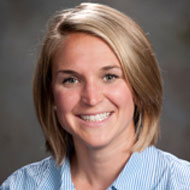 Ashley Eisenbeiser, MS, CFS
Senior Director, Food and Product Safety Programs
FMI - The Food Industry Association
Ashley Eisenbeiser is a food scientist specializing in food safety. In her role as senior director of food and product safety programs for FMI-The Food Industry Association, Ashley serves as a subject matter expert for food and product safety for FMI's food safety programs and provides support for FMI's retail, wholesale and product supplier members on food safety training, technical services, regulatory compliance, and industry research and resources.

Prior to joining FMI in June 2013, Ashley served as a Family and Consumer Science Extension Agent with Virginia Cooperative Extension where she planned, delivered, and evaluated community nutrition, health, and food safety educational programs. Ashley is a Certified Food Scientist and received her Master's degree and Bachelor's degree in Food Science and Technology from Virginia Tech.

Ashley serves as a member of the Board of Directors for the Partnership for Food Safety Education and is a member of several professional association including the Institute of Food Technologists (IFT), the International Association for Food Protection (IAFP), the Association of Food and Drug Officials (AFDO) and the Conference for Food Protection (CFP).
---
Go to SPEAKERS