---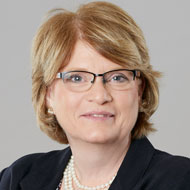 Angie Siemens, Ph.D.
Vice President, Food Safety, Quality & Regulatory
Cargill
Dr. Angie Siemens is the Vice President of Food Safety, Quality & Regulatory for Cargill in Wichita, Kansas. She is responsible for food safety issues and quality management systems and processes in approximately 49 beef, turkey, egg, case-ready and value add processing facilities in North America. She also oversees the food safety issues of meat co-packers and meat and ingredient suppliers.

Prior to her tenure at Cargill, she worked for Smithfield Packing Company in Smithfield, Virginia and Oscar Mayer Foods Division of Kraft Foods in Madison, Wisconsin, and Beatrice Cheese. She served a year as a Congressional Science Fellow to the US House of Representatives, Committee on Agriculture, Washington, DC.

Angie received a Ph.D. in Meat Science and M.S. in Animal Science from the University of Missouri, Columbia and a B.S. in Animal Science from Purdue University, West Lafayette, Indiana.
---
Go to SPEAKERS