---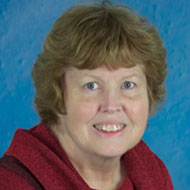 Mary Lynn Walsh, M.S., R.D.
Regional Director Food Safety
Sysco Corporation
Mary Lynn Walsh received her undergraduate degree in Food Science and Nutrition from the College of St. Teresa, Winona, Minnesota and Master's degree in Food Science and Nutrition from Northern Illinois University, DeKalb, Illinois. Mary Lynn began her career in healthcare over 30 years ago as a Registered Dietitian providing patient services in nutrition and food service. She advanced to a corporate position as a Quality Assurance Specialist and began her role in Food Safety.

She transitioned from healthcare to business and industry as a Corporate Food Safety Regional Director for a retail organization and provided Food Safety oversight for restaurants, grocery stores (deli, bakery, meat and seafood) as well as logistics. Mary Lynn developed training for associates as well as Policies, SOPs, audit tools and work instructions. She was based in Southern California and her territory included Alaska, Hawaii and Guam. It was during this tenure that she began developing Food Safety Emergency Procedures for hurricanes, earthquakes, fire, floods and pest infestations.

Mary Lynn was proud to join the Sysco Corporation seven years ago and contribute to Sysco's established Food Safety Program. In addition to her Regional Director role, she contributes to Policies, SOPs, training materials and poster programs content. She has developed Emergency Checklists for Food Safety for fire, flood, structure, work interruption, power outage, ammonia leak, refrigeration loss, pest infestation and food contamination and tampering to protect not only food products but more importantly Sysco's customers and their patrons. Recently, her focus has been on partnering to develop a more formalized Food Safety Culture Program.

Mary Lynn enjoys visiting her family in the Chicagoland area where she was born and raised, eating deep dish pizza and watching the Chicago Bears.
---