---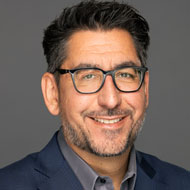 Robert Prevendar, Global Managing Director, NSF International
Robert Prevendar has 25 years of public health and food safety experience, including work in regulatory agencies, training, auditing, consulting, operations, and program management. Throughout his career he has gained true global experience by spending years living and working in Asia and Europe. Robert currently serves as Global Managing Director of Supply Chain Food Safety and Agriculture programs at NSF International, the leading certifier to Global Food Safety Initiative (GFSI)-benchmarked standards.


Tech Tent Presentation
Wednesday, May 8, 1:45pm – 2:15pm
Innovation and Technology in Food Safety: Current Use and Future Impact on the Food Industry
Technology shapes our everyday lives and changes how we do business. The food industry is no different. Technology in food allows us to be more efficient, more effective and provides increased transparency, resulting in in greater consumer confidence in food safety. Join us in our discussion on current technologies being used today to support food safety objectives around the world and where technology will lead the future of food safety.
Back to www.foodsafetysummit.com