---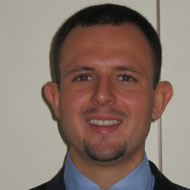 Davide Picciotto,
Digital Enterprise Thought Leader, Siemens Product Lifecycle Management Software, Inc
Davide has joined the exciting journey of the Digital Enterprise in early 2015 as Thought Leader in the Consumer Products space. Previously he has been leading the Siemens US MOM Food & Beverage team since January 2013. His background is in the Manufacturing Execution space, but his focus has grown over time to cover Automation, MOM and now the broader digitalization space including PLM. Davide has an excellent knowledge of all the technologies used in digitalization and of the value of applying them to industrial processes and has focused in the manufacturing and economics of the Process Industry linking ROI, financial KPIs, and qualitative benefits to manufacturing processes. Davide has earned a Master Degree in Communication Engineering at the University of Genoa, IT. He is currently based in Chicago, IL.
Solutions Stage Presentation
Thursday, May 9, 12:30pm – 1:00pm
Improving Health in F&B with IoT and Blockchain
Although modern food handling and distribution practices have improved, 1 in 10 people globally fall ill from eating contaminated food every year. Stricter regulations cause recalls for products at an alarming rate and can take months of digging, if possible at all, to identify the true source of the contamination. Additionally counterfeiting is expanding and brand owners bear the burden of counterfeiting through not only lost sales but also in reputation. Though modern technology and globalization has led to many of these new challenges, it also offers a means to remedy them. We will discuss how Blockchain and IoT can help to solve these problems and have the ability to revolutionize Food and Beverage supply chains.
Back to www.foodsafetysummit.com