---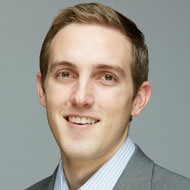 Kimball Nelson,
Sales Engineer in Product Management, RizePoint
Kimball Nelson has been with RizePoint for four years, helping companies discover how they can transform their quality-related programs with a robust Quality Management Software. He understands the nitty-gritty of implementing and administering RizePoint's platform, and he uses that knowledge to empower clients to proactively drive improvement.
Tech Tent Presentation
Thursday, May 9, 12:45pm – 1:15pm
Drowning in Data? How to More Effectively Manage Your Quality-Related Data
If spreadsheets and manual processes are getting you down, there is another way to manage all the data you need for your efforts in compliance, quality assurance, supplier quality management, and corporate social responsibility. RizePoint veteran, Kimball Nelson, will walk you through a quality management software that digitizes and consolidates processes so you can gather data better, see issues earlier, and act on those issues before they become liabilities.
Back to www.foodsafetysummit.com