---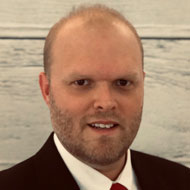 Aaron Huckabee, Director of Sales, Eurofins Technologies North America
Aaron Huckabee is the Director of Sales for Eurofins Technologies NA. He has 15 years of experience in the Food Safety industry with extensive technical background in molecular diagnostic testing. With an in depth understanding of laboratory operations Aaron is able to help clients choose testing procedures that best suit their individual needs.


Tech Tent Presentation
Thursday, May 9, 11:45am – 12:15pm
New Solution for Norovirus and HepA Detection
Building on the experience and scientific excellence of the Eurofins Group, Eurofins Technologies is a fast growing provider of diagnostic technologies and fully automated ELISA-based instruments in the field of Food&Feed Safety and Environmental Safety. We offer a broad range solutions for Food Pathogens, Viruses, Allergens, GMOs, Mycotoxins, Veterinary Drugs Residues, Animal Species, Veterinary Diagnostics and Environmental/Water testing.
Back to www.foodsafetysummit.com