---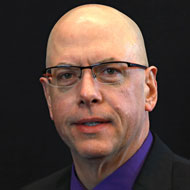 Mike Dziewatkoski, PhD, MBA, Technical Director and National Sales Manager, Eurofins SF Analytical Laboratories
Mike Dziewatkoski is an analytical chemist with over 25 years of experience in industry and academia. His work involves chemical testing, method development, and research in the analysis of foods and finished products. He has authored several peer-reviewed publications and presentations in the field of analytical chemistry. Mike has played a critical role in dozens of challenging investigations related to food, ingredient, process and packaging failures including product recalls, insurance/legal claims, and patent infringement.
Solutions Stage Presentation
Wednesday, May 8, 1:30pm – 2:00pm
Foreign Material Contamination: Considerations for Performing an Investigation When Confronted with a Legal or Insurance Claim
Maintaining product integrity is paramount to the protection of a company's brand. Having a product compromised by a supplier providing an ingredient with foreign material contamination or packaging that fails can result in costly litigation or insurance claims. Mitigating risk requires performing a thorough investigation. This presentation will use case studies to emphasize key points when performing a contaminant investigation to ensure sample and data integrity and in obtaining expert reports and affidavits.
Back to www.foodsafetysummit.com