---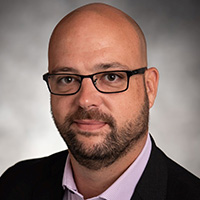 Bryan Cohn
Food Safety Solution Engineer, FoodLogiQ
FoodLogiQ's Bryan Cohn is the Food Safety Solution Engineer is an NC native who's enthusiastic about agriculture, food, and business, Bryan joined FoodLogiQ after serving as VP of Supply Chain and Market Development at frozen foods company Seal the Seasons. He has extensive experience in large scale food-service and operations management, having held leadership roles at Couche-Tard and the Columbus Zoo and Aquarium. Bryan earned his BS in Agricultural Management and Economics at NCSU.
Tech Tent Presentation
Thursday, May 9, 1:45pm – 2:15pm
Supply Chain Technology: Solving Your Business Challenges (and Saving Your Sanity)
Spending too much time managing suppliers? Struggling to achieve visibility across your supply chain? Are you prepared for a product recall or withdrawal? These are questions food safety professionals must address, and FoodLogiQ can help. Join this fun, interactive demonstration of FoodLogiQ Connect, the most comprehensive, data-driven software solution enabling supplier management, food safety compliance, quality incident management, recall management and whole chain traceability – all on a single platform built exclusively for the food industry.
Back to www.foodsafetysummit.com