---
---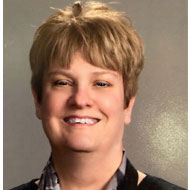 Nancy Mussack
Senior Manager, Corporate Food Safety
Smithfield Foods, Inc.
Nancy Mussack serves as senior manager, corporate food safety for Smithfield Foods, Inc., a $15 billion global food company and the world's largest hog producer and pork processor. In this role, she is responsible for assuring assigned facilities maintain and follow corporate food safety standards and government regulations, training new food safety personnel, and resolving any food safety issues, among other responsibilities.
Throughout her 36-year career, Mrs. Mussack has held a variety of management positions across the industry focused on food safety and quality assurance.
Mrs. Mussack is an approved International HACCP Alliance Leader Instructor and a Lead Instructor for FSPCA courses including Preventative Controls for Human Food, Preventive Controls for Animal Food, Foreign Supplier Verification Programs and Intentional Adulteration Conducting Vulnerability Assessments. Mrs. Mussack holds a bachelor's degree in animal and dairy science.
---
Instructor of: Certification/Certificate Course: Intentional Adulteration: Conducting Vulnerability Assessment
Back to AGENDA