---
---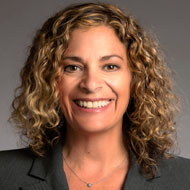 Mitzi Baum
CEO
Stop Foodborne Illness
Mitzi Baum joined the team at Stop Foodborne Illness (STOP) as the Chief Executive Officer in May 2019. Prior to her tenure at STOP, Mitzi cultivated a 23-year career at Feeding America rising to the senior level position of managing director of food safety.

Ms. Baum holds a Master of Science in Food Safety and a certificate in Food Law from Michigan State University. She earned her Bachelor of Science degree from Bowling Green State University and has earned certificates in Non-Profit Management from the University of Chicago, Quality Management from DePaul University, and Food Safety Management from Cornell University.

Mitzi is the 2021 Joseph Leiter Lecturer of the Medical Library Association/National Library of Medicine, an adjunct instructor for Michigan State University's Online Food Safety Program, a certified seafood HACCP instructor, and a certified PCQI.
---