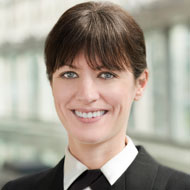 Laura Gieraltowski, Ph.D., MPH
Foodborne Outbreak Response Team Lead
Centers for Disease Control
Dr. Laura Gieraltowski is the Lead of the Foodborne Outbreak Response Team in the Outbreak Response and Prevention Branch at the Centers for Disease Control and Prevention in Atlanta, Georgia. She leads the team that helps coordinate the national network of epidemiologists and other public health officials who investigate outbreaks of foodborne and other enteric illnesses. Dr. Gieraltowski is a graduate of CDC's Epidemic Intelligence Service Program. She received a PhD in Epidemiology from the University of Pittsburgh Graduate School of Public Health and has a Masters of Public Health degree in behavioral health sciences from Emory University Rollins School of Public Health. She has worked at the CDC since 2009 and has been involved in numerous multistate outbreak investigations leading to the identification and recall of food products.
---
Go to SPEAKERS