---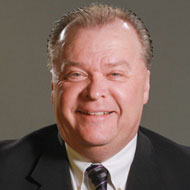 Jay Ellingson, Ph.D.
Chief Scientific Officer
Kwik Trip, Inc.
In 1995, Dr. Ellingson received his Ph.D. in molecular microbiology from Marquette University, Milwaukee, Wisconsin. From 1995-1999, Dr. Ellingson did his postdoctoral fellowship training with the USDA, Agriculture Research Service, National Animal Disease Center in Ames, Iowa, where he developed and patented a molecular diagnostic method for the detection of Johne's disease in dairy cattle. This method has also been applied to the detection of the specific bacterium in both meat and dairy products. He then served as a staff molecular microbiologist with the USDA, Animal and Plant Health Inspection Service, Center for Veterinary Biologics, also in Ames.

From 1999-2006, Dr. Ellingson served as the Director of Marshfield Clinic Laboratories - Food Safety Services, Marshfield, Wisconsin. During this time, Dr. Ellingson developed and patented a molecular diagnostic method for detection of E. coli 0157:H7. Starting in 2004 he also served as Chief Scientific Officer for the Marshfield Food Safety, LLC, a network of on-site process control food safety laboratories.

2006-Present, Dr. Ellingson is currently the Chief Scientific Officer for Kwik Trip, Inc. He is responsible for the development and execution of Kwik Trip, Inc's Food Protection system, which includes all aspects of Food Protection: Food Safety, Food Safety Science, Food Regulations, and Food Defense.

Dr. Ellingson is an adjunct professor in the Microbiology Department of the University of Wisconsin-La Crosse and has mentored and graduated several "Masters of Science" students in the Microbiology program. Dr. Ellingson has been a member of numerous State and Federal Food Protection related boards and associations. He has authored numerous scientific articles and publications.
---
Go to SPEAKERS