---
---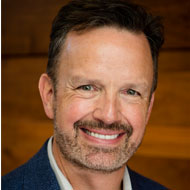 Bill Moore
Director of Safety and Security
Eat'n Park Hospitality Group
Bill Moore is the Director of Safety and Security for Eat'n Park Hospitality Group, a provider of diversified food services throughout the mid-Atlantic region. Eat'n Park encompasses several integrated business divisions -- a chain of 60 full-service, family restaurants in Pennsylvania, Ohio and West Virginia; Parkhurst Dining Services, which provides contract dining services to colleges, universities and corporations; The Porch restaurants with a unique menu; Hello Bistro, which has 10 locations is a concept specializing in custom salads and a fun menu; and finally Smileycookie.com which ships smiley cookies all over the world.

Bill joined Eat'n Park in 1979 and worked his way up through the ranks. Bill has worked in many different departments including operations, purchasing, product development, and quality assurance. In 2002 he became the first Director of Safety and Security for Eat'n Park Hospitality Group.

Bill's family has been in the restaurant business for 3 generation and can be credited for not only Eat'n Park but also for the Klondike bar and chipped chopped ham (A Pittsburgh staple). A 1985 graduate of Ferris State University with a degree in restaurant management. Bill has used his unique and fun technique in training and for team member engagement. This approach has been featured in several trade magazines. He has since been very active as a trainer for the American Red Cross, ServSafe, Loss Prevention, OSHA and HACCP. Bill is not only a leader in food safety but also an allergy advocate. Bill became one of the first Master Trainers for AllerTrain. AllerTrains mission is to provide allergy training for the hospitality industry. Working with Walt Disney World and developing the Purple allergen program. Bill also partnered with Heinz and developed the plastic, tamper proof ketchup bottle which we all use today. Bill's responsibilities include overseeing crisis management issues, food safety, customer accidents, employee accidents, and all security issues. Basically, everything bad.
---