---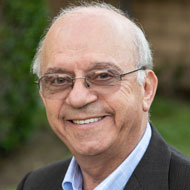 Al Baroudi, Ph.D.
VP, Quality Assurance & Food Safety
The Cheesecake Factory Incorporated
Dr. Ata (Al) Baroudi joined The Cheesecake Factory in 2008 with broad experience in the food industry as a quality assurance executive. He is an agricultural engineer with a MS degree in Food Science and Technology / Microbiology from the University of California at Davis, CA. He received his Ph.D. in Food Processing and Technology / Regulatory Affairs from The Ohio State University in Columbus, OH. He served as the head of QA and Food Safety (Snacks and Dairy) for Borden Foods Company in Columbus, OH, before moving to the west coast as Vice President, Corporate QA/Food Safety and Regulatory/Environmental Affairs for the Vons/Safeway Supermarkets, Arcadia, CA. Dr. Baroudi then served as Vice President of QA and Technical Services, Harry & David Corporation, Medford, OR., before becoming the Chief Scientific, Health and Regulatory Affairs Officer at Yum! Brands in Louisville, KY.