---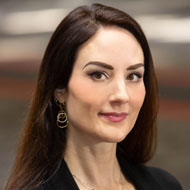 Adrienne Blume
Editorial Director
Food Safety Magazine
Adrienne Blume is Editorial Director of Food Safety Magazine, a BNP Media brand. She has 18 years of experience in B2B technical media, including the food safety and quality (FSQ) and energy technology sectors. She manages the editorial content for Food Safety Magazine and its podcast, Food Safety Matters, and also serves on the Educational Advisory Board for the annual Food Safety Summit. She keeps a pulse on trends, issues, and regulatory developments in FSQA by attending and moderating sessions at food industry and food safety conferences worldwide.

Previously in her career, Ms. Blume launched and led two energy technology publications (H2Tech and Gas Processing & LNG) and a podcast (H2TechTalk) as Editor-in-Chief at Gulf Energy Information in Houston, Texas. She also worked as Managing Editor at Hydrocarbon Publishing Company in Philadelphia, Pennsylvania. She has spoken and moderated at energy conferences around the world and is published in several industry journals.

Ms. Blume holds an M.A. degree in English and Publishing from Rosemont College in Rosemont, Pennsylvania, as well as B.A. degrees (hons) in English and Anthropology from Webster University in St. Louis, Missouri.
---