---
Tuesday, May 11, 202112:45 PM- 1:15 PM central time
Tech Tent Presentation
Open to all registered attendees
Reduce Expense, Risk & Loss With New Refrigeration Monitoring Technology
New technology in refrigeration temperature monitoring is empowering food service teams to decrease staff expense by eliminating manual temperature entry. New technology also enhances food safety and reduces or eliminates inventory loss through remote temperature monitoring and predictive analytics allowing equipment to be serviced before it breaks down.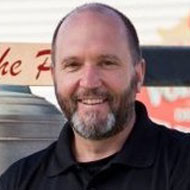 Dan Parent
Chief Technology Officer & Executive Vice President
OneEvent Technologies
Engineer with 25 years experience managing projects and developing high-tech products dedicated to harnessing technology to help people lead better lives. Dan's work at OneEvent Technologies enables users to shift their mindset from reaction to prevention when trouble arises through predictive analytics. Experience includes GE Healthcare, Cardiac Science, Artesyn Technologies and Ultratech. As CTO/EVP of OneEvent Technologies, Dan's strategies are guiding future innovations, enabling individuals and business owners to protect more property and save more lives on a global scale.
---