---
Wednesday, May 12, 20211:00 PM- 1:30 PM central time
Solutions Stage Presentation
Open to all registered attendees
Reliable and Robust Pathogen Detection Solutions
Attendees will learn out PerkinElmer food pathogen detection system, how PerkinElmer have reorganized strategically around serving the food market and learn about the broad range and complete solutions we have to engage with our food partners.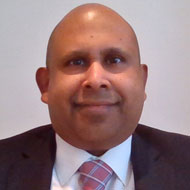 Dr. Nevin Perera
Research & Development Manager
PerkinElmer, Inc.
My career started at the University of Birmingham, United Kingdom where I studied for a B.Sc. (Hons) in Microbiology before transitioning into a M.Sc. in Toxicology and a PhD in Biochemistry. Upon leaving academia, I joined Merck Millipore as a Senior Scientist and then progressed into a R&D leadership position with Laborie, Inc. before moving into my current role as R&D manager for PerkinElmer, Inc. Under this role, my team of scientists have developed a range of immunoassays including Solus One Salmonella, Solus One Listeria and Solus One E. coli O157 that have been OMA and PTM AOAC plus ISO 16140 Afnor certified.
---