---
Wednesday, May 12, 202112:30 PM- 1:00 PM central time
Solutions Stage Presentation
Open to all registered attendees
Integrating the Modern Control Tower into the Food Supply Chain
The COVID-19 pandemic brought about one of the most tumultuous years in modern history, especially for the food supply chain. Knowing exactly where your product is and in the condition you expect is critical to keeping goods in restaurants and retail locations. With that in mind, organizations across the food industry are exploring innovative ways to implement a modern control tower that allows them to be responsive, proactive, and make data-driven decisions that positively impact the food supply chain.

When thinking about the difference between a control tower of the future and what most companies currently have—descriptive data and post-shipment reports—consider the role of an airport control tower. The air traffic controller manages all processes from a single platform, including inbound, outbound, and ground operations to keep travelers safe.

The food supply chain is no different. If you can only see the product quality after it has been delivered, you are only getting part of the story. Poor data control and management are a leading contributor to supply chain problems and unmanaged risks. Given the existing silos within organizations and the cold supply chain, taking a proactive and preventive approach to supply chain management will be critical for future success.
Attendees will learn:
How an effective control tower will let you see quality condition attributes, exceptions, shortages, bottlenecks, and potential delays;
Ways a control tower can prevent temperature excursions, lost loads, and the need for replacement shipments;
Opportunities to convert control tower data into insights that allow organizations to take a preventive controls approach to supply chain risk management.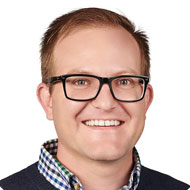 Jeremy Schneider
Food Safety and Quality Assurance Expert
Controlant
Jeremy has more than 15 years of experience in the food quality, safety, and regulatory sector. His experience spans managing food safety and quality systems within several fast-casual restaurant chains as well as food manufacturing, including Chipotle, Boston Markets, and Rocky Mountain Foods. During his career, he has addressed some of the most challenging and critical risks faced today by major consumer food brands. Jeremy's strong understanding of the challenges faced by major food manufacturers, multi-unit restaurant concepts, and supply chains within the rapidly-evolving regulatory environment gives him a unique perspective to identify problems and develop creative solutions for Controlant's partners.
---