ThinkIQ is the leader in transformational intelligence for manufacturers, contextualizing data—both in-plant and across your supply chain—to improve yield, safety, quality, and compliance. Our five-stage path to smart manufacturing leads to safer products and improved key metrics.
It's called continuous intelligence across the material-centric supply chain, and it not only transforms the data you have, it also adds critical context.
Transforming the Data You Have
Transformational intelligence gathers data from the earliest point in the supply chain through product delivery. ThinkIQ gathers IIoT and existing data brings it all to your screen, and then processes it using artificial intelligence/machine learning to correlate cause and effect.
Contextualizing Your Data
ThinkIQ helps you reach smart manufacturing status. We contextualize and report analytics that identify root-level problems that you couldn't spot before. While previous technologies like ERP, MES, and MOM were passive, ThinkIQ's transformational intelligence delivers Industry 4.0 actionable insights that transform manufacturing. Don't take our word for it, though. Contact us for a transformational demo and see for yourself.
Protecting Your Food
Industry 4.0 smart manufacturing has arrived for the food and beverage industry! ThinkIQ's manufacturing and traceability platform has already revolutionized data technology at the food and beverage industry's largest manufacturers.
Our platform supplies proactive transformational intelligence through food and beverage traceability. This Industry 4.0 platform reduces the risk of recalls, increases food safety and compliance, and improves quality, yield, and profits.
The ThinkIQ platform goes far beyond food and beverage analytics. ERP, MES, MOM, and other food and beverage software platforms helped, but they didn't address the entire supply chain and food traceability, nor could they provide proactive, actionable insights.
ThinkIQ is different. We are uniquely focused on Industry 4.0 transformation for manufacturers. Our products align with the five-stage path toward smart manufacturing, helping organizations create incremental changes to reach major improvements. Our technology is also a generation ahead of all others available.
Food and Beverage Examples
ThinkIQ has been recognized in the 2021 Top Green Providers list by Food Logistics for our manufacturing solutions within the cold food and beverage industry.
Manufacturing Efficiency
One of ThinkIQ's clients processes tens of thousands of onions to create onion rings. Onions, of course, grow in different sizes and are often packaged by weight rather than by size.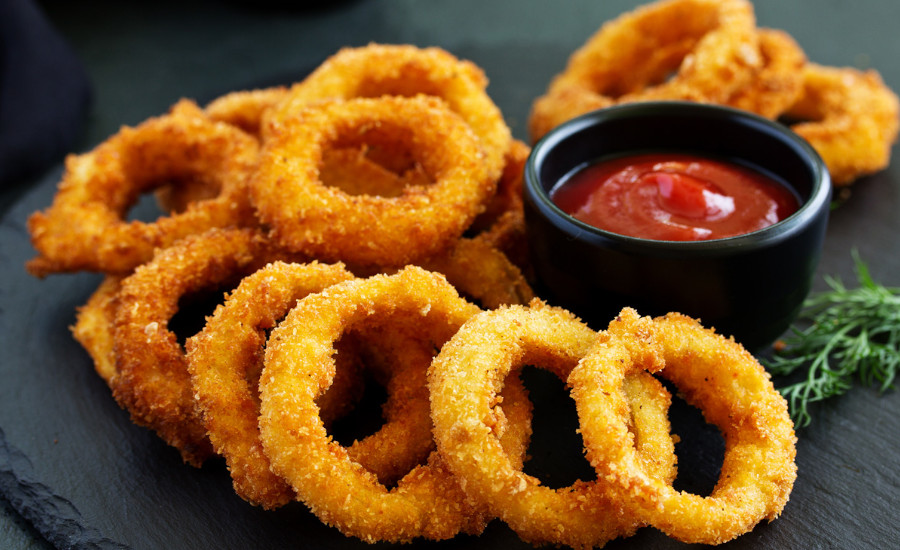 Using the ThinkIQ platform for its robust ability to help spot areas for manufacturing efficiency, the client was able to make several optimizations—from the cutting size to how the supplier actually supplied the raw onions—that transformed the efficiency of its operation. The client was able to modify its systems and ultimately saved 7 percent in raw materials cost.
Traceability 
Another ThinkIQ user creates cereal from grain. In the past, the client had some level of food traceability. However, the data was not analyzed nor displayed in a manner that was useable to management. Furthermore, significant gaps in food traceability existed that could have resulted in recalls or other food safety issues.
In one example, the manufacturer was able to gather data from grain storage. The grain suppliers collect data on food product temperature, humidity, and storage levels. Unfortunately, this food supply chain data was often analyzed at farm level—manually.
ThinkIQ's Industry 4.0 platform electronically integrated and analyzed the data, greatly increasing the farm-to-fork traceability for the manufacturer. Numerous benefits have come from these analysis. ThinkIQ's food industry analytics have allowed the client to visualize potential grain quality issues in advance, thereby allowing manual inspections and/or rejecting certain batches. This has increased the safety of the food manufacturing process.
ThinkIQ's food and beverage platform has also smoothed supply chain issues, allowing the cereal manufacturer to keep its food manufacturing plants running at full capacity more often, therefore increasing food yield.
In addition to food safety issues, ThinkIQ's actionable insights regularly help this global manufacturer better manage organic vs. non-organic supply. This smart manufacturing platform helps the manufacturer know when it's time to move grain from one silo to another. This has helped preserve the organic nature of the grain and increase cost-efficiency at the supply level.
Food and Beverage Industry Experience
Food and beverage industry manufacturing is complicated. ThinkIQ's manufacturing data platform has revolutionized some of the world's largest food and beverage manufacturers with Industry 4.0 smart manufacturing. We have the experience to transform your traceability and manufacturing process, as well.
Our software allows you to visualize and contextualize data from your supply chain through your food manufacturing plant in actionable ways that increase safety, compliance, and efficiency. It's not just food industry analytics—it's truly transformational intelligence.
Contact ThinkIQ today for a no-obligation food and beverage manufacturing industry software platform demonstration, and to discuss the five stages of becoming a food and beverage smart manufacturer.