Earlier this year, Dr. Nikki W. Shariat and Dr. Kristina M. Feye (along with their co-authors) published a ground-breaking paper in the Journal of Applied Microbiology on the use of CRISPR (clustered regularly interspaced short palindromic repeats) analysis to identify Salmonella serovars found in samples from commercial feed mills. Their two trials found that 15 percent and 9.1 percent of the feed mills studied tested positive for Salmonella—and the majority of the Salmonella serovars they found are known to cause human illness.
Their paper, "Incidence of Salmonella serovars isolated from commercial animal feed mills in the United States and serovar identification using CRISPR analysis," clearly demonstrates that some of the Salmonella serovars that are most prevalent in processing plants are also found upstream in feed mills and are capable of surviving in feed.
The two trials discussed in the paper involved collecting feed samples from 135 feed mills in 2018 and 2019. In the first trial, 15 percent of the feed mills were Salmonella positive, as were 9.1 percent of the feed mills in the second trial. Throughout their experiment, the researchers identified seven different Salmonella serovars in the feed samples, five known to cause human illness. The most common were S. Infantis and S. Tennessee, which have led to human Salmonella outbreaks in recent years. Three of the other serovars found (S. Reading, S. Typhimurium, and S. Braenderup) have also been linked to serious outbreaks of human illness.
The publishing of this paper should be an inflection point for the industry. It can no longer be ignored that there is a clear path for pathogens in animal feed to transition into human foods, leading to human sickness, product recalls, and loss of life. The continually growing body of research on the role that feed and feed ingredients act as a fomite for pathogens cannot be overlooked.
As the authors note, this research "highlights the need to effectively mitigate pathogens in livestock and poultry feed." Fortunately, effective feed sanitization tools make it possible to not only kill Salmonella at the point of contact but to protect against recontamination until consumption.
Read Dr. Shariat and Dr. Feye's full article here.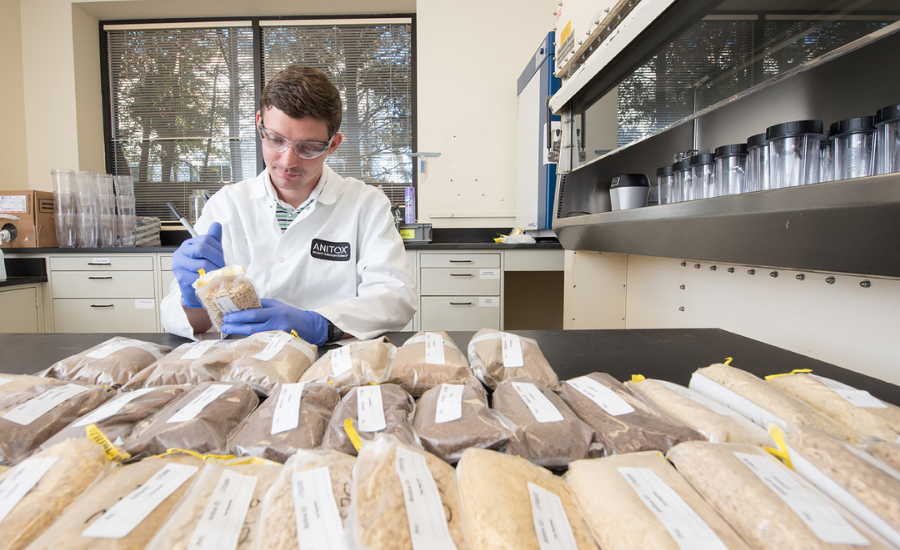 Change is coming, and trials are currently underway to evaluate the impact of feed sanitization on the incidence of Salmonella reported in U.S. processing plants. Multiple programs with several major U.S. broiler integrators will seek to determine the influence of clean feed for breeders and meat birds on inbound Salmonella rates at processing plants.
These current trials are looking specifically at the impact of feed sanitization of parent stock feed on Salmonella load and prevalence coming into processing plants. The goal is to reduce inbound challenge, taking the pressure and cost off pathogen control tools used in processing, and ultimately, improve food safety in poultry products for human consumption.
Producers recognize that while pelleting offers some form of defense against variation in microbial load, Salmonella destruction has specific requirements. Work conducted by Aviagen states that to destroy mesophilic bacterial loads (i.e., Escherichia coli and Salmonella) of 105 per gram, poultry feeds must be held at 86 °C for 6 minutes, maintaining a relative humidity of 15 percent. Achieving these conditions depends heavily on the type of equipment used. Current infrastructure would see them struggle to produce sufficient feed for parent stock, and even more for broilers or commercial layers. Furthermore, heat treatment does not protect feed from recontamination further down the production stream, during transportation and on farms. Even though heat treatment can kill harmful pathogens on the spot, it cannot provide long-term confidence in the microbial load of feed supplied at the point of feed consumption on the farm.  
I urge anyone concerned about feed source pathogen impact on human food safety to read the article "Preharvest Food Safety in Broiler Chicken Production" published in Microbiology Spectrum. It concludes that a blend of preharvest pathogen mitigation strategies helps flocks meet performance standards at the processing level. 
Getting in early and ensuring that parent stock do not become Salmonella positive through contaminated feed and feed ingredients is a priority. Biosecurity cost mitigation and avoiding recontamination of progenies from Salmonella-free parent stock through contaminated feed are important considerations. The initial indications from field data collected from multiple trials over the coming two quarters at this early stage are positive. So far, there are strong initial data that suggest that consumption of clean feed supports the development of juvenile guts, helping young birds survive and thrive during the first 28 days. Evaluating the impact of dirty feed on performance loss and, conversely, the benefits of clean feed on the feed conversion ratio and growth rates are key. There is much still to learn, but the prize of measurable reduction in Salmonella loads emanating from live production is a valuable one. 
Find out more about feed as a fomite for Salmonella here, or if you are already well aware of the risk of feed-source Salmonella, click here to talk directly to a feed sanitization expert.