The Food Safety Modernization Act (FSMA), the most sweeping reform of our food safety laws in more than 70 years, was signed into law by President Barack Obama on January 4, 2011. FSMA aims to ensure the U.S. food supply is safe by shifting the focus from responding to contamination of the food supply to preventing it. The law applies to human food as well as to food for animals, including pets. 
Government regulation is good for the protection of citizens and animals in the U.S., but, just like any regulatory requirements, processes need to be established in manufacturing enterprises to ensure compliance, lest both criminal and civil penalties be incurred. In fact, the government has specified mandates for preventive controls that should be implemented in plants and the manufacturing value chain as a whole. 
These requirements are specified as:
A written food safety plan
Hazard analysis
Preventive controls 
Monitoring 
Corrective actions 
Verification
Associated records
One example is a heat treatment in a process control within food production to prevent bacterial contamination. This is also an example of a process value that needs to be stored and associated with batches, lots, and shipments that go out. 

New Requirements Require Traceability across the Supply Chain
On January 21, 2021, the U.S. Food and Drug Administration (FDA) also proposed to establish additional traceability recordkeeping requirements (beyond what is already required in existing regulations) for persons who manufacture, process, pack, or hold foods. At the core of this proposal is a requirement for those who manufacture, process, pack, or hold foods on the Food Traceability List (FTL) to establish and maintain records containing key data elements (KDEs) associated with different critical tracking events (CTEs). The FTL includes cheeses, other than hard cheeses, shell eggs, nut butter, and fresh cucumbers, herbs, leafy greens, melons, peppers, sprouts tomatoes, tropical tree fruits, fruits and vegetables, finfish, including smoked finfish, crustaceans, mollusks, and ready-to-eat deli salads. While the proposed requirements would only apply to those foods on the FTL, they were designed to be suitable for all FDA-regulated food products. FDA encourages the voluntary adoption of these practices industry wide. 

Electronic Recordkeeping and AI Can Help Provide Compliance
This is one of the first regulations that states that information on food from the original source, the farmer, to the customer must be maintained for compliance. Also, the government is looking for the ability to search these records as quickly as possible, so paper-based systems of record are a problem. This information is stored in many different data silos, but what if there were a way to electronically transfer all the needed data automatically and then search and account for information using tools, like an accounting system, to drill into any information needed? What if AI could be deployed behind the scenes to discover hidden meaning and correlations in the data? What if this involved a cloud-based service that could span across multiple companies and supply chain members?

The Rise of a Material Ledger
New intelligence has shown to increase yields by 8 percent, decrease production waste by up to 50 percent, and increase financial and operational impact by 17 percent. It all adds up to savings of up to $20 million in raw materials achievable just by adding value to existing technology infrastructure without investment in new equipment. Instead, a material ledger takes advantage of on-premise connectors to automation, the Internet of Things, enterprise resource management, quality, and manufacturing execution systems to collect and send data securely to the cloud. Semantic modeling creates the context necessary to make sense of sensor data relative to plant equipment, processes, raw materials, and finished goods. A next-generation historian (i.e., material ledger) extends the capabilities of commercial historians to the cloud with new data types and video and geo-spatial information. All key elements are housed in a platform for an intelligent supply chain in order to progress through the stages to achieve Industry 4.0 Smart Manufacturing.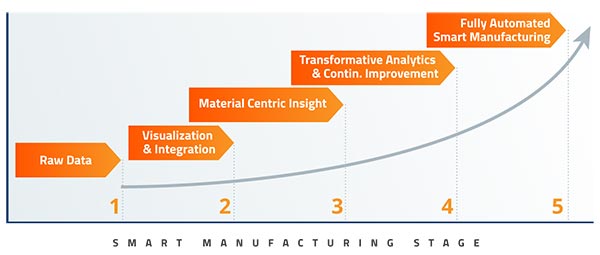 Learn More
Download the Material Traceability eBook Today Meet ThinkIQ
---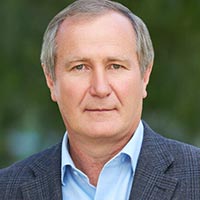 Doug Lawson, CEO ThinkIQ, has founded, built, and sold multiple software startups in the industrial sector. His understanding of customer challenges and his leadership creating innovative products to meet those challenges are widely respected in the industry. The products from his startups are used in nearly one million plants globally. On a personal level, ThinkIQ is the logical culmination of his career, and as CEO, he is intentionally creating a company that will have global impact, delivering enormous value to its customers and creating safer, better, and trustable products with less environmental impact.