---
Thursday, May 7 11:45am - 12:15pm
Tech Tent Presentation: Exhibit Hall, Aisle 100
Artificial intelligence and DNA-based products for maximizing microbiological Food Safety
At TAAG we are building the world's first fully interconnected suite of DNA based products, lab services and artificial intelligence-based software for improving all steps in the food quality/safety lifecycle. In this presentation you will learn how TAAG's solutions can help you to implement a scientific, evidence-based and highly customized preventive microbiological program. All of this is led by the TxA software, an artificial intelligence platform, which learns about the microbiology in your plant and will accordingly propose a smart and dynamic microbiological program. Additionally, based on dynamic and smart microbiological risk assessment, the TxA will automatically predict the best next sampling points and will propose preventive and corrective actions.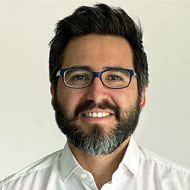 Rodrigo Malig Fuentes,
Chief Product Officer,
TAAG Genetics
Rodrigo has led the TAAG's food safety division for 10 years, shifting the business from a local traditional testing laboratory to a multinational high-tech food safety company. He manages the R&D team, IT team, global operations and global sales.
---