---
Monday, October 19 12:30 pm - 1:00 pm CT
Solutions Stage Presentation
How to Pass the Pest Control Portion of Your Food Safety Audit
You can't afford to fail the pest control portion of your third-party audit—especially since it can account for up to 20% of your total audit score. Join Frank Meek, BCE, and Technical Services Manager for Orkin, as he discusses the importance of a strong IPM program and thorough documentation that will help prepare your food processing facility for the most stringent audit standards.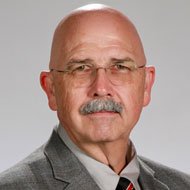 Frank Meek, BCE
Technical Services Manager
Orkin LL
Frank Meek, BCE, Technical Services Manager, Orkin Frank Meek is a Technical Services Manager for Rollins. He provides technical support and guidance across all Rollins brands in the areas of training and education, operations and marketing. As a board-certified entomologist and 30-year industry veteran, he is an acknowledged leader in the field of pest management. For more information, email techscvcs@orkin.com or visit www.orkincommerical.com.
---