---
Wednesday, October 21 12:30pm - 1:00pm CT
Solutions Stage Presentation
Dining on Thin Ice: Strategies for Promoting Safer Indoor Dining and Reassuring Customers During Winter Months
Is your business prepared to survive the winter? As the temperatures begin to cool down and patios close for the season, countless restaurant owners and managers are looking to reopen their indoor dining rooms. While many restaurant goers are excited to dine in at their favorite spots, some are concerned about the risk of coronavirus. Join us for a review of the lessons we have learned as we have helped businesses ensure operating continuity and implement COVID-19 programs through our Checked by NSF™ program. NSF, a global public health organization, has been dedicated to protecting and improving human health for more than 70 years. Since the onset of the pandemic, we've been investigating effective ways for businesses to reduce coronavirus risk, and we look forward to sharing our expertise with you.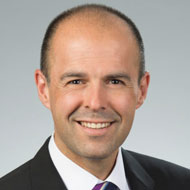 Paul Medeiros
Managing Director, Consulting & Technical Services
NSF International
Paul Medeiros has more than 27 years of strategic and technical experience in food safety, quality management and public health. His wealth of senior management experience in consulting and technical services allows Mr. Medeiros to support food safety and quality services in North America through fully integrated consulting, technical and certification services in the agriculture, supply chain management and retail sectors.

As the food supply chain becomes increasingly more complex, Mr. Medeiros plays an essential role in providing innovative risk solutions to North American companies, helping them protect public health and food supply chain, and in turn, protect their brand integrity.

Mr. Medeiros is also a key founder of an NSF assurance program that helps organizations of all types and sizes follow best-practice guidance on COVID-19 risk management and to communicate their commitment to protecting their employees and customers through this program.
---