---
Thursday, October 22 1:30 pm -2:00 pm CT
Solutions Stage Presentation
Preparing Cold Supply Chains for the New Era of Smarter Food Safety: Setting the Groundwork for Technology Adoption
The New Era of Smarter Food Safety is challenging food manufacturers, distributors, restaurants, and retailers to think differently about their cold supply chain. By implementing next-generation technologies that allow for real-time insights, organizations actively move from a position of reaction to prevention. This change will enable companies to improve food safety, reduce waste, and save money. This session will cover:
Best practices in setting the groundwork for the successful implementation of state of the art technologies within the cold supply chain
How organizations are utilizing real-time supply chain temperature monitoring to take a Preventative Controls approach to supply chain management
Technology's ability to increase transparency, accountability, food safety, and quality by exceeding industry standards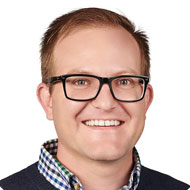 Jeremy Schneider
Business Develop Director - Food Safety and Quality Assurance, Controlant
Jeremy has more than 15 years of experience in the food quality, safety, and regulatory sectors, having worked with several fast-casual restaurant chains as well as food manufacturing. Jeremy has addressed some of the most challenging and critical risks faced today by major consumer food brands. He previously served as Quality Assurance Manager for Chipotle Mexican Grill, where he led the rollout of a real-time temperature monitoring program for its nearly 2,400 North American restaurants.
---