---
Wednesday, October 211:30 pm -2:00 pm CT
Solutions Stage Presentation
How Active Packaging Technology Can Revolutionize the Food Safety Risk in Fresh Cut Food
There are many steps in the supply chain where food can become contaminated by pathogens, making it exceedingly difficult for food processors to mitigate the risk of distributing food that could potentially cause foodborne illnesses. As a leader in food protection solutions, Aptar Food + Beverage has developed a game changing, fully-integrated food safety solution that is 99.9% effective against bacteria, fungi and viruses that threaten the safety of fresh cut produce. Join this presentation to learn how this groundbreaking technology works, the data behind it, and the possibilities it holds for revolutionizing food safety.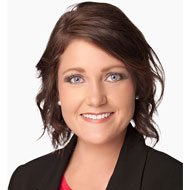 Christa Biggs, MFT
Manager of Business Development
Aptar Food + Beverage – Food Protection
Christa Biggs is responsible for technical sales and business development for Aptar Food + Beverage – Food Protection. Prior to joining Aptar, Christa spent several years working in food microbiology at Eurofins Scientific. She then moved on to Aptar, working in research and development before taking on her current role with the commercial team as Manager of Business Development. She received her B.S. at the University of Alabama at Birmingham and her Master of Food Science at the University of Georgia.
---